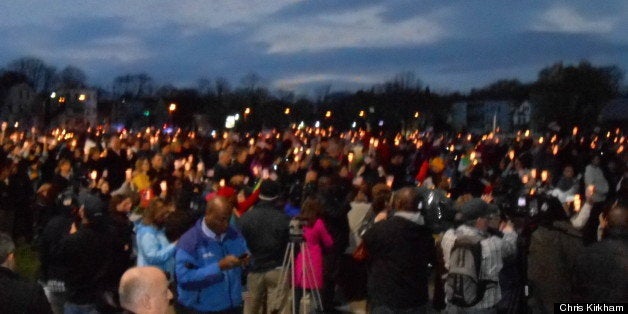 Many of those from the proud, close-knit neighborhood of Dorchester had never met Martin or his family. But they attended the same church, or had kids a few grades ahead, or knew of them through Little League baseball.
"In this town, if you don't know somebody, you've got family that knows them," said Paula Connolly, a longtime Dorchester resident who saw the vigil as a much-needed chance to connect with close friends and family.
"What once seemed to be something we watched in the distance or on television has come all too close to home," Connolly said. "Upon this field, the feet of young Martin often trode. We are saddened and shattered by the fact that he will not longer run and smile and jump and play and live and love among us. Nothing we can say, and nothing we can do, is adequate in the face of the enormity of that sadness."
Connolly reflected on the traditions of Patriots' Day, and how Monday's violence wrecked "the quintessential Boston holiday."
"All of us for generations have made our way from the 11 o'clock game at Fenway Park the short distance to the finish line of the Boston Marathon," Connolly said. "And yesterday that celebration, that journey, was marred."
As he asked the crowd to raise their lighted candles, Connolly urged everyone to "enjoy each other's company, and other's strength."
Some farther back in the crowd could barely hear. More important to them was catching up with longtime friends, and showing the Richard family community support.
"They're not going through this alone, that's for sure," said Carole Kerim, who lives two towns away in Braintree, but counts herself among the many "OFD" -– originally from Dorchester. "They're going to need a lot of help, and this town's all going to be there for them."
Joe Conway, who owns a local ice cream shop, stood for 20 minutes after the ceremony holding a full-size American flag illuminated by a flashlight. He was 500 feet from the explosion on Monday, watching friends finish the marathon. He and his friends escaped without injury, and his instinct has been to show support for those who weren't so lucky.
"There's a lot of people who have lost a lot more than we have," Conway said. "But we're here to show that we feel their pain. We're going to live with them through their pain. That's what a community is."
Others were still coming to grips with the horror.
Lindsey Emde and Danica Dang went to high school just blocks from the explosion, and remembered Copley Square as a trusted "safe haven" where they could relax in the city after class.
"I've always felt like this happens everywhere else, that Boston is just invincible," said Emde, 19. "Now there will always be that reminder. You'll walk down the street and remember someone died there. It's going to be eerie. It's going to be sad."
Elsewhere in Boston Tuesday night, the closed section of Boylston Street hit by the twin bombings had become a makeshift shrine with flowers, balloons, American flags and candles. Locals and tourists -– many in running clothes -– stopped to pay respects.
"People still don't believe what happened. You can see it on their faces," said German Silva, 45, a two-time winner of the New York City Marathon making an almost-annual trip to the Boston Marathon with runners he coaches. "It's like we are family."
People hugged and cried while bells at the nearby Arlington Street Church tolled Beethoven's "Ode to Joy" and "America the Beautiful." It was one of several congregations around the city holding vigils Tuesday night.
"Today we gather heartbroken," said the Rev. Kim Crawford Harvie. "Love is bigger than anger. Love is bigger than fear. Love wins," she said to thunderous applause.
About 250 people filled the pews as Unitarian-Universalist reverends, reformed rabbis and Catholic priests, among others, led an interfaith service at the historic church. Following about an hour of song, prayer and spiritual readings, the audience lit candles and made its way across the street into the Boston Common, fanning out around the park's pond with their tiny flames.
"I felt a need to be with people," said Eurydice Hirsey, 59, of Brookline, Mass. "I didn't just want to feel anger, but to feel something more important."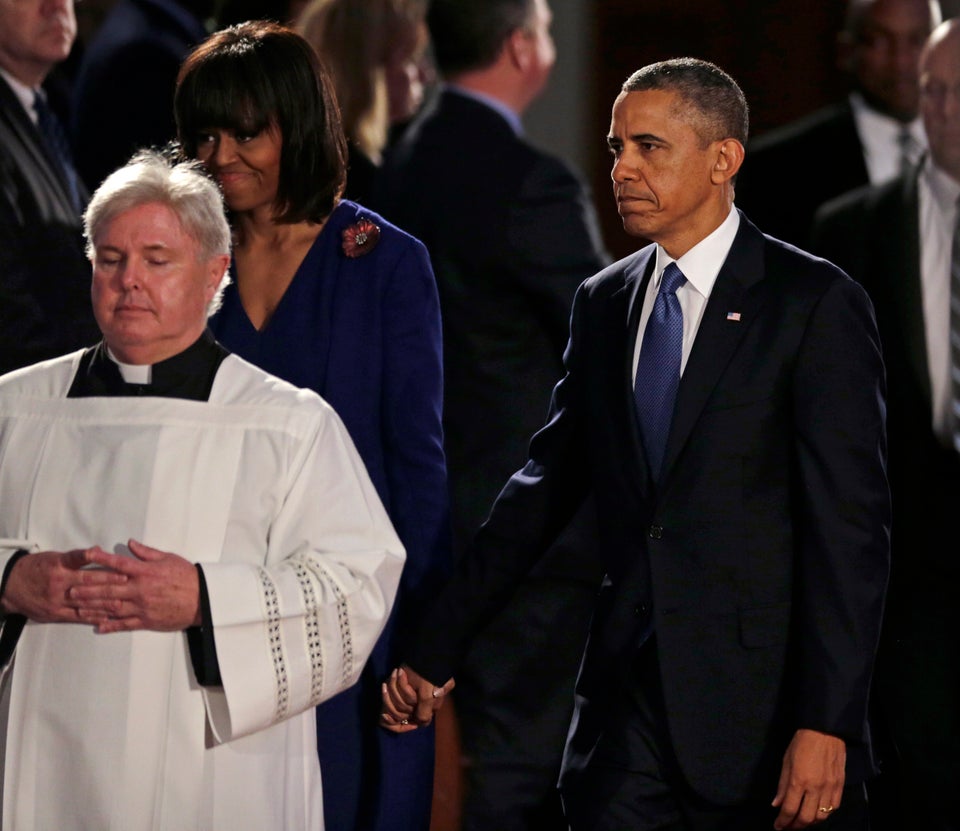 Boston Vigils
Related
Popular in the Community