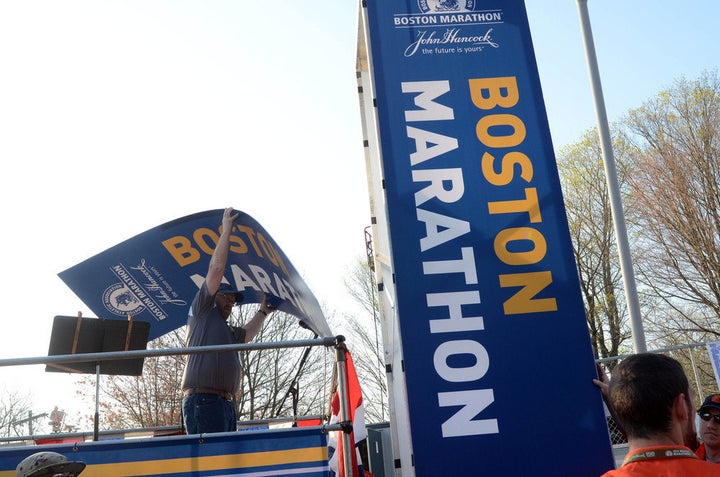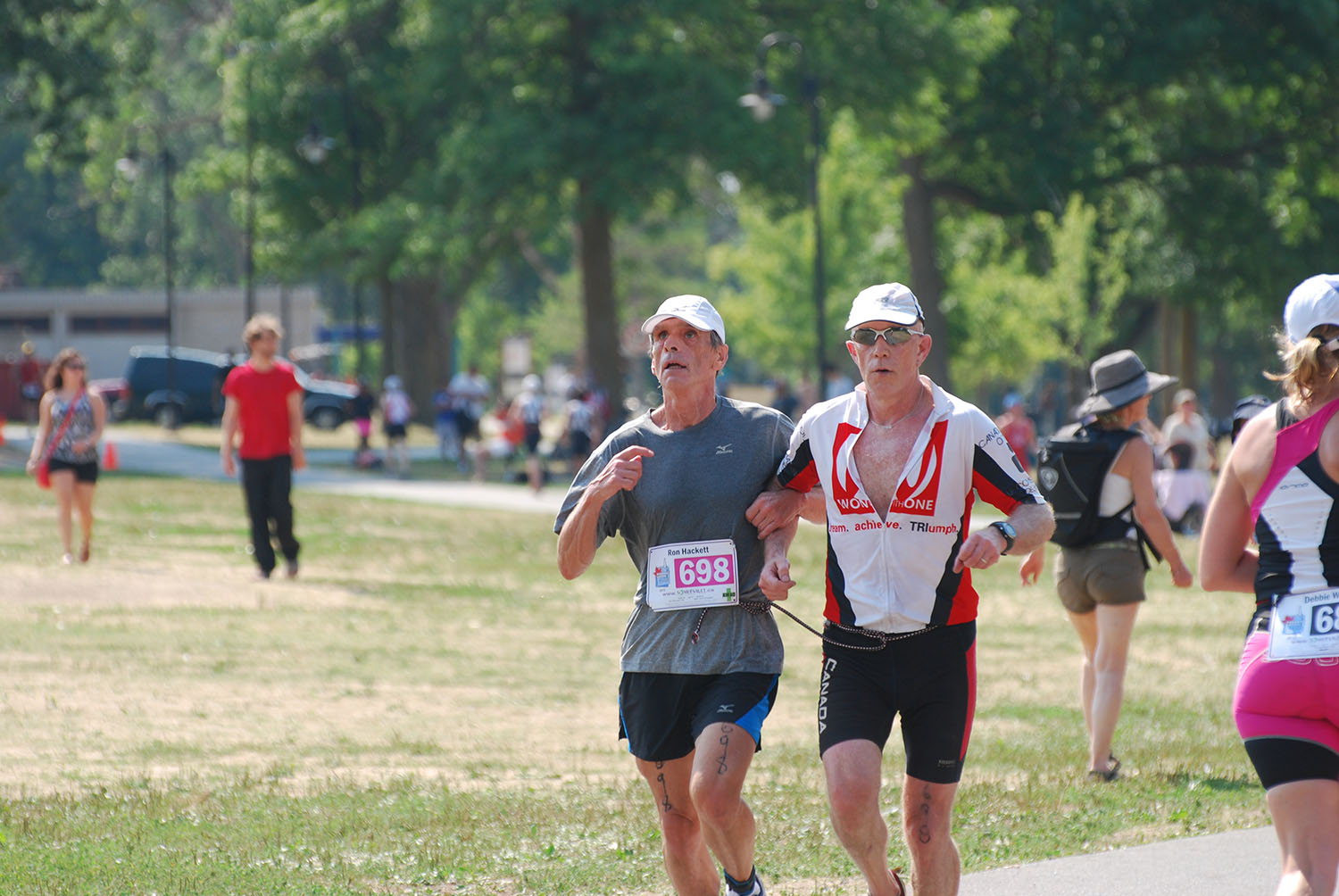 Ron Hackett and Tim Scapillato running in the Ottawa Duathlon in 2012.
UPDATE: Thankfully, both Ron and Tim are unharmed after today's incident at the Boston Marathon. Our thoughts are with everyone affected and their families.
If you are searching for a loved one, you can connect with Boston authorities at 617-635-4500.
In 1985, I was a 30-year-old non-runner who smoked a pack of cigarettes every day. Today, I'm running the Boston Marathon along side one of the most inspirational men I've ever known.
I quit smoking all those years ago because my wife and I were starting a family. Like I had done so many times before, I made a New Year's Resolution and butted out my last cigarette at midnight. To keep my hands busy, I took up knitting - yes, knitting - but six feet into my first scarf, I knew it wasn't going to be enough to take my mind off my cravings. I needed something more satisfying. So I put the knitting needles down and went out for a run, and then another, and another. I had found my new addiction.
It took me four years to work up to my first marathon, but when I crossed the finish line of that race in Ottawa, I knew this sport had me, mind, body and soul. If you're a runner, you know that the feeling of completing a long run is unlike any other. There's something about the calm and steadiness of it all that makes me feel fantastic. I kept training and in 1991 I qualified for the ultimate of all races, the Boston Marathon. It's an event many distance runners spend years aspiring to, and one I'll always feel humbled and grateful to participate in.
Tim running in the Boston Marathon solo in 2010.
But after more than two decades of marathons, and eventually triathlons, I began to feel like I should be doing something to give back to the community of runners that had such a profound impact on my life. I didn't know exactly what that meant, but I had been running for a quarter of a century, injury-free, and wanted to give other athletes the chance to experience what I had.
One day, while I was browsing Facebook, I noticed a post in my News Feed from an organization called Won with One, searching for a running guide for a blind distance runner. He needed someone to guide him through an upcoming marathon, and he lived less than two hours away in Ontario. It was like it had been written just for me. Almost stunned, I thought, "This is what I've been waiting for."
Ron Hackett was blinded as a child in a car accident when a drunk driver hit the car he was riding in. He was only 11 years-old, but hasn't let this loss prevent him from living an extraordinary life. He's run more than 10 marathons and even a few triathlons - one of which, I guided him through -- and even a five-day, 250-kilometer run through the scorching Sahara Desert in 2009.
I didn't meet Ron for the first time until after the evening before our first marathon in 2010. Without any formal training, we struck out for a jog around his neighborhood, Ron holding on to my elbow. We practiced running shoulder to shoulder, timing our strides so that our inside legs moved in sync. To be honest, I had no idea what I was doing, but he had run in that neighborhood for so long, he was almost guiding me. As we would approach a street, he'd tell me to "turn left here" or "turn right here." He knew exactly where we were.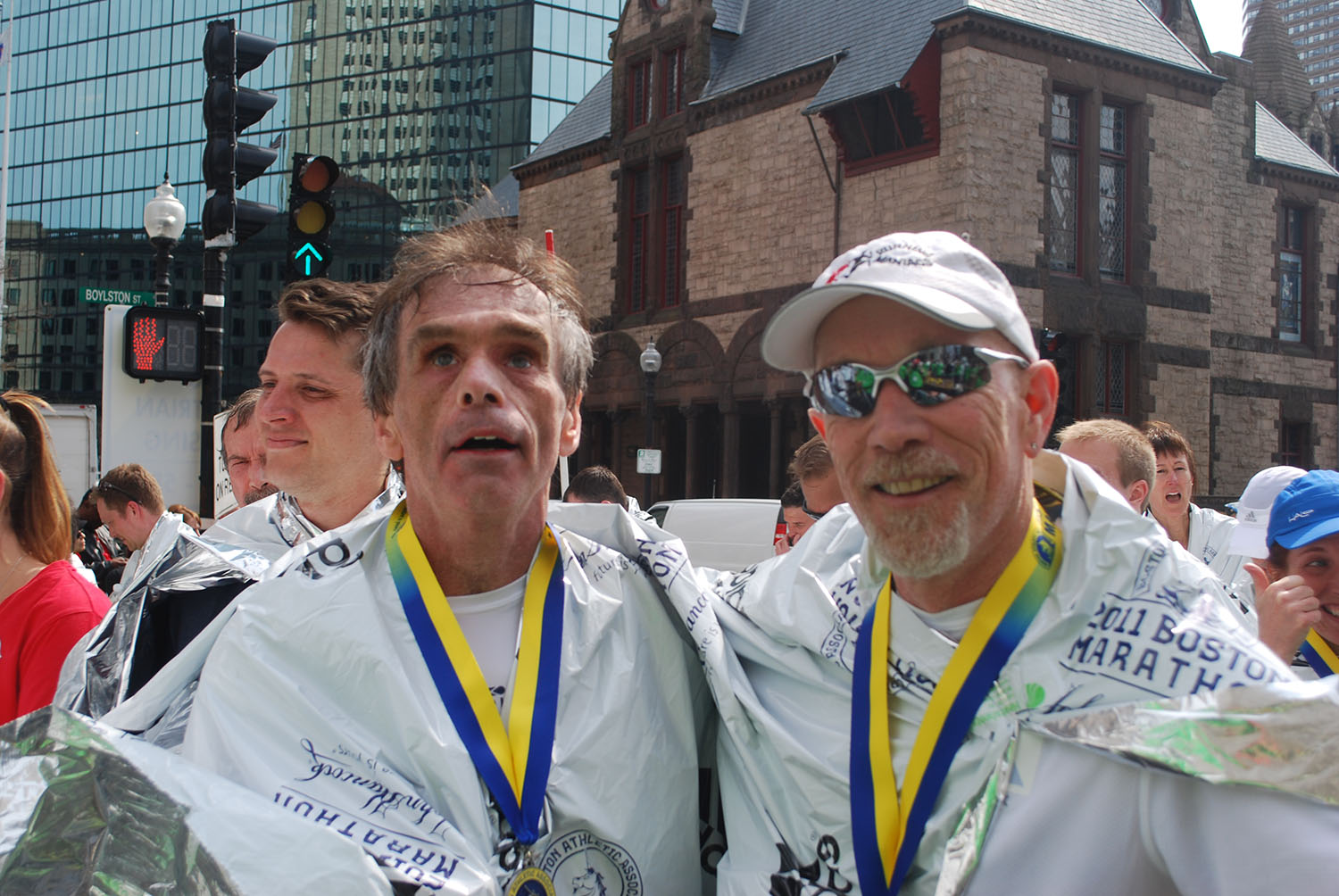 Caption: Ron and Tim after running the Boston Marathon together for the first time in 2011.
As we were waiting for the race to begin that next morning, my nerves pulsed. There is always chaos when the starter pistol sounds; everyone is battling to get out in front, weaving through the crowd in hope they don't smack into someone.
Getting through those first several minutes without tripping or banging in to other people is a tough task solo, and now I had another person to worry about maneuvering through the madness. I was scared something would go wrong, but as we got through the first kilometer, I relaxed and we found a comfortable rhythm.
A side effect of being attached to someone at the elbow for 42 kilometers is that you have the chance to learn a lot about each other. As we chatted during that first race, I knew Ron would be one of the most special people I'd ever meet. He's a dedicated athlete. He's a drummer in a rock band. And before moving in with his partner, Karen, he lived alone for years, cooking, cleaning and shoveling snow unassisted. I hadn't known a blind person before Ron, and I had no idea that this level of independence was possible, and I have a deep level of respect for him.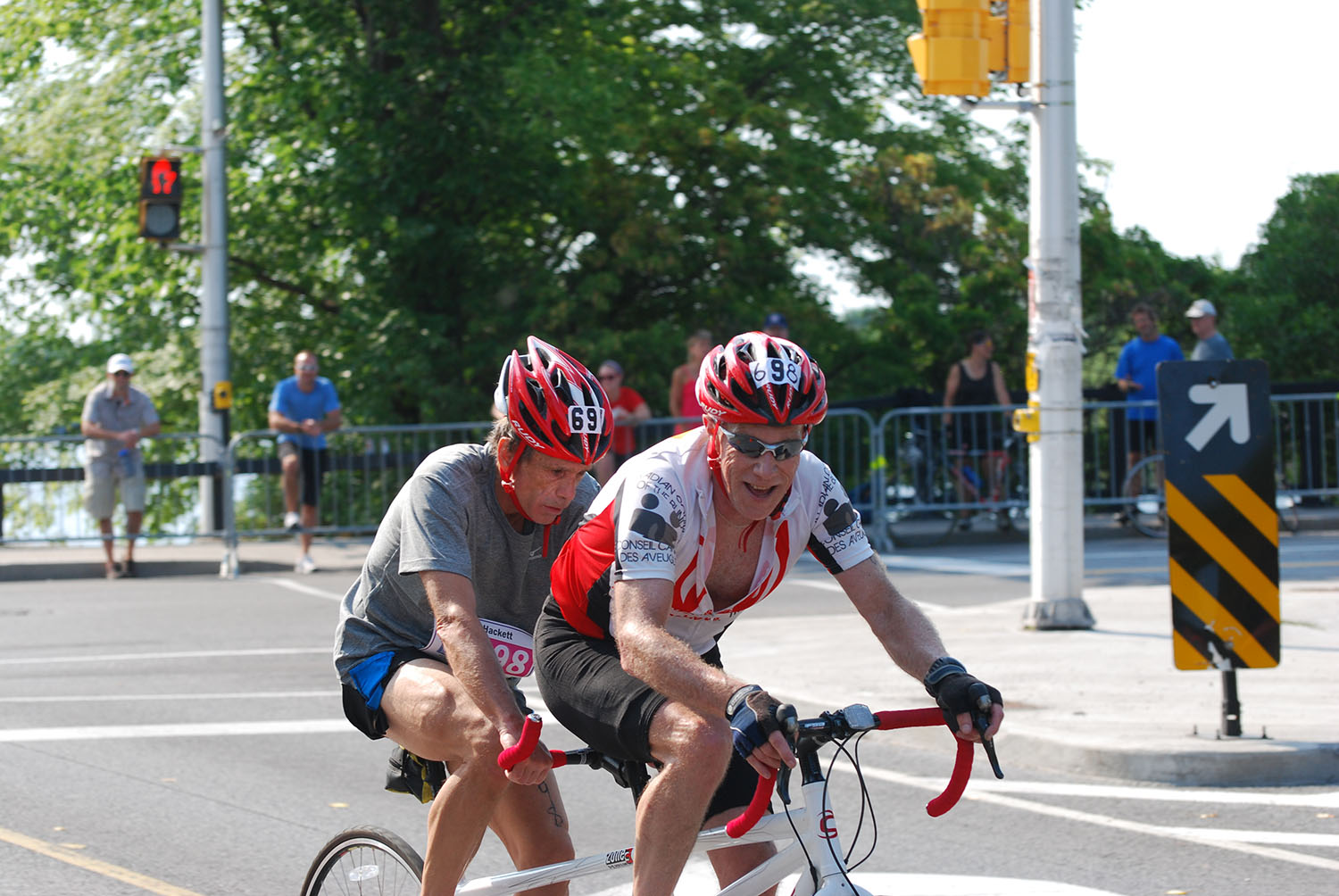 CAPTION: Ron and Tim during the cycling portion of the Ottawa Dualthon in 2012.
In the past three years, Ron and I have run 10 races together and have become great friends. It's amazing to think that because of one Facebook post, I'm connected with an organization dedicated to empowering visually impaired athletes and have met so many truly amazing people through my involvement there. Watching a blind runner cross a finish line, you can see that sense of accomplishment washing over them. That's what this experience is all about, giving other athletes like Ron the opportunity to accomplish something extraordinary and help them feel included in society through the act of participating on an equal footing. Like in some other aspects of life, they aren't being isolated or given special treatment. They're out there on the pavement, just like everyone else.
That's what I've learned: If you don't treat them like they're handicapped, people will live life just like anyone else.
Tim Scapillato and Ron Hackett are running the Boston Marathon today as partners for the third time. You can read more about the organization that connected them on Facebook, Won With On by Liking its page.
Related
Popular in the Community