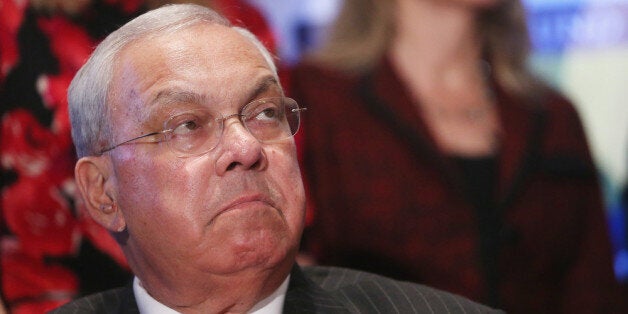 Boston Mayor Thomas Menino says he wants to visit Detroit. Why? It seems he has a singular plan for saving the bankrupt city.
"I'd blow up the place and start all over," he said in the August 28 edition of The New York Times Magazine.
"No, seriously, when it takes a police officer 90 minutes to answer a call, there's something wrong with the system," he told journalist Mark Leibovich. "Forty percent of the streetlights are out, most of the buildings are boarded up. Why? Inaction, that's the problem -- leadership."
Detroit's mayor, Dave Bing, didn't appreciate Menino's suggestion. He issued a statement on Tuesday calling Menino's comment "extremely regrettable" -- and also questioned his choice of words.
"I would think the mayor of a city that recently experienced a deadly bombing attack would be more sensitive and not use the phrase 'blow up,'" he said in the statement. "I am also dismayed that Mayor Menino did not get his facts right before making his remarks to the widely-read New York Times. The Detroit Police Department's response time is not -- and has never been -- 90 minutes. And, most of our city's buildings are not boarded up. Since taking office more than four years ago, there has been tireless action on the part of my administration to improve the quality of life for our citizens."
Bing, a former NBA All-Star who played his last season for the Boston Celtics, invited Menino to Detroit to see the city for himself.
Kevyn Orr, the state-appointed emergency manager steering Detroit through bankruptcy, said in a report that current wait times for police response average 58 minutes. The department and mayor have questioned those numbers, saying that priority calls in Detroit are answered with more urgency.
Joyce said Menino "feels strongly about cities" and "would like to help in any way he can," concerning Detroit's problems.
Menino isn't the only U.S. mayor with an opinion on how to help the Motor City -- or on what its leadership is doing wrong. On Tuesday, former Milwaukee Mayor John O. Norquist told the New York Times that the city's efforts to tear down its blighted and vacant structures was a "stupid idea."
"If you take all the teeth out of your mouth, your smile isn't very nice after," said Norquist, now president of the Congress for the New Urbanism. "And we're talking about a city that's been on a demolition kick for 30 years."
"We saw all of those factors at work in Detroit," Bloomberg said, "and in recent years, the most harmful factor may have been special-interest politics."
Calling all HuffPost superfans!
Sign up for membership to become a founding member and help shape HuffPost's next chapter
BEFORE YOU GO
PHOTO GALLERY
Detroit's Bankrupt... But Luxury Rents Are Skyrocketing!