The Boston Museum of Fine Art got a new gallery on Wednesday night...in their bathrooms. A group of artists commemorated "Flush the Walls" -- a protest-exhibit held 40 years ago -- by turning the bathrooms in the new Art of the Americas wing into a make-shift gallery.
A group of about 20 artists snuck in with their works, pasted them on the walls, and held a spontaneous reception. The 19-minute exhibit drew close to 75 people to the temporary galleries, then it was broken up by security.
Some of the artists who participated were: Maude Morgan prize winner Laura Chasman, ICA Foster Prize finalist Catherine D'Ignazio, painter Joe Wardwell, and also David Raymond and Jo Sandman, two artists who participated in the original exhibit. The event was organized by Greg Cook, artist, blogger, and freelance arts writer, in order to celebrate the event and give the MFA a signal to pay more attention to local artists.
(Story continues below video)
Cook came up with the idea of holding an homage to "Flush the Walls," which was an exhibit that expressed artists' frustration with the MFA's lack of commitment to the contemporary arts. He chose Wednesday because admission fees are voluntary after 4pm which would make it easier to pull off the show.
Laura Chasman, who participated in the exhibit said, "My first thought was, here's another opportunity to show at the MFA. I see this as playful and an anniversary. I don't see this as hostile. I see it as positive. I see it as energetic and a way of reigniting that rebellious show that took place.''
Last evening's impromptu event underscores the MFA's role as a place that inspires creativity. Contemporary art is an important part of our encyclopedic Museum. Currently on view are a number of exhibitions featuring contemporary artists, including glass installations by Dale Chihuly, photographs of Cuba in Violet Isle, as well as 20th-century works in the Art of the Americas Wing.

With the opening of the Linde Family Wing for Contemporary Art in September, the Museum will be able to showcase even more works by contemporary artists, including those from Boston and New England, as well as alumni from the School of the Museum of Fine Arts. The creation of this dedicated space reinforces the Museum's commitment to being a premier destination for contemporary arts and culture.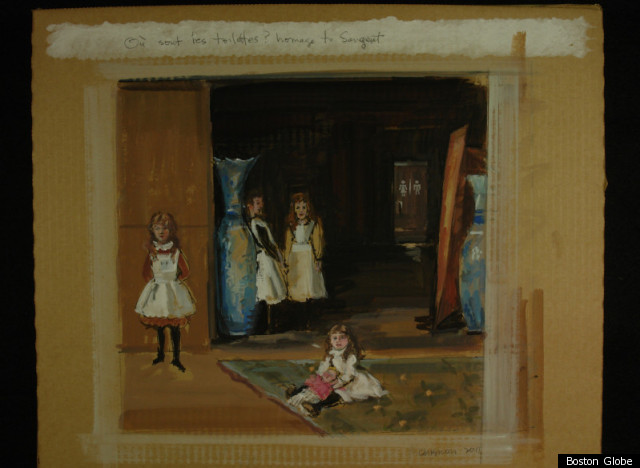 Laura Chasman, "Ou sont les toilettes? Homage to Sargent," gouache on a Fed-Ex cardboard box.
Related
Popular in the Community