As Thursday night turned into Friday morning and seemingly all of Boston became a crime scene navigated by police in pursuit of the men responsible for the bombings at the marathon, some 150,000 people listened in to the chatter over police radios using Broadcastify, an online service that provides live streams of police scanners.
By Friday morning, the Boston Police Department was using social media to try to contain the threat stemming from too many ears on its radio communications: The department sent out a Tweet pleading with people to stop sharing tactical information gleaned from the scanner feeds.
"WARNING," the department declared. "Do Not Compromise Officer Safety by Broadcasting Tactical Positions of Homes Being Searched."
Broadcastify promptly complied by taking the feed off the air, but individuals continued to use social media to dispense updates culled from other police radio broadcasting services, complicating police operations and underscoring the modern challenges of police work in an age in which seemingly everyone is connected.
The combination of large numbers of laypersons listening to these conversations -- and then broadcasting their interpretation of the communications instantly on Twitter -- can be dangerous to police work and the communities that forces serve, law enforcement experts say.
It raises the risk for police that they'll be ambushed if the people they're pursuing gain access to their communications.
There's also the risk that people could congregate at crime scene locations, or even deputize themselves and get involved in police business, said Eugene O'Donnell, a professor of police studies at John Jay College of Criminal Justice.
"If ever there is a time where public access to what police are saying should be limited, it's within the last 24 hours," said O'Donnell, a former police officer and prosecutor in New York City.
Police scanners have traditionally been a tool of crime reporters and hobbyists, but with a myriad of apps and websites that stream law enforcement communication, anyone with access to the internet can listen in on conversations meant for police.
"We're seeing things now that five years ago didn't exist at all," said Robert Wasserman, the chairman of Strategic Policy Partnership, a Massachusetts-based law enforcement consulting firm. "It really does present a challenge."
Chatter over police lines can include dispatchers sending officers to where crimes may be in progress, as well as unverified preliminary observations from dispatched officers.
David Salmon, a former U.S. marshall who's a senior law enforcement adviser at OSS Law Enforcement Advisors, said that broadcasting of police scanners "hinders the ability of law enforcement to protect the public." He added that if the suspect is listening, officers can be put in increased danger.
"When a person perceives they're being chased, that's bad enough. When they know they being chased and how they're being chased, they become more dangerous."
O'Donnell said that one of the issues with people broadcasting what they hear on police scanners is that they may not understand what the police are saying to one another. And information on police scanners isn't always verified.
"The cops may be able to recognize something isn't accurate, but listeners may take things verbatim," O'Donnell said. "When that goes out over the social media universe, it can be an instrument of disinformation."
Matthew Keys, the deputy social media editor at Reuters who's currently under investigation for allegedly helping hackers, angered some of his more than 35,000 followers Friday when he continued to live-tweet information from police scanners after authorities had asked people to refrain.
Keys also posted unconfirmed information that turned out to be untrue. At 10:41 a.m., he tweeted: "Just in: Suspect 2 on the ground at gunpoint." While he corrected the false report two minutes later in another tweet, his original tweet has since been shared over 250 times.
Wasserman, of Strategic Policy Partnership, drew a distinction between broadcasting scanner chatter, which he says isn't helpful, and using social media to disseminate accurate reports.
"I think social media can be very helpful if it puts out information and people have the ability to put back the information that they observe," he said. "There is really an increasing push for transparency in what goes on in a police department, but there are times when transparency is not helpful in an investigation or major event."
CORRECTION: An earlier version of this story misidentified the chairman of Strategic Policy Partnership. His name is Robert Wasserman, not David Wasserman.
Support HuffPost
The Stakes Have Never Been Higher
Related
Before You Go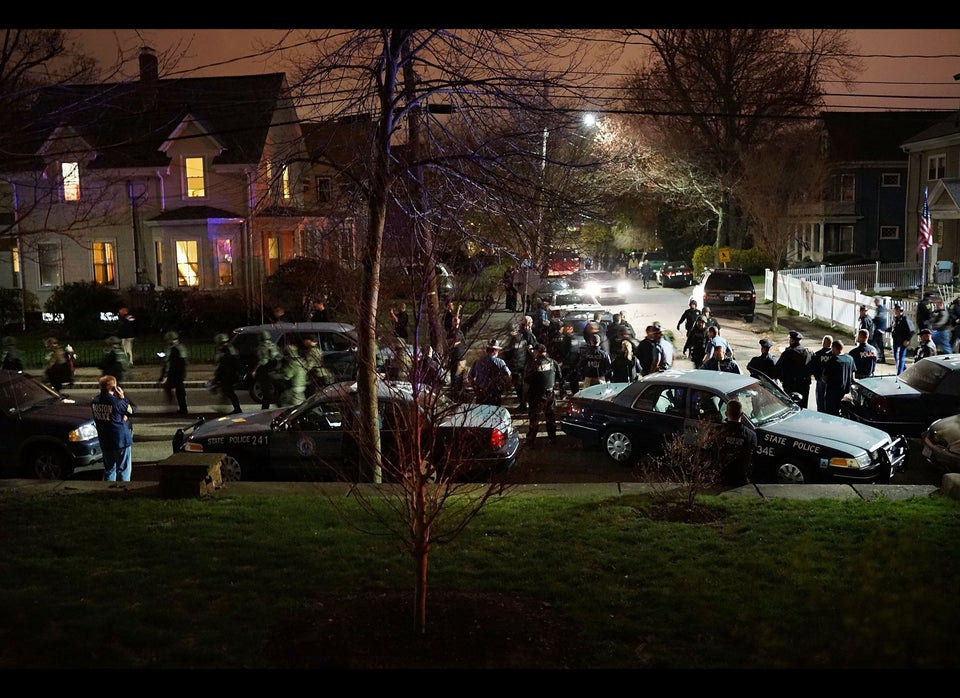 Manhunt For Suspect #2
Popular in the Community