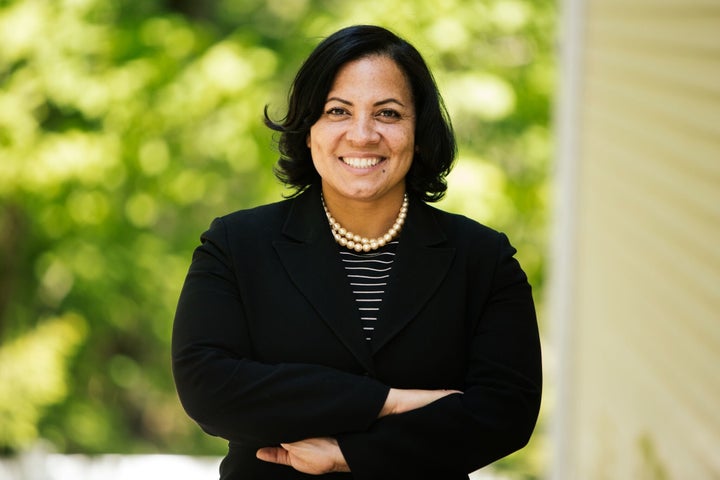 Rachael Rollins, a former prosecutor and the first person of color to be general counsel for the Massachusetts Department of Transportation, defeated four other candidates in Tuesday's Democratic primary for Boston's Suffolk County district attorney seat.
"I am honored and humbled," Rollins, who is considered a reformer candidate, said in a statement Tuesday night. "But I also need to say ― for all of us ― that this is earned. As a 47-year old Black Woman, I have earned this. We have earned this. This is the time for us to claim our power and make good on our promises to make true criminal justice reform for all of the people in Suffolk County."
Rollins will now face independent candidate Michael Maloney, who has worked as a defense attorney, in the November general election. There were no candidates in the Republican primary. If Rollins wins in November, she would become the first woman of color to lead Boston's criminal justice system as top prosecutor in Suffolk County.
Rollins ran under a progressive vision for the top prosecutor's office, supporting an end to cash bail for low-level offenses, increasing the use of alternatives to incarceration, such as rehabilitation and restorative justice programs, and repealing the use of mandatory minimum sentences.
"The election of Rachael Rollins was another litmus for criminal justice reform," said Shaun King, co-founder of political action committee Real Justice, which endorses reform-minded candidates for local prosecutor, including Rollins. "Her win means that everyone needs to start paying attention to these critical races. Justice and good governance begin at the community level, and in this case, justice begins with Rachael Rollins."
Massachusetts is, in general, a progressive state, but Boston's criminal justice system has been criticized for moving too slowly on reforming its criminal justice system and reducing mass incarceration. It was an unusual race in Suffolk County. The outgoing district attorney, Dan Conley, who was criticized for resisting efforts to reform the county's criminal justice system, announced earlier this year that he wouldn't run for re-election after holding the office for 16 years. That left the seat open for the first time in almost 100 years.
Progressives are spending millions of dollars to challenge local prosecutors around the country who are maintaining the status quo, aiming to replace them with criminal justice reform advocates. They are hoping to replicate what is already happening in Philadelphia, where new District Attorney Larry Krasner is reshaping the city's criminal justice system with the goal of ending mass incarceration.
And, although the race for prosecutor has historically been a sleepy affair, in recent years dozens of incumbent prosecutors have faced challengers, and several veteran prosecutors have been ousted by candidates running as criminal justice reformers. Just last month, St. Louis County District Attorney Bob McCulloch, who had served in the Missouri office for nearly 30 years and who famously failed to secure charges against the police officer who shot and killed Michael Brown, an unarmed African-American man in Ferguson, was defeated in a major upset by Wesley Bell. Bell cast himself as a reformer committed to changing the local criminal justice system, which was widely derided following the Brown case.
Rollins' victory is also significant in that she is a woman of color running for district attorney. Ninety-five percent of elected prosecutors are white, and 79 percent are male. Only 1 percent of prosecutors in the U.S. are women of color.
Prosecutors are among the most powerful agents in the American criminal justice system. They have complete and unrivaled access to the evidence that can determine a person's guilt or innocence, and they hold broad powers over how seriously to take a charge against an individual and how aggressively to pursue a case. They determine the charges a defendant will face and ultimately set the parameters for the punishment a person might receive.
HuffPost is committed to covering the role of elected prosecutors in America's criminal justice system. To reach Matt Ferner with tips or story ideas, email matt.ferner@huffpost.com.