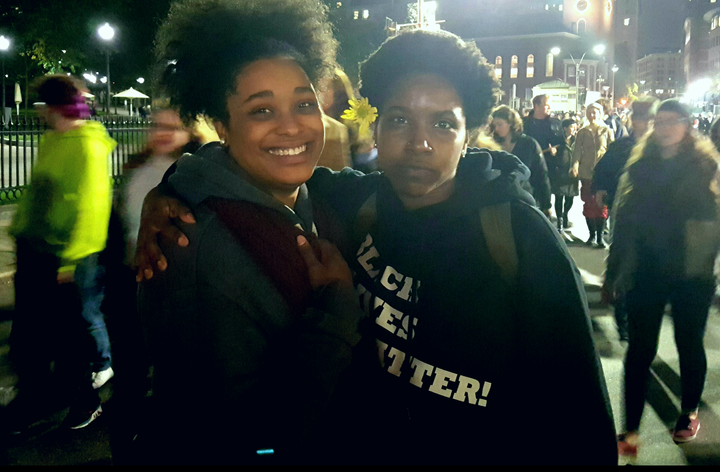 24 hours after the election that shook the nation, thousands of protesters took to Boston Common and its surrounding streets to voice their opposition. It was a boisterous, but peaceful mass gathering, with no arrests or altercations noted. Similar protests occurred across the nation, but to those assembled on America's oldest public park, there was a clear sense of local pride within the national call to action.
The 44 acre public park along the Freedom Trail, originally purchased by Puritan colonists, has hosted celebratory events for the repeal of the Stamp Act and the ending of the Revolutionary War. It has been the site of notable and also dubious events in our history, such as (in chronological order) the whipping and hangings of Mary Dyer and three of her fellow Quakers [a statue of Dyer now stands in front of the Massachusetts State House], and of witches, pirates and criminals; Charles Lindberg's orations on aviation; Father Leonard Feeney's anti-Semitic preachings; Vietnam War protest rallies, one of which was led by the Rev. Martin Luther King, Jr.; and a 1979 Mass by Pope John Paul II; as well as myriad rock concerts and varied political, social, and civic rallies.
On Nov. 9, amid the shock and horror frozen on thousands of faces, justice and equality for all Americans was the main agenda. "I'm here to make sure that black lives, queer lives, women, and rape victims don't get forgotten in this circus," said Tori Furtado of Boston. "I can't believe this even happened." Furtado blamed commercial broadcasting and said that social media is more reliable than any news source.
"Fox has way too much power," she said. "People listen to the first two stories and think that that those are the truth. The stories that white people want to hear are both prominent, and warped. The real stories are the ones that are shortened to less than a minute."
Furtado enumerated one example. "A story about white people will include a white child plastered on the front of it, whereas a story regarding black people will have police tape and B-roll footage, presented in this way so that you don't feel anything," she said.
As for the President-elect, Furtado was both frank and confident. "This is as bad as things can get," she said. "He is a neo-Hitler. But we will prevail."
Ominously, the night was the 78th anniversary of Kristallnacht.
Furtado's companion, Tatyana Farmer, also of Boston, rued the election results. "Take an experienced woman and an unqualified male, and put him in," she said, as the crowd proceeded from Parkman Bandstand toward the State House. "He's got a rape case pending, but push him in anyway."
The long human train of dissent continued down Park Street, onto Tremont, and marched toward Copley Square, a large commercial district, before turning onto boutique-lined Newbury Street, and back to the Public Gardens and Boston Common. Ralliers shouted both printable and unprintable slogans regarding women's personal rights and the concerns of their communities, as well as anti-Trump epithets. Along the way, supporters loudly cheered from windows and doorways.
It's no wonder. In this blue state, deemed an oasis of sanity by many attendees, all five ballot questions passed along progressive lines, and both the Massachusetts House and Senate continued to hold unbreakable Democratic majorities. The ballot questions ultimately put the lid on any additional slot casinos; approved the legalization of recreational marijuana; rejected additional charter schools, thereby preserving funding for public schools; instituted enforcement of greater room for penned farm animals; and in Boston and many state cities, passed a one percent increase in real estate tax to fund public housing, parks and historic sites. Consequently, on the previous night at the Fairmont Copley Plaza Hotel, cheers for local victories were interspersed with moans of concern about the general election.
"Massachusetts is the greatest country on Earth," said Jackson Mann of Boston, who spoke about the immigrant experience. "Immigrants to America were all forced to change and adapt to new ways of life, to take the worst jobs," he said. "They had to change who they were," he said, adding that the only people in this country's history who had not been disenfranchised were whites in middle America. "But now that they have been disenfranchised," said Mann, who was marching with his companion Zoe Mitchell of Boston, "instead of adapting like immigrants did, they lashed out in this hateful and bigoted way."
Others, like Luke Graham, a native of Wilbraham, Massachusetts and student at Skidmore College in New York, call for tolerance and balance. "Most of the people reading this will probably be angry, and your anger is justified — this is the second time in five presidential races where the majority vote has run contrary to the electoral college," he said. Graham was not at the protest in Boston, but took on a pro-Trump detractor on the rally's Facebook page. He said that there were some smaller gatherings on his campus, and he had attended some five minute "screams and healing sessions."
Nonetheless, Graham believes in respect for all who voted this week. "It is easy and tempting to dismiss all Trump supporters as bigots, but we must not," he said. "47 percent of us voted for this man, and most of them weren't voting because they hate minorities. Trump won through the working poor, and they voted for him because they think the government, their country, our country, had failed them." Graham believes that unless we can talk to that other 47 percent, and they to us, America will neither heal nor progress. "So go out tonight and express your rage at the system," he said, regarding the protesters. "But return tomorrow willing to talk. Come January, do all you can to care for the oppressed — but hope that you will not have to — and come November 2020, fight together for our future."
Back at the Bandstand, speakers read from a sheet of demands that included no border wall, an end to deportations, a stop of the Dakota pipeline, an end to racism and all attacks on women as well as homophobia, health care for all, and free college tuition. Mottos from the Black Panther movement were cited. "This is Day One! This is the American Spring!" a speaker proclaimed, denouncing the recent police killing of Terrence Coleman, a mentally disabled black man killed on October 30. "The police will never arrest landlords, and they will never arrest someone like Donald Trump," he said. "This nation was born under genocide and slavery, and it has not stopped." A Jan. 20 Act Now to End Racism protest at the Trump inauguration was announced.
Boston University student Gershon of Somerville, who did not wish to publicize his last name, carried a large sign with the words "November 9, 1938." He said it was an issue of justice. "My grandfather lived through the Holocaust," he said, adding that his grandfather expressed empathy with Palestinians during the Second Intifada.
"For me, the message of Kristallnacht shows what can happen when a demagogue fascist comes to power," he said. "How will we know when we get to that point?" he asked. "I really fear that we will not be mobilized." He said it was that fear that brought him to the rally, "Hitler didn't even have the executive power of the NSA or the power of surveillance that we have today," he cautioned, adding that 30 percent of the progressive city of Medford, Massachusetts went for Trump as well. "We are not isolated from this," he said. "And even if we insulate ourselves, there will be mass violence against people all over this country."
Susie Davidson tweets at @SusieDavidsonMA.