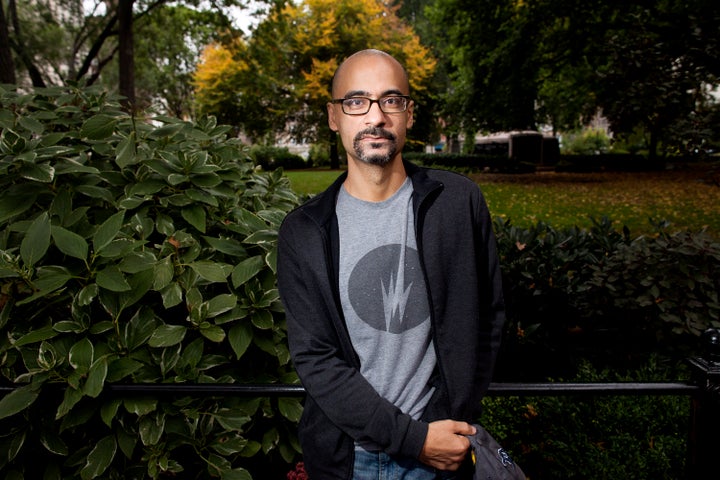 Three editors for the Boston Review are resigning in protest over the literary magazine's decision to retain author Junot Díaz on the staff despite allegations of sexual harassment and misogyny against him.
On Tuesday, Boston Review's editors-in-chief, Deborah Chasman and Joshua Cohen, released a statement announcing the magazine's decision to keep Díaz on as a fiction editor, a position he has held since 2003.
Poetry editors Timothy Donnelly, BK Fisher and Stefania Heim released their own statement on Twitter later that day to announce their resignations, saying they were "dismayed" by the top editors' decision.
"While we respect their determination to follow their judgment in this matter, we don't agree with it, and have decided that our future editorial work will be better served elsewhere," the editors wrote. Their resignations will be effective on July 1, they said.
In May, several women accused Díaz, the author of The Brief Wondrous Life of Oscar Wao, of aggressive and misogynistic behavior, including, in one case, sexual assault. 
Novelist Zinzi Clemmons said the Dominican author cornered and forcibly kissed her when she was a graduate student.
Authors Monica Byrne, Carmen Maria Machado and Alisa Valdes subsequently came forward alleging that Díaz had harassed or bullied them.
Díaz stepped down from his role as chairman of the Pulitzer Prize Board in the wake of the allegations. The Pulitzer board, as well as MIT, where Díaz is a professor, opened investigations into the accusations.
In their statement, Chasman and Cohen said they had reviewed the reports and "thought hard about how we should respond."
Noting that they did not "condone" Díaz's behavior, they said: "We do not think that any of the individual actions that have been reported are of the kind that requires us to end the editorial relationship."
"The objectionable conduct described in the public reports does not have the kind of severity that animated the #MeToo movement," they added.
Responding to a HuffPost query about the poetry editors' departures, Chasman wrote in an email Thursday:
Boston Review has three amazing poetry editors. Timothy, Barbara, and Stefania are morally decent, artistically creative, politically committed people who have made a great contribution to Boston Review. We are deeply grateful for all that they have done. They are resigning effective July 1 because they disagree deeply with our decision about how to handle Boston Review's relationship with Junot Díaz. We arrived at our decision after many conversations with writers and long reflection. We believe that we have done the right thing. We know that reasonable people disagree. And we are saddened by their decision to separate.
This story has been updated with comment from Chasman.
Calling all HuffPost superfans!
Sign up for membership to become a founding member and help shape HuffPost's next chapter