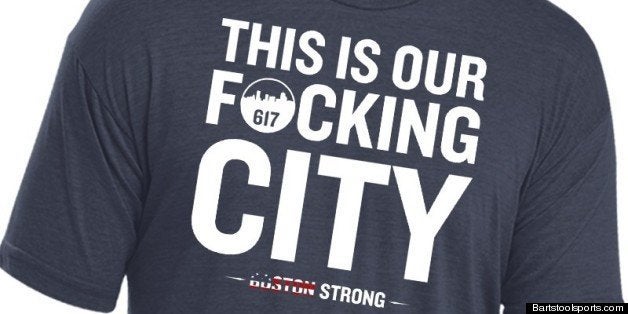 Even before anyone knew just how many people had been harmed in the Boston Marathon bombing, David Portnoy had a plan to help those affected. It would involve printing a curse word on a T-shirt.
Portnoy is the publisher of a sports news website, Barstool Sports Boston, known for its mix of local sports, salty humor and bikini-clad models. He was eager to raise money to aid the victims, but he had no particular charity in mind. All he knew was what has become a defining feature of the American response to tragedy: People are inclined to buy a T-shirt or some other consumer item that signifies their concern. His brand could be harnessed to help.
"We just decided we were going to do something to try to help, and we knew we'd have support, even if we didn't know where all the money would be going," Portnoy told The Huffington Post. "A lot of our site's readers were saying in online discussions, 'How can we help? What can we do?'" he said. "I instantly knew we'd be making a T-shirt."
But what would the T-shirt say, and where would Portnoy deliver the proceeds? The latter question was answered when Boston Mayor Thomas Menino and Massachusetts Gov. Deval Patrick announced the creation of One Fund Boston, designating it as the official aid pool for those harmed by the attacks.
The T-shirt's slogan emerged on Saturday, when Boston Red Sox slugger David Ortiz made an emotional speech in which he declared, "This is our f**king city." By early Tuesday, Portnoy had sold more than $140,000 worth of T-shirts bearing those words.
Portnoy is just one of several entrepreneurs interviewed by HuffPost this week who were selling apparel that in some fashion references the Boston attack. All said they planned to donate the profits from those sales to One Fund Boston.
All of them also said they'd decided to sell their products even before the fund was officially announced, confident that they would see overwhelming demand and determined to get the money flowing immediately. They were sure they'd find an appropriate recipient for the proceeds later.
In putting tragedy-themed T-shirts, wristbands and athletic accessories up for sale mere hours after disaster struck, the entrepreneurs said, they were expecting to tap into a powerful commercial undercurrent: the need many Americans seem to have to literally wear their charity on their sleeves.
"They feel good about it. They're exhibiting their solidarity," explained Jacob Jacoby, a professor of retail management and consumer behavior at New York University. "The shirt is something you put on and it exhibits who you are and what your values are to your friends and neighbors."
Doug Browning, president of Sweaty Bands, also jumped at the opportunity to offer a Boston-themed piece of apparel, pledging to donate the proceeds to charity. "We just knew our customers would support it by giving us their money, because it's a way for them to show their solidarity," he said.
"For them, it's even better than just donating," he said. "They're getting something out of it, too."
It wasn't just smaller retailers that jumped in to combine philanthropy and commerce. Employees at Saucony, a large manufacturer of athletic shoes based in Lexington, Mass., scrambled to find a way to help the bombing victims.
"On Tuesday, it wasn't quite clear how to benefit the victims," said Saucony's chief marketing officer, Chris Lindner. "Our immediate thoughts were to go to the Red Cross and give blood, but fortunately they had no immediate needs."
One Fund Boston was announced that evening, and the product designers at Saucony sprang into action. By Friday, customers could pre-order the item they'd come up with: shoelace medallions emblazoned with "#BostonStrong."
Adidas, one of the largest athletic brands, was also selling a "tribute tee" by early Wednesday to benefit One Fund Boston.
Greg Selkoe, founder and CEO of online fashion retailer Karmaloop.com, said the T-shirts go beyond aiding those directly affected by the bombing and help society at large heal from its psychic wounds. "Human beings are animals that live in a collective, and they need human contact and feed off each other's messages," he said.
"These kind of messages of defiance and unity are important. People are moving towards rebuilding, and sending this message helps," he said.
But Angela Eikenberry, assistant professor of public administration at the University of Nebraska Omaha, questioned whether the rush to link buying to giving is the best way to help those in need.
"People are trying to be engaged and trying to figure out how to fit philanthropy in within their busy lifestyles," Eikenberry said. "There's a natural need to want this to happen, to wish ourselves citizen-consumers that can solve problems through more buying."
"But there's this disconnect," she continued. "There's research that suggests that when people buy these products, where there's a promise of charity involved, then they think, 'I guess I've done my part.' And people tend to think they've done more than they actually have."
"Why didn't they just donate money instead?" Eikenberry said.
Related
Before You Go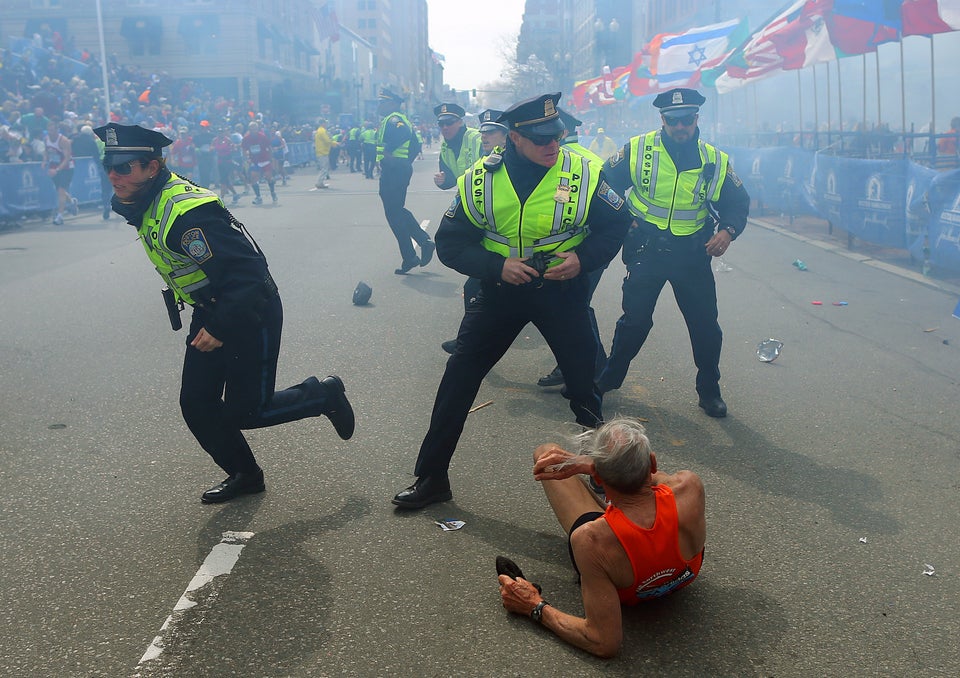 Boston Marathon Bombings
Popular in the Community