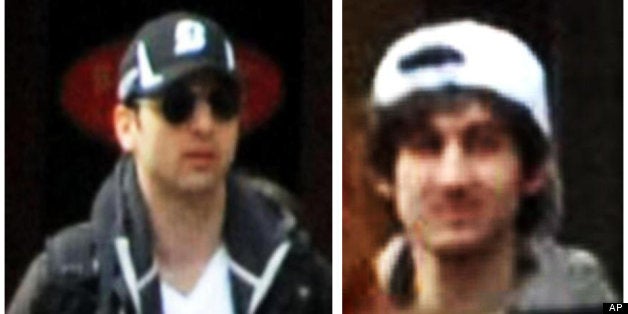 A man who claims to have been carjacked by the men authorities suspect were responsible for the Boston bombings told authorities that the duo spared him because he "wasn't American," according to NBC News.
NBC's Pete Williams, who won plaudits for his timely and accurate coverage of the Boston attacks and the ensuing manhunt, said that NBC had exchanged emails with the victim, who described the suspects as "brutal but cautious."
A report by Cambridge, Mass. police that has been seen by the Wall Street Journal, relayed the victim's description of his abduction:
"One of the brothers jumped out of a Honda Civic and reached in through the front passenger side window of the SUV, opened the door and pointed a silver colored semi-automatic pistol at the driver... Inside the car, the brothers declared to [the victim] that they were the Boston Marathon bombers."
Politico cited reports that a senior U.S. official told The New York Times that the Tsarnaev brothers may have been headed to New York City in the vehicle they hijacked Thursday, though any other planned attacks are not confirmed.
Williams said on MSNBC's "Morning Joe" that the carjacking victim had heard the suspects - who were speaking in a foreign language - use the word "Manhattan."
The man who was the alleged victim of the Tsarnaev brothers' carjacking does not wish his name to be made public.
Popular in the Community