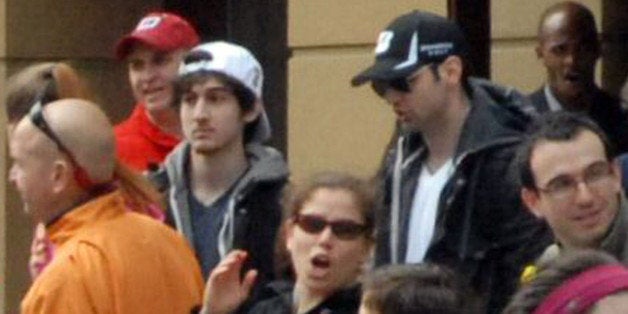 The recent trial of convicted Boston Marathon bomber Dzhokhar Tsarnaev and the police shooting of a man allegedly planning to decapitate cops once again have people asking whether there's a connection between Boston and terrorism.
It's easy to rattle off other examples, too. The list inevitably begins with 9/11; the hijacked planes that destroyed the World Trade Center took off from Boston's airport. Four area cabdrivers possibly constituted a "sleeper cell" in the 1990s and were later separately charged with terrorism activities. Aafia Siddiqui, aka "Lady al Qaeda," was arrested after shooting at FBI agents and military officers in 2008 in Afghanistan but metamorphosed into a radicalized student at MIT and Brandeis University in the 1990s. Rezwan Ferdaus, of suburban Boston, admitted in 2012 to planning to bomb the Pentagon and U.S. Capitol with a remote-controlled plane.
And, of course, there's Tsarnaev, who will be formally sentenced to death today for the most infamous attack the city's seen, the 2013 Boston Marathon bombing, which killed three people and injured 264 more. And the case against the two alleged accomplices of Usaama Rahim, the knife-wielding man fatally shot by police earlier this month, is just getting underway.
So, did the cradle of the American Revolution become an incubator for extremists?
"It does seem like there's been an uptick of terrorism in the Boston area and it's of a special kind [Islamic terrorism] but we're working with very small numbers here, " said Northeastern University political science professor Max Abrahms. "People think they see important patterns that are not actually meaningful. I am unconvinced until the number of terrorist incidents in Boston grows or we observe interrelated incidents."
The possibility that Boston is uniquely producing domestic terrorism cases sparked The Boston Globe to run a front page story this month asking if terrorism is a trend in the city.
Former Boston Police Commissioner Ed Davis told The Globe that he hadn't ruled out the hypothesis that the region is a jihadist haven.
"I don't want to downplay the fact there have been repeated incidents. I think we have to look closely at it at this point," Davis told the newspaper.
At times, Boston inadvertently became the backdrop for a terrorism case, such as the trial of Richard Reid. The "shoe bomber" pleaded guilty in Boston in 2002 to trying to blow up a flight from Paris to Miami because the American Airlines plane made an emergency landing at the city's Logan International Airport.
James Forest, director of security studies at the University of Massachusetts-Lowell, dismissed the hotbed argument and said Boston hasn't seen significantly more successful attacks or foiled plots than other cities. The Global Terrorism Database, created by the University of Maryland, shows the attack on the Boston Marathon was the only attack carried out in the city since 9/11. In that same time period, Los Angeles saw nine attacks, seven of which were connected to animal rights extremists, and Washington, D.C., witnessed 12 attacks, many involving letters laced with poison being mailed to politicians.
"Boston is indeed a special place. I moved here 20 years ago for grad school and have always loved it here," Forest said. "But there's nothing unique or special about it when it comes to terrorism. These are a couple of guys."
Part of the difference of opinion lies with the record-keeping. A Boston group called Americans for Peace and Tolerance keeps score differently than professors like Forest and Abrahms, and has taken a stand against the area's mosques.
The group cites 13 individuals linked to Boston-area mosques who since the 1990s have displayed some form of extremism or terrorist sympathy. Some, such as Tarek Mehanna, have been convicted of supporting al Qaeda. Another individual, Ahmad Abousamra, is on the FBI's Most Wanted Terrorists list and may have recently been killed in Iraq.
"Boston is a magnet because of the universities, and the hyper-progressive culture and politics of the place, which give protective cover [to extremists]," Americans for Peace and Tolerance founder Charles Jacobs told HuffPost. "They [the mosques' leadership] are promoting a philosophy that plants a bomb in the hearts."
But the list includes people without obvious evidence of terrorist activity, such as Khairullozhon Matanov who was sentenced to two and a half years for lying to authorities about having dinner with the Tsarnaev brothers after the bombing and for destroying computer files.
U.S. Attorney Carmen Ortiz, whose office prosecuted Tsarnaev this spring, previously called Jacobs' group "incredibly racist and unfair" in a New York Times article.
Ortiz's office didn't answer HuffPost's requests for its count of local terrorism cases, but the Investigative Project on Terrorism lists nine federal terrorism cases against defendants with a Boston connection.
"People see the reality and truth. The little doubt people had just went away," said Yusufi Vali, executive director of Islamic Society of Boston Cultural Center, which operates a large mosque in Roxbury. "Let the numbers speak for themselves."
CORRECTION: An earlier version of this article misstated that the Investigative Project on Terrorism listed nine terrorism cases filed in Boston federal court. Some of the cases were filed in other federal courts, but all included defendants connected to Boston.