 Members of the Boston University hockey team, plagued by recent sexual assault allegations, live in a climate of "sexual entitlement" according to an internal report released to the public this week.
A task force commissioned by BU President Robert A. Brown reviewed the culture, academic quality and disciplinary history of the BU men's hockey team. Brown ordered the task force after two high-profile players were accused of sexual assaults in the 2011-12 academic year.
"Our assessment has shown that a culture of sexual entitlement exists among some players on the men's ice hockey team, stemming in part from their elevated social status on campus," the report states. "This culture of sexual entitlement, as evidenced by frequent sexual encounters with women absent an emotional relationship or on-going commitment, can also involve unprotected sex. This culture is actively supported by a small subset of BU's undergraduate population."
The task force was co-chaired by Dr. Jonathan R. Cole; John Mitchell Mason, professor at Columbia University and a BU trustee, and Dr. Jean Morrison, BU Provost and Chief Academic Officer. It was staffed by multiple faculty members at BU and some of Brown's staff. The task force examined records, comments submitted by the public, an open forum and personal interviews.
The report notes there is not sufficient oversight of the hockey team, and a serious deficiency of team leadership. It also faults the separation of the hockey team from living with other members of the university community, "by virtue of their housing arrangements, having their own functionally exclusive training and competition venue."
The report said the team's success contributes to its entitlement. One-third of BU hockey players were drafted into the NHL, and men's hockey is the most accomplished of BU's teams with five national champions.
"[E]xcessive alcohol consumption has played a role in the majority of the instances of alleged sexual assault or other inappropriate behavior that have been identified through the work of the Task Force," Brown said in a statement to the community.
The committee found many team members were insulated from the campus community and had test scores and grades below university admissions averages. The task force recommended establishing a university sexual assault prevention office and requiring the team to undergo annual sexual assault prevention training.

BU opened a Sexual Assault Response and Prevention Center last week after multiple sexual assaults, hazing and Peeping Tom incidents occurred during the 2011-2012 academic year and the student newspaper made light of rape in its April Fools edition.
The report recommends that the Provost's Office oversees a review by the Athletics Department of the Student-Athlete Code of Conduct that would ensure student-athletes are academically prepared. It also calls for BU to establish an office that provides care and counseling for victims of sexual assault and sexual harassment.
"What BU appears to be proposing, then, is a sweeping reformulation of the jock's role at a university," wrote Samer Kalaf at Deadspin. "In some ways it's a grander shift than anything Penn State's adopted. Sure, maybe it's just straightforward post-scandal ass-covering. But what if it weren't?"
While the report calls for "any misconduct that involves potential violations of university policies or federal, state or local laws" to be handled the same as they would for non-athletes, it also wants the university to create "a program of peer and alumni mentoring for men's hockey players."
Brown said he plans to start implementing recommendations immediately.
The report noted there was no evidence found of major NCAA violations as a result of an investigation by Michael Glazier, chair of the Collegiate Sports Practice Group in the firm of Bond, Schoeneck & King, PLLC.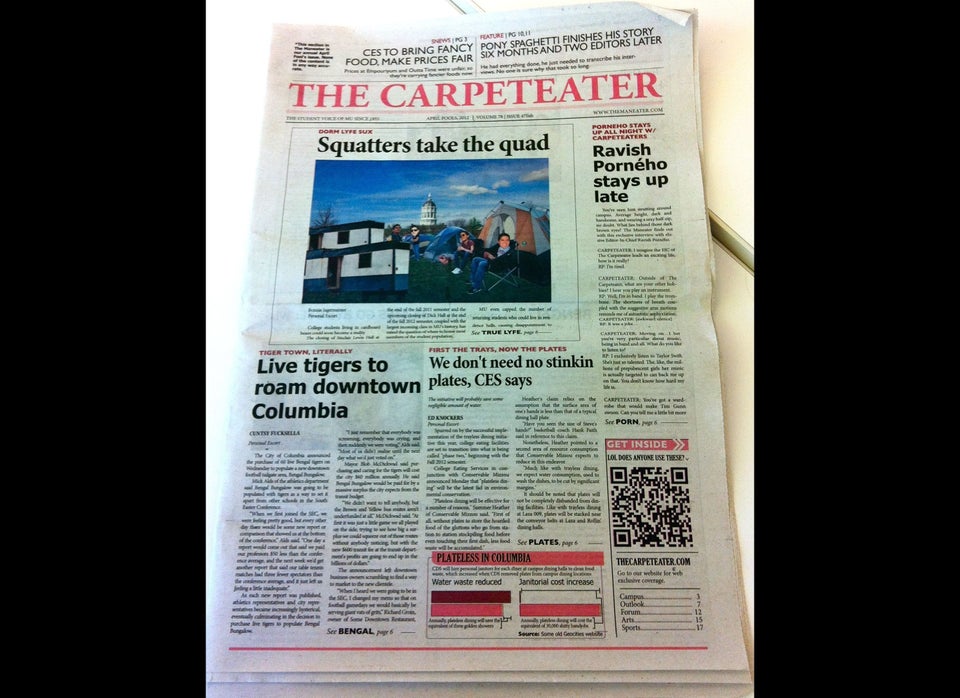 April Fools Fails And Other Student Newspaper Mess-Ups