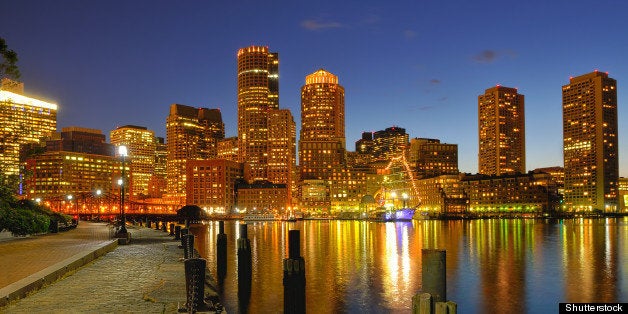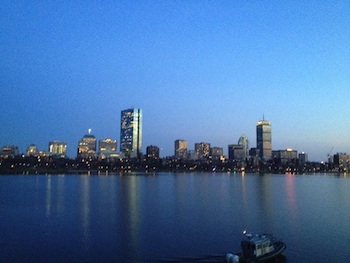 This morning I woke up, laced up my running shoes and set out for a run. Like many others in Boston today, nothing was going to break my stride.
I've spent years running along the Boston Esplanade, walking the Freedom Trail, and shopping along Newbury Street. I've ridden the Duck Boats and Swan Boats, bought endless trinkets from the SoWa Summer Market, watched the revitalization of Faneuil Hall, inched my way into a foot of open green space for the Boston Pops Fourth of July Celebration, cheered on the Red Sox and Patriots, cried over the Celtics, touched the Stanley Cup, walked the halls of the MFA and picnicked in Boston Common. I've watched the sunset from the Longfellow Bridge, just like my friend did last night when she captured the photo above. I've visited the bars in Southie and Charlestown, dined endlessly in the North End, walked through Harvard Yard with ice cream cones and sailed in Boston Harbor.
I've marveled at the new inventions that are announced from MIT and laughed along with the yearly Hasty Pudding Parades. Like most Bostonians, I know where all the key scenes were filmed in "Good Will Hunting", walked home to find movie sets set up on my street, and can identify at least three people in my life who resemble Jimmy Fallon's character in "Fever Pitch."
You know what I'm talking about.
I watched the Big Dig and Boston Greenway go from an idea to a reality, and I look forward to counting the roses that bloom every Spring in the Rose Kennedy Garden in Columbus Park. I've watched in awe as my city - my home - grew up around me. Through all of Boston's evolutions, there's one thing that never changes: its people. To their core, Bostonians are passionate, fiercely independent people. We are resilient, yet reflective, and thoroughly embrace the activities we can call our own and that separate us from the others, like Patriots Day and The Boston Marathon.
I've been fortunate enough to be part of the news business in Boston and report on some of the city's news-breaking events. What I've learned from all of these stories is that Boston's spirit is unwavering.
The tragedies that occurred this Marathon Monday in Boston are unspeakable. I feel fortunate that my friends and colleagues are safe, but heartbroken for those who weren't as lucky. I've been at the finish line of the Boston Marathon and cheered on the runners as they make their final strides toward achieving their goal. Watching the faces of those who cross the finish line of the Boston Marathon is something surreal: part pain and part victory, these amazing champions achieve their dream when one foot hits the blue line on Boylston Street.
You can't break that spirit.
If you're traveling to Boston, here's what we know:
Logan Airport is open, operations are back to normal but security is tight, and most airlines have waived the fees for cancellations or flight disruptions
Most hotels along the race route in Boston are out of lock-down and open for registered guests only. Other hotels in the city are waiving their change and cancellation fees for travelers with scheduled arrivals and departures
Most of the businesses in the Back Bay remained closed on Tuesday, but word is spreading that they'll reopen on Wednesday. The John Hancock Tower and Prudential Center, two of Boston's most prominent building landmarks, are open
While you're in Boston, if you want to help, here's how:
Spring time around the world is a time for renewal. It's a time to rejuvenate, revitalize and refresh. In Boston, it's also a time to rebuild. If you have plans to travel to Boston, keep them. If you don't, come visit. Boston is open for business. And it will remain that way.
Photo credit: Emily Baillieul, Boston
Related