July 2013 I had a cancer scare. Fortunately, it was only a scare, but it made me re-think everything about my life. How I spent my time, who I spent it with and what would I do if I had a limited amount of time left. People who I knew and didn't know, reached out to offer their advice and share stories of friends and family that had cancer and had survived. One of these people was someone who lived in our community, who appeared reserved in social situations, turned out to have the answer to my problem. This person had previously had their own brush with cancer and as a result had become very knowledgeable in the area of biological health and nutrition. Thanks to this kind and timely intervention, I found myself on a plane to Zurich and on the doorstep of the Paracelsus Clinic where I met Dr. Thomas Rau.
Under the supervision of Dr. Rau, I spent the next two weeks going from specialists to specialist, being asked question after question as they performed various tests, drew blood, and gave me infusions designed to boost my immunities. The final recommendation was if I wanted to live a long healthy life, there were many things that needed to be addressed, the first was my diet. Pre-Paracelsus, I used to live on a high protein, selected veggie and fruit diet, mainly avoiding grains and sugars. Post-Paracelsus, I needed to switch to a plant-based diet. Learning to live on vegetables, fruits and grains is a shock to the system, but when it becomes life and death, there wasn't any question that I was going to learn to adapt.
What I quickly found out was that eating this way is easy in California, where organic fresh fruits and vegetables abound, as well as a good selection of restaurants like the Engelhart Family's Café Gratitude and Matthew Kenney's Plant Food + Wine Venice, which serve a plant-based cuisine. Eating while traveling proved extremely challenging. So, when I found myself in Boston last weekend for the first Advanced Leadership Initiative Cross-Cohort Exchange, and I was invited to go on a walking food tour with fellow foodie and ALI cohort, Denis Weil, I jumped at the opportunity.
Our first stop was Boston Public Market, a coalition of food stalls located on the ground floor of 100 Hanover Street in the developing Market District. Open year-round; it's a beautiful indoor marketplace that passes onto its visitors, the love and commitment that each of its vendors put into its own passion. "The Market" as it's referred to, holds space for 39 permanent local farmers, fishers, and food entrepreneurs as well a rotating group of vendors. The assortment of products for sale includes fresh and seasonal items such as specialty and prepared foods, bread and baked goods, milk, eggs, cheese, fresh flowers, meats, poultry and produce and Vermont wooden handicrafts.

Denis and I had a great time exploring the aisles of the food hall as we hunted and gathered for our lunch. While I was in search of all things plant-based, Denis was focused on having a hot popover from The Popover Lady, a lobster roll from Red's Best Seafood, and a special pastry that is similar to an almond croissant but better from swissbäkers.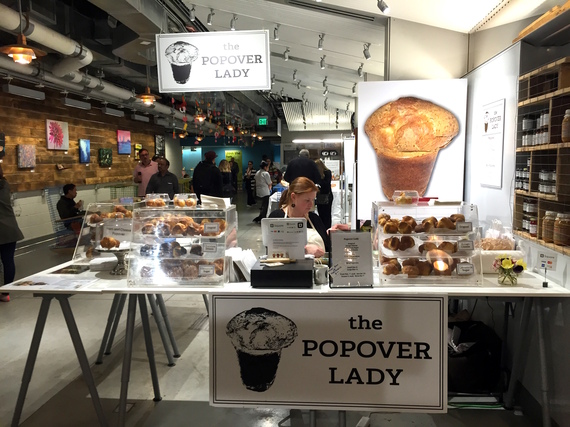 As delicious as that sounds, when you've changed your diet to plant-based, you'll find yourself craving fresh fruits and fresh squeezed juice. That's what led me to Inna's Kitchen, a culinary stand where I bought three veggie dishes, an eggplant purée and a garbanzo bean salad, a mixed grain dish as well as a delicious Thai basil limeade from Bon Me.
We spread out our picnic lunch at one of the brightly colored cafe tables in the center of The Market and taking in the sights and sounds as we feasted on our finds. About half of the food stalls offered food to eat or take away, some just offering food to cook. One interesting food stall was called Just Add Cooking and puts together all the ingredients that you needed to cook a meal, sending everything pre-measured in a box to you. This sounded like a great idea to me!
My experience in the Boston Public Market led me to believe that maybe Boston is starting to catch up with California. The food was fantastic, and the environment was delightfully intoxicating. As we walked out the doors of the test-cooking kitchen, I felt renewed gratitude for serendipitously finding what I needed on my path to healthful living.