 NEW YORK -- Deirdre Bentancourt, currently unemployed, escorted her daughter through the aisles of a Bronx botanica that bills itself as the largest on the East Coast, a spiritual superstore of herbs, candles, oils, perfumes, baths, incense, animal skulls and amulets.
The mother consulted a dog-eared book on the spirit world as she handed several colored candles from the shelves of the Original Products Botanica to daughter Brittany Alfarone, a 22-year-old college student.
"I don't push anything on her," Bentancourt insisted.
From New York to Los Angeles, from Chicago to Miami, shops specializing in the rituals of Afro-Caribbean and Meso-American spiritual beliefs offer a glimpse into how some of this country's latest arrivals pursue their dreams.
In today's tough economic times, the ubiquitous botanica has become a testament to the perseverance of those dreams.
With the unemployment rate for Latinos over two percentage points higher than the national average and nearly a quarter of the nation's 50 million Hispanics living in poverty, many have turned to spiritual tradition. Botanica shelves are stacked with fast-selling "Money Drawing Spell Kits," "Success" candles, and "Steady Work" and "Mr. Money" oils and colognes.
As the federal government deports record numbers of undocumented immigrants, other patrons seek refuge in "Just Judge" charms and candles, and oils with names such as "Bad Luck Out, Good Luck In."
"I was raised with this," said Bentacourt, carrying candles she would use to pray for success, job opportunities and a favorable outcome in a pending court case.

In botanicas, the spiritual traditions are passed on -- even as families also practice more formal religions.
"It's not that I don't believe," Alfarone, who's Roman Catholic, clarified.
No one knows exactly how many botanicas there are in the country. There are no formal licensure requirements or trade associations for shops that are part spiritual center, part religious supply house and part alternative medicine dispensary, according to academics familiar with the trade.
"They're places of healing," said Joseph Murphy, a theology professor at Georgetown University. "To me, the story is that there is this network of help that people can find there that they often can't find elsewhere."
Jason Mizrahi, co-owner of the 15,000-square-foot Original Products Botanica in the Bronx, said the business was started in the late 1950s. His father, the store's founder, was the son of Sephardic Jews who came from Turkey.
His father speaks Ladino, or Judeo-Spanish, a spoken and written Hispanic language of Jews of Spanish origin that is now rarely spoken. A great uncle, he said, opened the first botanica in Spanish Harlem in the 1930s.
"Mom and dad, they'd make the stuff at home," Mizrahi said of the botanica products. "They would pack the incense in bags. Ladino made it very simple to understand the Spanish language, and they saw that even a lot of the items that we sell today, in the Caribbean, you found them in pharmacies and chain stores. But you walk into a Duane Reade and they're not selling Agua Maravilla or Florida Water. They saw this niche."
They turned that niche into what is today a $3 million-a-year business. The business includes the Bronx store, a catalog and a website, according to Mizrahi. It also has distribution deal with other, smaller botanicas, and some products are manufactured and packaged in the basement by some of the shop's 15 employees.
The New York Times called Original Products "a veritable Home Depot of spirituality." On the second floor, the store has made space for the Pagan Center of New York, which holds witchcraft rituals and tarot readings.
"My dad always used to say the thing about our business was that in good times people had money to spend and they would buy, and in bad times people would come to our store to shop in hopes of better times -- finding a job, winning the lottery," Mizrahi said. "In good times and bad, they come to the botanica."
One section has statues of the Sacred Heart of Jesus and St. Barbara as well as the santeria deities, known as Orishas, which come from the African Yoruba tradition. The santeria section is stocked with peacock feathers, dead vampire bats, dried scorpions, horse and coyote skulls.
The herbs and roots department features preparations for medicinal teas and baths, including the ancient herb hyssop, saw palmetto extract and red clover.
"This is an old tradition that in part is a response to the lack of more formal resources, such as physicians, that Latinos have continuously utilized," said David Hayes-Bautista, a professor of medicine and director of the Center for the Study of Latino Health and Culture at the UCLA School of Medicine. "The tradition has been buttressed by the fact that Latino communities have usually had very poor access to formal medical care."
Hayes-Bautista said botanicas were part of a "centuries, probably millennium-long tradition of indigenous medicine, particularly Meso-American, that actually not only survived but thrived the encounter with western medicine."
As a sorrowful bachata blared on the Bronx botanica's sound system the other day, Rita Martinez, an Italian-born store employee of seven years, said candles, oils and baths were the biggest sellers, especially among the unemployed.
"A lot of people, to be honest with you, they're not even looking for work," Martinez said. "They're lighting candles. I ask, 'Have you applied? You cannot light up a candle if you don't apply.'
"They're looking for miracles. Miracles happen if you apply, if you look," she continued. "We don't guarantee nothing. We sell the product. You have to have faith, or it's not happening."
At Original Products, customers are mostly Puerto Rican, Dominican, Cuban and Jamaican. But in many parts of the country, patrons are mainly Central American and Mexican.
"The botanicas really began in New York, and it's the Puerto Rican and Cuban communities that really got them going," said Murphy, who is working on a coffee table book about the spiritual stores. "It's Antillean, Latin Caribbean -- that is the basis of the stores. But now, particularly in my area, Washington, D.C., we've got lots of Central Americans and so the botanicas are reflecting those traditions and spiritualities. It's the pan-Latinization of botanicas."
Mizrahi is no practitioner, he said, but considers himself spiritual.
"I completely understand the value it has to most people," he said. "I understand how all of this plays into everybody's life." And he's never been called a snake oil salesman, he said.
Murphy and Hayes-Bautista said that despite occasional reports of charlatanism, most botanica proprietors mean well.

"I found people very caring, very concerned with the well being of their clients," Murphy said. "Again and again, I find them going out of their way, staying up late, counseling people. Does it really work? People get better. Would they have gotten better anyway? Perhaps, but they're getting better in a sympathetic and familiar idiom."
He added, "I do understand the snake-oil issue, but to me it's overwhelmed by the dedication that I see."
Stacey Brown, who works at the botanica's Magickal Realms Enchanted Candle shop, said most patrons come looking for love.
"Even if they don't have a job or if they're broke, if they have love, everything is a little bit easier," she said. "But when you don't have love, it's like the world is coming to an end."
"Then comes money, then comes the spiritual, a spiritual war with somebody, a neighbor," interjected Lady Rhea, a Wiccan high priestess who runs the candle shop. "I've been here 20-something years and money has been an issue since day one. Money is always an issue here."
Money has also been an issue for many smaller botanicas, which have not been spared by the bad economy.
"I used to have people come to me probably every month or two -- some guy would say, 'I'm opening a botanica. Here's $5000. Set me up,' " Mizrahi said. "That's gone. Maybe once or twice a year, some guy will come to open a new botanica. It's not what it used to be."

From behind the Enchanted Candle counter, Lady Rhea lamented: "Business is down. It's hard out there. They consider this a necessity. So do I. But you can't eat wax."

Check out Botanicas around the country: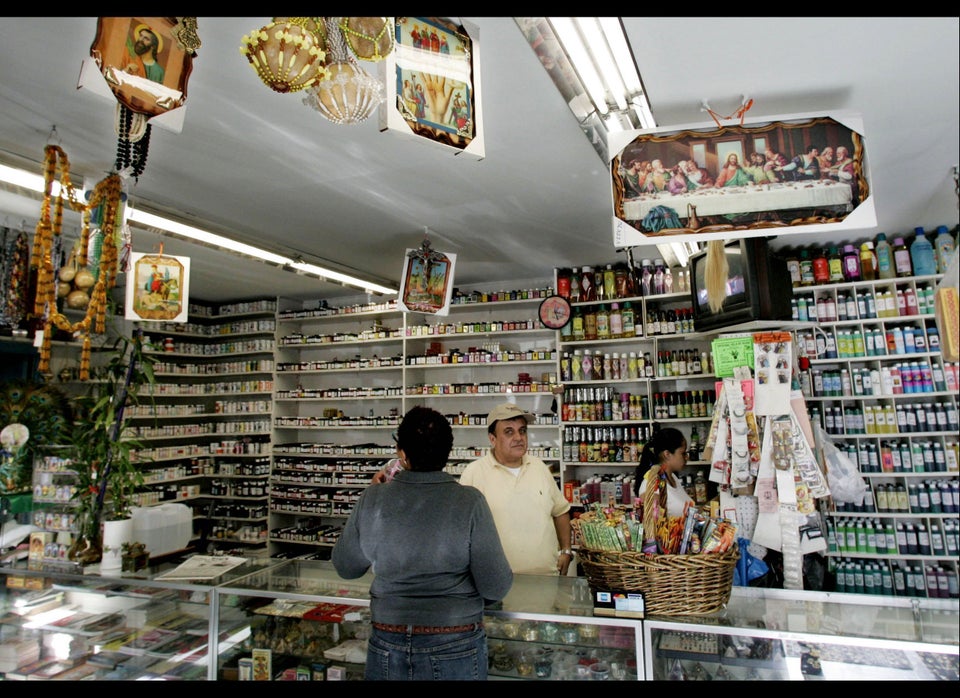 Botanicas
Popular in the Community