Cecilia Gimenez, the infamous octogenarian who transformed a sacred fresco into what's been lovingly referred to as "Beast Jesus," is back in the headlines.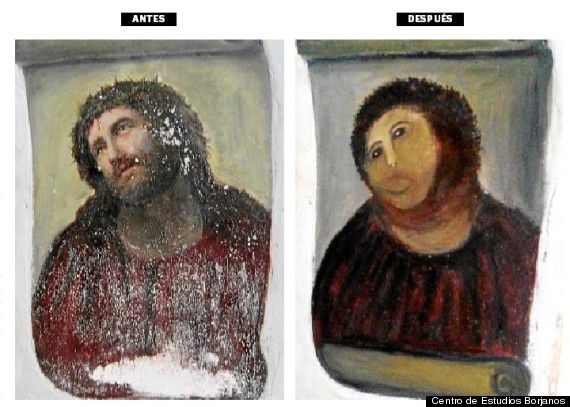 Nearly a year after the elderly woman haphazardly painted over an artwork known as "Ecce Homo" in Borja, Spain, the happy little restoration fail is turning into quite the profitable accident. According to Today, Gimenez has been offered a merchandising deal that would put the face of her botched Jesus creature on t-shirts, dishware, postcards and more.
Gimenez teamed up with a local council to sign the merch deal, set to go into effect next week, reports The Associated Press. The artist will receive 49 percent of the profits while the council will benefit from the rest. The project is just one of several tourist-geared endeavors associated with the well-known Christ likeness, including ticketed visits to view the botched fresco and an art exhibit of Gimenez's work.
Present Beast Jesus enthusiasm stands in stark contrast to the massive uproar that followed Gimenez's initial painting faux paus. While critics were quick to condemn the 81-year-old woman for desecrating a 19th century "masterpiece" last year, the fresco has since attracted over 40,000 visitors and raised more than $66,000 for a local charity in Borja. In fact, a Change.org petition was even created to save the furry Jesus rendering from being converted back to its original state.
Related
Popular in the Community