In every child who is born,
under no matter what circumstances,
and of no matter what parents,
the potentiality of the human race is born again.
- James Agee
It's been the same routine for eight years, since she was eight years old. Rising every morning at 4:00 a.m., Jesula disposes of the family's waste, walks an hour-and-a-half for water and prepares breakfast for the family of ten. Next comes the washing of dishes, sweeping, cleaning, shopping for food, preparation and clean-up of lunch, fetching more water and preparation and clean-up of dinner. It isn't until the family is asleep that Jesula finally lays on the concrete floor with one blanket and no pillow around 11:00 p.m., finally finished with her 19-hour workday.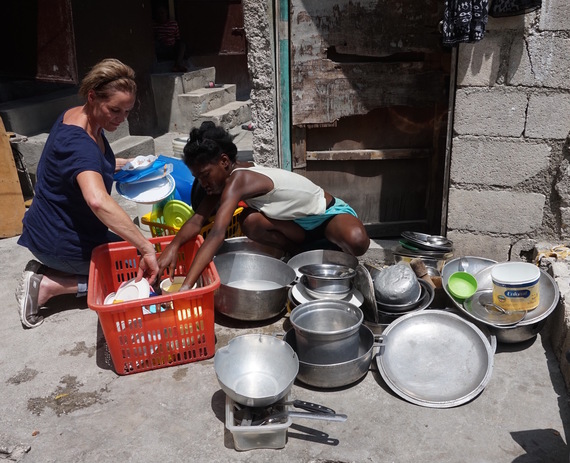 A tall, thin, beautiful Haitian girl with penetrating eyes that reflect the pain, isolation and sadness usually seen in someone much older, I met Jesula when a community organization leader, two staff from the global health organization, Population Services International (PSI) and I had the opportunity to spend a morning with her. Skeptical, with head and eyes cast down, shoulders sloped and wrapped inward as an unconscious ball of protection, she would give us only one or two word answers.
Jesula came to live in this house as a domestic worker, or restavèk, when her mother sent her at the age of eight to the Port au Prince family. This type of human transaction is both common and accepted in Haitian society, a practice dating back to Haiti's independence from France in 1804. The Creole word "restavèk" literally translates "to stay with" and is used to define a system born of a way for desperate parents to send one or two of their children to live with slightly wealthier families or friends in hopes of securing for them care, education and ultimately a better way of life.
Unfortunately, an inevitable environment of desperation has led the restavèk system to evolve into the slavery practice we see today. While the Government of Haiti has banned child domesticity for over fifteen years, the entrenched problem of child domesticity in the Haitian culture and the lack of resources greatly inhibits its ability to monitor and enforce this ban. There are close to half-a-million unpaid child domestic workers in Haiti (Haiti ranks number eight on the Global Slavery Index) with ages ranging from six to sixteen years old, the majority of which are girls. Like Jesula, these children endure grueling daily schedules working from sunup to sundown. For the majority of restavèks, school is not an option and outside interactions, friendships, even listening to music, are not tolerated.
In addition, these children frequently experience profound physical and psychological abuse and neglect at the hands of their "host" families. According to a study on Human Rights Abuse & Other Criminal Violations in Port Au Prince, restavèk girls are close to five times more likely to face sexual violence than non-restavèk girls. To make matters worse, health services are basically non-existent for these young victims.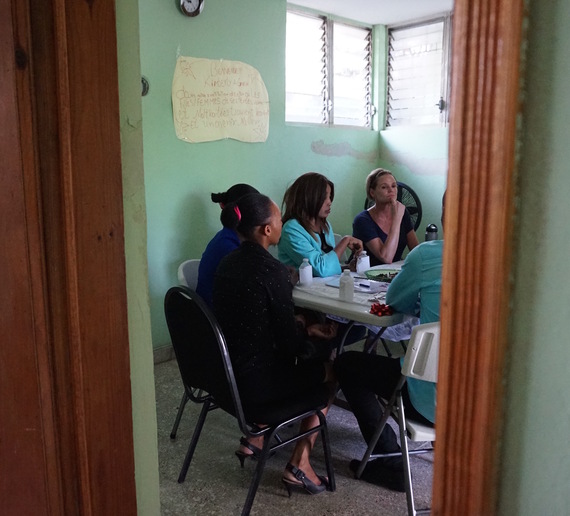 Recognizing the need for a new perspective in creating sustainable change for the lives and health of Haitian girls, I am working with Population Services International through Maverick Collective to implement an innovative approach. We're striving to improve access to family planning for girls and women and to create a network of safe, quality services by connecting existing community organizations. When we coordinate the activities of local groups, we support those who understand the societal, cultural and economic complexities, and we fill gaps in service delivery and reduce duplicate efforts. Working with these partners also helps us to more effectively transform the long-held, negative gender norms that bolster the restavèk system.
To achieve these goals it is essential that we understand the root cause of slavery and gender-based violence (GBV) in Haiti. This means we must understand from the perspective of those who live with, in and around these practices and behaviors. To create innovative solutions we not only need experts, but also the people of Port au Prince who know the situation best. And finally, the right solutions must be delivered in a way that is financially viable and sustainable for the people of these communities.
Strong, healthy, educated girls grow into strong, healthy, educated women who are the foundation of healthy, thriving societies. When we as a global society accept nothing less than safe, supportive environments for all women and girls, we will have created a rich and fertile soil in which to foster positive, global change. So, we begin here, in Port au Prince, Haiti. We begin with a willingness to be educated by Haitians, about Haitians. We begin by bringing our expertise to facilitate collaboration in creating expedient, impactful, sustainable change for the girls and women of Haiti.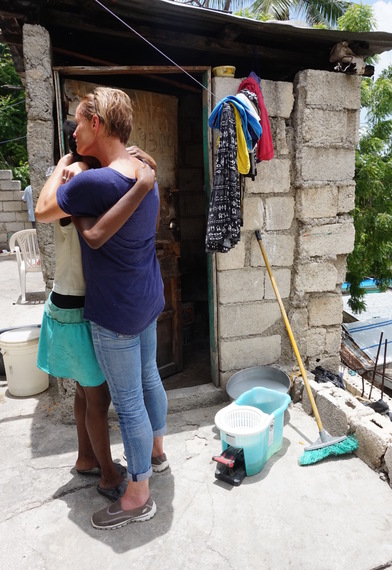 As the morning and our visit with Jesula came to an end, the pain, sadness and isolation I initially observed in her eyes eventually opened to a deeper truth, the truth of her incredible spirit, her strength and, most importantly, the light of hope still alive within her. Jesula, as well as every other girl like her, deserves a life of independence, filled with hope, dreams and infinite possibilities. With our willingness to listen to, learn from and support the people of Port au Prince the hopes and dreams of every girl can finally be transformed from possibility to reality.

Kimberly is a member of Maverick Collective, an initiative of Population Services International, a global health non-profit with operations in 65 countries and 9000 staff. Maverick Collective members partner on PSI programs to tackle critical challenges faced by women and girls through innovative projects to develop game-changing interventions, that government and businesses cannot advance on their own. Members are working shoulder to shoulder with a global community providing proof for solutions that radically impact the lives of girls and women in the most undeserved parts of the world.

Find out more at: www.maverickcollective.org and www.psi.org
Popular in the Community