Conservationists have discovered the carcasses of 90 elephants in Botswana over the past two months, sparking fears of a poaching boom in a country that has traditionally been a safe haven for tens of thousands of the gentle giants.
Poachers appeared to be targeting male elephants older than 35, killing them near watering spots and hacking off their tusks, said Mike Chase, a conservation biologist who founded the environmental group Elephants Without Borders. Six white rhinos have also been killed, he said.
The scale of poaching is "by far the largest I have seen or read about in Africa to date," Chase told HuffPost in a statement. "Each day we are counting dead elephants."
Elephants Without Borders said it discovered the slain animals as part of an ongoing census of the pachyderms within Botswana that began in mid-July. The country has long been a refuge for more than a third of Africa's remaining elephants, or about 130,000, thanks to its strict environmental protection that, until recently, gave its conservation forces the authority to shoot suspected poachers on sight.
The slain elephants were "presumably carrying the heaviest tusks in the region of 60-70 pounds or even larger," said Chase, who spearheaded a two-year Great Elephant Census to count every elephant on the African continent. "A clear order has been put out for tusks of a specific weight, and I suspect such large ivory is in heavy demand, considering that there are few large tuskers left in Africa."
He said the poachers "appear to be targeting elephant bulls when they come down to drink at seasonal pans."
The photo below may be disturbing to some readers.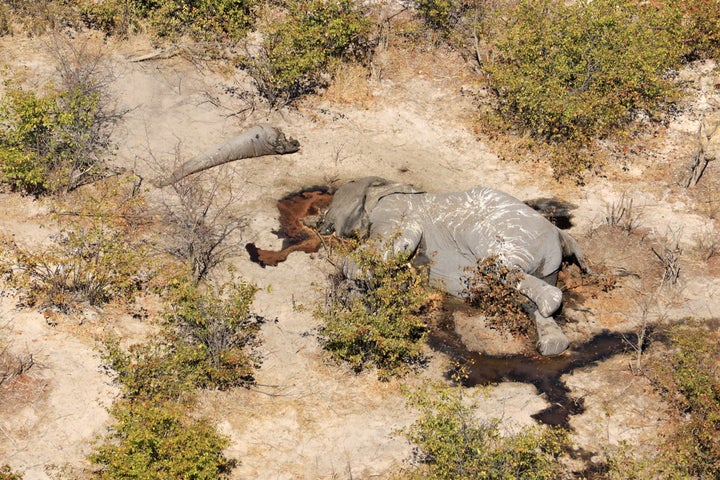 Kelly Landen, program manager for Elephants Without Borders, said the group had been flying since July 10 for the elephant survey in partnership with Botswana's Department of Wildlife and National Parks, which contracts the group to conduct surveys every four years, according to National Geographic.
But the Botswanan government is pushing back against the survey findings as "false and misleading." A majority of the carcasses documented by Elephants Without Borders "were not poached but rather died from natural causes and retaliatory killings as a result of human and wildlife conflict," the government said in a statement.
The government also sought to distance the slaughter from its decision to disarm its anti-poaching force earlier this year without explanation. The team previously operated with the authority to shoot poachers on sight, and at least 52 had been killed over the past two decades, according to The Southern Times.
"The Government of Botswana wishes to state that it is unfortunate that some media reports attribute the rise in elephant poaching primarily to the withdrawal of weapons from the Department of Wildlife and National Parks (DWNP) anti-poaching unit," the government said on its Facebook page. "The fact of the matter is that the withdrawal of such weapons from DWNP, did not in any way affect the effectiveness and operations of the anti-poaching units."
Chase suggested to the BBC this week that the change encourages poachers to set their sights on Botswana's wildlife, as neighboring countries have already seen their elephant populations reduced "to the verge of local extinction."
"People did warn us of an impending poaching problem and we thought we were prepared for it," Chase told the outlet. "The poachers are now turning their guns to Botswana. We have the world's largest elephant population and it's open season for poachers."
Popular in the Community