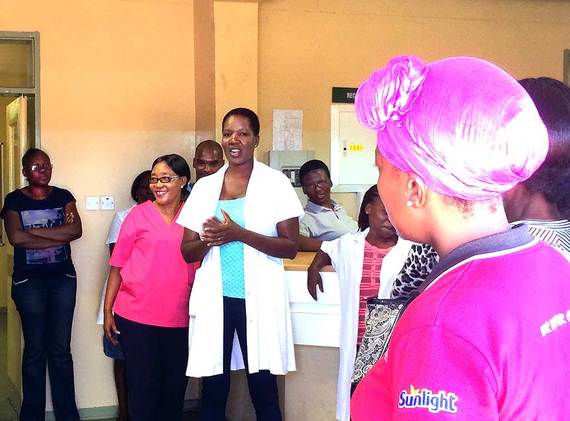 Batswanan women gather at a health facility for a group counseling session on cervical cancer screening. Photo by John Varallo /Jhpiego
Did you know that cervical cancer is the leading cause of cancer-related deaths for women in the developing world? A slow progressing disease, cervical cancer takes up to 15 years to develop from the initial infection with the human papillomavirus -- the cause of almost all cervical cancer cases -- to abnormal changes in the cells on the surface of the cervix. The lack of access to preventive screenings in low-resource countries means that most women discover they have cervical cancer only by experiencing symptoms, when the disease has usually reached an advanced stage and is difficult to treat. The threat of cervical cancer is especially high for HIV-positive women who are at greater risk for developing cervical cancer because of their compromised immune systems.
In places like Botswana, a country with the second highest HIV infection rate in the world, the need for access to affordable, effective screening and treatment services -- especially for HIV-positive women -- has spurred the government to take bold action.
In 2012, the Government of Botswana adopted a five-year cervical cancer prevention and control strategy that included the Jhpiego-pioneered screening and treatment method called the single visit approach, to complement traditional Pap smear tests, which require a level of care not available in most regions. Using the single visit approach, women are screened using acetic acid -- also known as vinegar -- that highlights precancerous lesions on the cervix. If suspect lesions are identified, the woman is offered immediate treatment during the same visit using a freezing procedure known as cryotherapy.
In collaboration with the Pink Ribbon Red Ribbon Alliance and with support from the President's Emergency Plan for AIDS Relief, Centers for Disease Control and Prevention, Botswana-UPENN Partnership and Jhpiego, "See and Treat" programs are operating at eight Ministry of Health managed sites in six districts throughout Botswana. The program has been such a success that more sites are opening this year with training and technical support from Jhpiego.
Although the single visit approach cuts the risk of women dying needlessly from cervical cancer, stopping the disease from developing in the first place is also critically important. Realizing the need for primary prevention, the Ministry of Health has rolled out a nationwide human papillomavirus vaccination campaign targeting girls 9 to 13 with vaccines being administered in schools and at health facilities. This first nationwide campaign achieved 98% coverage of the targeted age group. Government estimates put this at over 68,000 girls vaccinated.
Although the burden of cervical cancer has received increased attention, garnering support and momentum from international leaders and women around the world, there needs to be strong political will and support in countries and across the globe to turn this tide of momentum into tangible action. We are fortunate that the Government of Botswana has stepped up to the plate to become a global leader in this space.
As we all strive toward the goal of ending deaths from cervical cancer by 2030, we must intensify our efforts, starting today. We must build upon the proven, practical approaches we currently have and bring them to scale to reach everyone in need. On World Cancer Day, Jhpiego is proud to support countries like Botswana and their health care providers in ensuring access to the lifesaving services women deserve. Because no woman should die from this preventable and treatable disease.
REAL LIFE. REAL NEWS. REAL VOICES.
Help us tell more of the stories that matter from voices that too often remain unheard.