The Makgadikgadi pans (ma-khadi-khadi) are the ghostly-white flat lands that lie in the heart of Botswana, in Southern Africa, and feel like the outer edge of the world. They are the desolate, dried up remains of what was once a super-lake fed by major rivers around seven million years ago.
It is a minimal landscape with minimal life, which thwarts your sense of space and time. It offers neither water nor fruit nor shelter, rather, it stealthily starts to steal the very moisture from your skin from the moment you arrive, rendering you cracked and parched like the hard salt and clay soil beneath your feet. Tiny thorns worm their way deep into the sole of your socks and places on your back you cannot reach. After the initial hostility, the great pans relent and reveal their riches- the luminous morning light in the broadest horizon unmarked by the slightest scribble of grass, rare wild species such as bat-eared foxes, aardwolves, aardvarks and meerkats. And at night, it seems as though all of Botswana's diamonds have been thrown up to shine in the skies.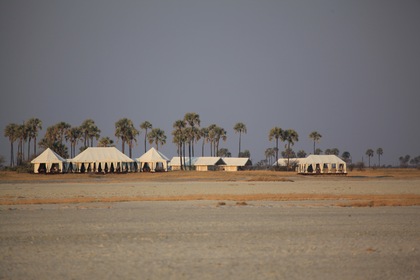 The wildlife rich wetlands of NW Botswana, the Okavango delta, have long been a favorite destination for photographers and game lovers from all over, and only recently Ralph Bousfield of Uncharted Africa diverted some of the attention to the pans, offering a different, but equally enthralling experience in a lesser known land. Experiencing the luxurious and beautifully decorated Jack's Camp and San Camp alone is worth a visit. Camp Kalahari is the budget option, with the same outdoor experiences.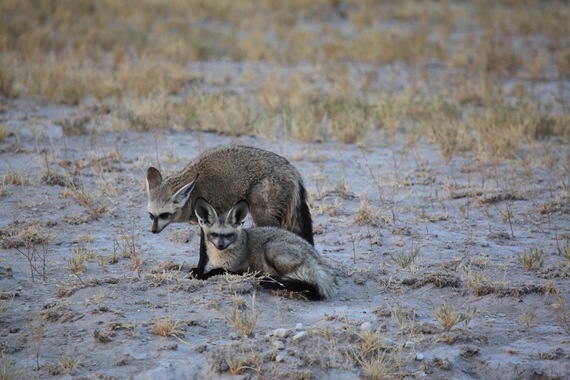 MEERKATS and ALL TERRAIN VEHICLES
We'd set out on our game drives, early mornings and in the evenings, finishing with sighting the nocturnal species with a spotlight in the dark. The biggest thrill was seeing a relaxed aardwolf sitting by his den one evening. With boosted ISO and slow shutter speed, we'd film the stars and the Milky Way, framed against a lone palm tree.
One morning, Chubba, our chatty Botswana guide whose dreadlocks were tied with dreadlocks, took us to see a family of habituated meerkats just as they came out of their den. The adorable, bright-eyed, furry creatures chirruped and twittered, stretching up on their hind-legs and looking constantly in all directions. In a short while they grew comfortable with our presence and Chubba asked us to slowly sit down on the ground. They instantly clambered all over us, using us as improved vantage points. Soon they were so relaxed, they scurried all over, leaned on our thighs, stood on our shoulders, and a pair of young ones treated me like a playground jungle gym, even play-fighting on my lap.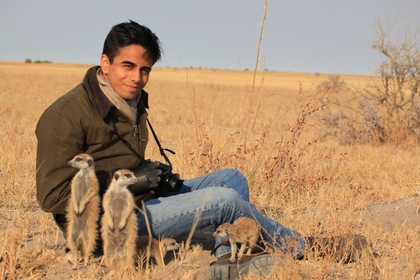 One evening each of us blazed across the thirsty, crunchy Ntwetwe pan on an ATV, with absolutely nothing ahead but the curvature of the horizon. The white dust was penetrated by the low sun, making it glow, and the sunlight was softened by the dust. It was an extremely liberating feel, the closest I'll come to flying through clouds.
Oftentimes, in the early part of the year, the rains and floods from the Boteti River transform the pans and they erupt into life with flamingos, zebra, wildebeest and their predators. But in the searing heat and dust of August, that was impossible to fathom.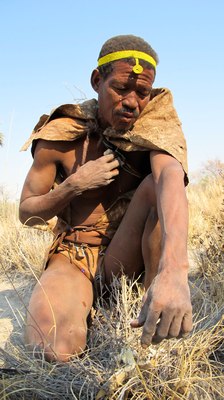 HOW TO GET THERE- Fly to Johannesburg, South Africa, take a flight north to Maun in Botswana, then fly an hour to San Camp via small aircraft.
STAY AT- Uncharted Africa's San Camp (chic, six tents), Jack's Camp (classic camp, 12 tents)
AFFORDABLE STYLE- Camp Kalahari
Length of stay- 3 nights at the pans can be combined with a stay at a camp or two in the Okavango Delta for big game safari. (Delta Camps- Mombo, Duma Tao, King's Pool, Duba Plains)
TOP-EXPERIENCE- we spent a morning with a family of San Bushmen who showed us their tracking and hunting skills and how to make a fire. We witnessed their family games, particularly enjoying their interaction with each other and the unique clicking sounds of their dialect.
PHOTOGRAPHY GUIDE- Throughout our trip, Albie Venter guided us with his advanced photography skills. Based in South Africa, he can be booked directly albie@africa-unlocked.com +27 82 7450522