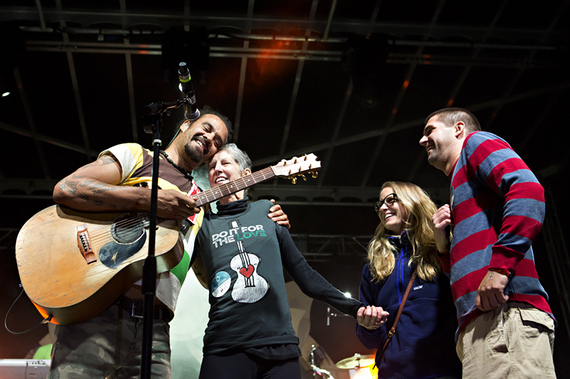 Why would a musician give away tickets to live concerts of other artists? When I heard that musician Michael Franti and his wife Sara Agah created an entire philanthropic foundation to do just that, I had to learn more.
And what I found was nothing short of magical. Franti and his ER nurse wife founded the Do It For The Love Foundation in August 2013 as a way to bring their two worlds together; the foundation grants special wishes for people with life-threatening illnesses who want to attend live concerts and performances by their favorite artists.
Ufberg: I love that you two teamed up to do something meaningful and philanthropic - how did you decide on this music-based wish-granting as your project?

Agah: We were very moved by the story of one man and his wife, Hope and Steve Dezember, who requested tickets to one of Michael's concerts when Steve's illness was already quite progressed. The experience of getting to know Hope and Steve was so inspiring it launched the idea of fulfilling wishes like Steve's to others.See video
We are incredibly proud to have granted 500 wishes as of January 2016; that's 500 live concert experiences for 500 people with life-threatening illnesses. We also invite up to 4 of their family members or friends to join them. We arrange for the tickets and a meet and greet with the artist.
Ufberg: Why live concerts and not some other wish?
Agah: We believe in the healing of power of music and how music has the capacity to uplift and inspire people battling serious illness and trauma. We witness the joy the music brings every single concert.
Ufberg: Are most of the gifted tickets to Michael Franti shows?
Agah: We initially used Michael and his concerts as our guinea pig to figure out how the wishes would work and to make sure everything was very streamlined. Now most of the concert wishes are actually for live performances and concerts of other artists. The artists have included Blake Shelton, Paul McCartney, Beyonce, Metallica and others. We even have sent some little ones to see Barney.

Ufberg: So how does someone find you and get their wish granted?
Agah: Anyone can nominate a family member or friend or just even write to us themselves online.
Ufberg: Why do you give so many extra tickets to friends and family?
Agah: We know that illness is family-centered, and I know that more than ever since my Mom was diagnosed with cancer two years ago. We want to acknowledge the care-givers and families, knowing it is a 24/7 job for most of them. We want to recognize the individual for who they are and not their illness and their caregivers for what they do.
Ufberg: Are you getting any feedback from the musicians and artists who become a part of these Do It For The Love wishes?
Agah: It is such a bonus for the artists. They are so inspired by the experience of having these folks a part of their concert guests that they always end up wanting to do more. It's a beautiful thing to see.
Agah also shared Michael's enthusiasm about the upcoming kickoff Benefit dinner and concert for the BottleRock Music Festival scheduled for Thursday May 26th at Auberge du Soleil in Napa Valley.
Ufberg: So the Do It ForThe Love Foundation is partnering with the BottleRock music, food and wine festival again this year over Memorial Day weekend. I heard you granted some wishes at the BottleRock festival in 2015. Will there be any wishes granted at BottleRock 2016?
Agah: Yes, it was great last year. We had 3 wish grantees attend BottleRock 2015 and everyone in attendance got to see the magic happen. This year we have two grantees attending BottleRock 2016.
Ufberg: Do you have a financial goal you are hoping to raise at the May 26th BottleRock Benefit event?
Agah: Our wish requests are growing each year, so we are hoping to raise over $100,000 for the Foundation at the BottleRock Benefit. There will be a great dinner prepared by the Auberge Chef and of course, Michael will play an acoustic set for the guests. He promises some surprise artists are showing up as well for some fun jams. There are still a few tickets left so people can still join us!
Ufberg: What's next for the Do It ForThe Love Foundation?
Agah: We want to keep growing so we want to encourage everyone to keep nominating more people to be wish grantees. We want to keep raising the awareness about our work and the wishes we feel honored to grant.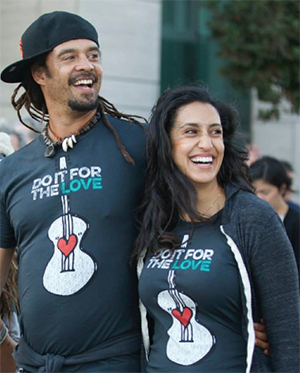 While the Memorial Weekend BottleRock Napa Valley music, food and wine festival is sold out, many of the afterparty shows are still on sale. Check out the full schedule.
BottleRock is producing the Do it for the Love Foundation benefit event at Auberge du Soleil in Rutherford, California on Thursday May 26th at 6 PM. Want more details?
Calling all HuffPost superfans!
Sign up for membership to become a founding member and help shape HuffPost's next chapter