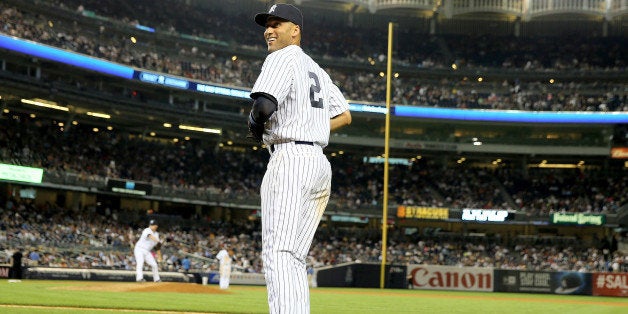 As the sun sets on the storybook career of New York Yankees captain Derek Jeter and the world waits to see what the future holds for this future first-ballot Hall of Famer, we find ourselves in the bottom of the ninth inning of "the right way."
Over the course of the last six months since Jeter's retirement was announced, dozens of current and former players have shared their reasons for the universal admiration of this living legend. Overwhelmingly, the answer most given was that he did it "the right way." Did what, you say? Answer: Everything. How he played full-out on every play, his work ethic, his dedication to his sport and his team and more importantly how he handled himself off the field... with the fans, the press, his front office and himself. In the world's biggest media market he never allowed himself to be put into a compromising position or embarrass himself, his family or his team.
And with his retirement just days away now, given the improbable chances of the Bronx Bombers making the playoffs, the entire sporting world is about to bid adieu to one of the last standard bearers of "the right way." For while Mr. Jeter's many accomplishments and athleticism on the field have yielded countless records, including five World Series rings, it's his character and conduct off the field as well that have made him a beacon of hope, a true example of sportsmanship and a hero to millions of people, young and old. As a lifelong Yankee fan, I've felt an underlying sadness over the last week or so as I navigate the uncharted territory of the notion that Derek Jeter will not be back next year. It's here, it's real and it's happening.
With no shortage of stories in the headlines today about shameful acts by professional athletes, it's hard not to realize how low the bar has dropped on the measure of character in professional athletes. The list is staggering... Ray Rice (assault), Adrian Peterson (felony child abuse), and Jonathan Dwyer (assault) are the most recent but remember Aaron Hernandez? He remains in custody awaiting trial for murder. Not long ago Ben Roethlisberger was accused twice of sexual assault with both cases dropped for a lack of evidence, Ray Lewis had his murder charges reduced in exchange for his testimony and Michael Vick's legal challenges have been widely reported and publicized.
It's not just football either. There have been plenty of professional baseball players who have had their moments of disapproval and that doesn't even include the countless number of players, past and present, implicated in PED scandals. The truth is that the vast majority of professional athletes are men and women of character and integrity but that's not what makes headlines.
I've never met Derek Jeter but having watched his entire career I'm willing to bet that if asked how he feels about being a role model to so many fans, he would say he was just doing his job the best way he knew how. Nothing more. That humility and earnestness are the underpinnings of his character that has transcended all sports, all ages, all races, colors, creeds and all barriers around the world. Credit his parents for instilling a work ethic and the foundation from which not only a champion has risen, but a gentleman and a true sportsman.
I personally believe that a comeback is still possible for "the right way" even now in the bottom of the ninth and with two outs. Sports have long been a mechanism used to teach leadership, commitment, respect, discipline and dedication but there's no guarantee that those are the only lessons learned and that is up to the parents, coaches and the fans to get back to rewarding "the right way."
Only time will tell if the world of professional sports can start to pull itself up by its own bootstraps and get back to the business of doing it "the right way" or finds itself on eternal damage control.