"ASSEMBLAGE" is an inquiry into the different ways artists utilize performance and technology to explore and express different notions of identity. An effort to push forward marginalized artists with a focus on people of color, non-western nationalities and those along the queer/trans spectrum, "ASSEMBLAGE" provides a platform for analysis of how art and performance intersect with the lives of these individuals who are visibly and openly existing in the digital age. This is the eighth installment.
Queer punk band bottoms is a musical group unlike any other. Made up of two performers -- Jake Dibeler and Simon Leahy aka Babes Trust -- and drummer Michael Prommasit, bottoms is a project that in many ways explores the complicated, nuanced relationship queer people have with themselves and the world around them in 2015.
bottoms came together a bit over a year ago following the break-up of Leahy and Prommasit's previous band Teeth. Dibeler joined the group as the lead vocalist -- a style of vocalization that can be described as high-pitched screaming in a way that almost sounds manufactured but, in reality, is Dibeler's actual voice.
Dibeler's voice aside, what makes bottoms so unique and important is the hyper-political nature of their work and the shades of queer identity and experience encapsulated in the group's lyrics.
The queer community is at a strange and significant moment in time, as we move out of the aftermath of the AIDS crisis and into an era marked by PrEP, instantaneous access to sex via the Internet, mainstream transgender visibility and the widespread legalization of same-sex marriage. As specific types of queers become more visible and our relationships with sex, societal institutions and governance shift, we are at a place where many people are reimagining or rethinking what it means to be queer.
bottom's music heavily explores the intersection of this complicated history marked by violence and disease with modern day realities surrounding visibility and sex.
"We're really interested in a lot of the culture surrounding the gay community during the time of the AIDS crisis," Diebler told The Huffington Post. "There was a great resistance from the conservatives to acknowledge the crisis, so the gay community had to look to each other for support. I hope that bottoms can harness that same sort of energy -- angry queers with a message. I think that we're in this place as gays that's very apathetic. Being able to fuck dudes from your phone in minutes is amazing, PrEP is amazing, but it really makes for this sort of 'pre-AIDS-there's-nothing-wrong' mentality -- and maybe that's true, maybe nothing is wrong and this is the end of HIV and AIDS. But at the moment -- I think we need to balance this 'have unprotected sex with a stranger in an alley' attitude with one of respect and care for a community that lost a huge chunk of themselves in the 90s."
bottoms also deals with notions of shame and self-hatred, shared realities for queer people navigating the world we have operated in since the beginning of time. As with any way of existing the world, it can be hard to communicate the realities of queer experience to those who haven't felt the effects of growing up as a faggot, trans person, or anywhere along the queer spectrum. For this reason, music -- or more broadly, performance -- serves as an immensely valuable tool to tell these stories authentically and unapologetically and, hopefully, change our culture.
As Dark Matter mentioned in a previous installment of ASSEMBLAGE, "no matter how many policies we change, no matter how many legislations we pass, people's hearts and minds aren't going to change. The only way to actually change people's hearts and minds is to engage them with feeling and emotion. Because often oppression is incredibly irrational." Using art and performance to open a dialogue about these different shades of queer experience, like learned shame and self-hatred, is very present in the work of bottoms. The group's first music video, "My Body," is about the complicated relationships queer people have with their bodies, from issues of gay body shame to the spectrum of transgender identity. Brooklyn performer Macy Rodman stars in the "My Body" video, below.
Performance, of course, also serves a dual role for the performer in the exploration of their own sense of self throughout this process of authentic storytelling. Within the context of a queer punk band like bottoms, the experiences being talked -- or screamed -- about are tangible, real and felt by every queer person in the room. At the risk of making a claim about universal queer experience (of which there is none), it can often feel very much that the pain, struggle, freedom and history of what it means to be a queer person bleeds through bottoms' performances in an unapologetic way that truly does connect with any random queer watching from the audience -- which is truly a remarkable accomplishment for any artist.
"I'm definitely always performing -- literally always," Dibeler elabprated. "'All the worlds a stage,' all that bullshit. It's true, every moment is basically a standup comedy show for me, whether you want to be there or not. bottoms doesn't really step into a role when we get on stage, and it's the same with my own performances. I think a reason why it's relatable in this way is because you can actually see a real person on the stage. That's actually why I don't really like being on stage when I perform. I'd rather be in the audience because I think it's important to break down that wall of this 'We're a band and you're an audience and you're here to stand and listen to us.' We want the audience to be, like, 'Those fags in wigs are screaming about death and disease and fear are me, and I am a part of this too.'"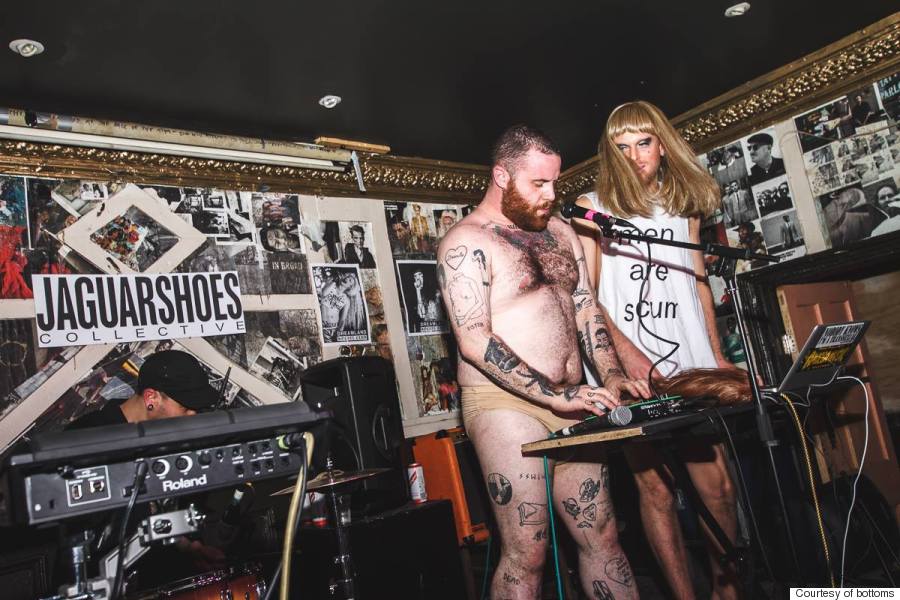 As the nature of what it means to be a queer person shifts and changes with the passing of time, one can only hope that we always have art and performance that accurately reflect the intricate nuances of what these experiences are like -- politically, socially, emotionally and physically.
At this strange and complicated period for the queer community, bottoms seems to be accomplishing this in an impressive way that is not only informed by our history with AIDS, persecution and violence but also the current climate of agency and self-identification that parallels mainstream LGBT "acceptance." We hope to see more work like this from others along the spectrum of queer performance in the future.
bottoms is currently prepping to record the group's second EP later this summer.. Their first EP, "Goodbye," can be found here or head here for their Soundcloud.
Missed the previous installments in ASSEMBLAGE? Check out the slideshow below.
REAL LIFE. REAL NEWS. REAL VOICES.
Help us tell more of the stories that matter from voices that too often remain unheard.