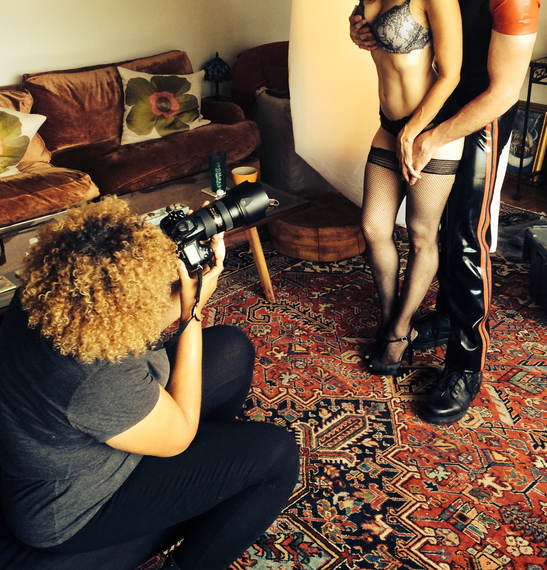 "I always thought of photography as a naughty thing to do -- that was one of my favorite things about it, and when I first did it, I felt very perverse." - Diane Arbus

Little did I know last spring, when I did my first boudoir shoot, that being photographed would become an erotic experience in itself, one that mimics the experience of having sex. There is the phenomenon of getting turned on fantasizing about the upcoming encounter: choosing the right outfit, imagining how I want the interlude to go down (yep, I said that), reveling in anticipation as the date draws near.
The experience unfolds through the familiar stages: initial jitters, intermittent awkwardness, putting my fantasy out there where it's received by a partner -- the photographer in the case of a solo shoot -- who might take the idea in a completely different direction. There is the giving in, the losing oneself, the looking at the clock and realizing that those two hours that just passed felt like 10 minutes, and you can't wait to do it all over again -- with a new twist.
So when I decided to do a second boudoir shoot, I asked myself how I could push the boundary. Doing a couples boudoir shoot with a man sounded like fun, but why stop at one? Why not have two?
"There is only you and your camera. The limitations in photography are in yourself, because what we see is what we are." - Ernst Haas
So I asked two lovers if they would like to participate in a menage boudoir shoot and they both said yes in a New York minute. The day of the shoot came with last-minute hiccups, however: one guy got welts and had to stay mostly clothed; no one could find parking and everyone was late; I answered the door in my corset while a blinking security patrolman informed me one of my visitors had parked illegally.
"Photography, as we all know, is not real at all. It is an illusion of reality with which we create our own private world." - Arnold Newman
I had posted images I wanted to recreate on my Pinterest board -- the shot above is an example -- but my best-laid plans were oft diverted by the alchemy of three principals and a photographer, each of whom had a slightly different spin, so there was a lot of sifting to be done in order to execute a set piece.
We lingered too long on the BDSM set pieces, in part, because Jesse -- who emerged as the dominant personality -- arrived at the shoot with enough paddles and floggers and cuffs that he looked liked he'd picked the racks clean at The Stockroom.
I won't see the finished shots for another week -- the ones here were taken by the two guys with their phones. I'm curious to see if the images will bear any resemblance to those in my mind, or if they'll be something else altogether. Because the end product isn't really the photo. The photo is a vehicle for the viewer on which to project his own fantasies.
It's the dynamic relationship between photo and viewer, words, and reader, lover and lover, that I find intoxicating. It's the reason I write my blog: I get to tell a story inspired by an image, or find an image to tell a story, and create an experience for people who visit the blog, many of whom have begun to feel like friends and lovers.
I'm disappointed that I forgot to do my last series idea. I had imagined us all gradually discarding jeans and t-shirts until we were nothing but a softly-lit tangle of arms and legs.
But that's okay. It just means I get to do another naughty shoot.
"Photography deals exquisitely with appearances, but nothing is what it appears to be." - Duane Michals
PHOTO GALLERY
Sexy Over 50 Men
REAL LIFE. REAL NEWS. REAL VOICES.
Help us tell more of the stories that matter from voices that too often remain unheard.