Boudoir Trends on the Horizon: What's Rocking Intimate Shoots
Ask me to wax eloquent about why every woman on the planet should experience a transformative, cathartic boudoir experience at least once in her life, and you will have enough content and passion to fuel a ten part documentary series. But here's the short answer: Boudoir is timeless. It is evergreen. It captures your beauty, your elegance and your slow coming into your own in impeccably styled frames that are worth cherishing for the rest of your life. So you can imagine that I do not sway my style or my sessions much based on what is currently trending on Twitter!
However as an eminent intimate shutterbug (if I may say so myself) I do make it a point to be aware of the latest news in the thrilling world of boudoir and this time around I see changes and shifts that make my heart sing. So here is a sneak peek at what is ruling the shoots and why their popularity is a clarion call for women to wake up and embrace their power, spirit and independence.
I have been doing this for a very long time. And in fact I was one of the first photographers to blog about the revolutionary concept of boudoir for bonding with your friends. An intimate shoot is basically the act of shedding inhibitions, the baggage of the past and the weight of expectations to re-visit your naked, vulnerable self. And when the defenses are down, an intertwining of souls happens faster and with more spontaneity. It is not just about lust and passion. Boudoir should not be stereotyped as the expression of romantic love. It is the perfect canvas for painting with all hues of the sentiment - from magnetic chemistry relationships to sisterhood friendships.
And it helps that group boudoir sessions are epic! There is so much of vitality and energy in the atmosphere that I feel high on the positivity for days. And my clients leave with a sense of 'being there for each other' that nothing else can replicate. It is girl's time on steroids. The bubbly, the chocolates, the banter, the pampering, the encouragement, the cat calls and the bottom slaps - priceless!
Grandparents can be sexy too. Once you get to be a certain age, you really don't give a F***. I may not be running around in panties at 70 like I do now, but I do hope I still feel beautiful. My mom is 65 and she is gorgeous. I was touched beyond belief when a young client entrusted me with the responsibility of orchestrating her 70 year old grandmas boudoir shoot! I honored and determined to make it a memorable experience.
But I hadn't really counted on it being a personal milestone. Her body confidence was beyond belief. And each shot literally radiated her strength of character and the beauty of her blessed heart.
I am thrilled and giddy with possibilities of shooting more silver glam. These women magnify and amplify everything that boudoir represents. They are at peace with their physiognomy and with who they are. And it's a quiet celebration of battles won.
These are exciting times. And the boudoir trends of today point in the direction of a golden future where the true values of this art are accepted and embraced by women of all ages, sizes and ethnicities.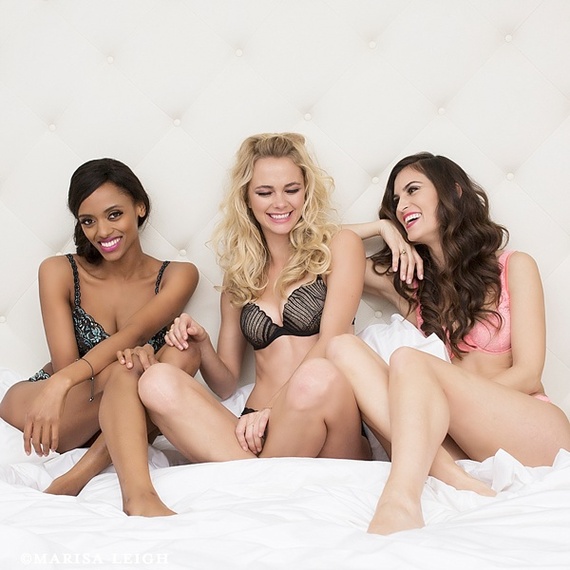 Calling all HuffPost superfans!
Sign up for membership to become a founding member and help shape HuffPost's next chapter