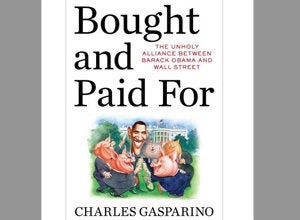 The first half of Fox Business Network financial reporter Charlie Gasparino's new book, "Bought and Paid For: The Unholy Alliance Between Barack Obama and Wall Street" lives up to its title, as the author attempts to show that the White House rewarded some of its high-profile campaign donors in the financial industry by structuring the massive bailout in a way that let the biggest banks earn huge profits.
But in the second half, Gasparino undermines his own argument by claiming that Obama turned into an eat-the-rich populist after the bailout fueled public outrage. The chiefs of Wall Street, Gasparino writes, then turned their back on the president and the Democrats by giving their time and contributions to the Republicans.
Aside from adding a few new additions to the long list of Wall Street executives who have a fondness for the F-word, the book doesn't contain many revelations. Two of the book's two biggest "scoops" have been previously reported:
In June 2007, candidate Obama had a "secretive meeting" in a private dining room at Johnny's Half Shell restaurant in Washington, D.C. with Lehman Brothers CEO Dick Fuld, Merrill Lynch number-two Greg Fleming, BlackRock chief Larry Fink, former Fed chairman Paul Volcker, Goldman Sachs executive Gary Cohn and Bear Stearns mortgage-bond whiz Warren Spector. At the meeting, Obama "turned up the charm" and convinced the Wall Street crew to set aside their misgivings and support his candidacy.
Under investigation and the target of criminal inquiries for committing potential securities fraud, Goldman Sachs CEO Lloyd Blankfein tried to get back in the government's good graces by pledging $20 million to ShoreBank, an ailing Chicago bank, and convincing other Wall Street captains to assist the bank. Though small in size, the bank has important political connections, earning praise in the past from Obama, whose senior adviser Valerie Jarrett sits on the board of a civic organization run by one of the bank's directors.
Gasparino excitedly lists prominent Wall Street executives who helped Obama during the election such as Blackstone partner Mark Gallogly -- "the man largely responsible for convincing the bankers to meet with Obama" -- and JPMorgan Chase CEO Jamie Dimon, who has been called Obama's "shadow Treasury Secretary" and apparently convinced many of his colleagues to write contribute campaign cash. "We knew each other from Chicago," Dimon supposedly boasted to his pals, recalling his days as CEO of Chicago-based Bank One.
In typically overheated prose that highlights the premise of the book, Gasparino writes about Obama's charm campaign: "The man who found common ground with revolutionaries and socialists convinced them both [Gallogly and investor Jacques Leviant] he was at heart a capitalist."
He also speculates that Morgan Stanley has become Obama's favorite bank. The bank, Gasparino writes, handled key deals --like the sale of government's ownership positions following the bailouts -- brokered by Morgan executive Tom Nides, one of Obama's biggest fundraisers on the Street and a close friend of White House Chief of Staff Rahm Emanuel.
Gasparino also claims that Goldman Sachs CEO Lloyd Blankfein and Morgan Stanley's former CEO John Mack used to commiserate with each other about the hate mail they received at the height of the bailout, with Blankfein saying "I get seventy-five to 100 of those a day."
Former Citigroup chairman and Treasury Secretary Robert Rubin, who has been much criticized for helping push the deregulation of the financial services industry, is described as a close adviser to Obama -- though Gasparino reports that Rubin felt the president relies too much on economic neophytes. When he expressed that sentiment one day, Obama shot back, "That's why I have Valerie," a reference to Valerie Jarrett, a Chicago attorney and lobbyist.
And, as teased above, the book includes plenty of off-color quotes from Wall Street players and assorted political poobahs.
At the height of the wrangling over financial regulatory reform legislation, Dimon grew so exasperated about the plethora of tough new amendments that he screamed at JPMorgan's lobbyists in DC: "What the fuck are you guys doing for us! You guys are worthless!" He also apparently directed his anger at New York's Senators Chuck Schumer and Kristin Gillibrand, once telling the latter over the phone that she was a "sellout" and "good for nothing." Later, he directed the bank's employees to start spreading their money around - i.e. to Republicans. Wall Street executives later huddled with top Republicans, Senate Minority Leader Mitch McConnell and John Cornyn, in a private room at Manhattan's Peninsula Hotel.
Goldman COO Gary Cohn once cornered Senate Majority Leader Harry Reid at a fundraiser at Goldman's headquarters in Manhattan: "Who do you think you are, coming here asking for money while you trash us?" Reid sat back and took the abuse, even as Cohn shouted, "We're getting sick of the bullshit!" Despite the anger, Reid went home with $40,000 in donations that night, writes Gasparino.
John McCain is described as being particular hostile to Wall Street and suspicious of their motives. After Blackstone chairman Steve Schwarzman's aide came back from a strategy session at John McCain's campaign headquarters in 2008, Schwarzman snapped: "These guys couldn't give a shit about what we think."
When then Treasury Secretary Hank Paulson was describing the bailout to McCain, the Arizona senator barked: "Why the fuck would you do that?" With bitten lips and "angry gesticulations," McCain sputtered, "Huh? What the fuck? How the fuck can you trust them?"
A senior executive at Goldman told Gasparino: "Obama couldn't give a shit about all this anti-Wall Street stuff. He needs to bash us to get his bullshit financial reform through Congress."
After Rep. Maxine Waters (D-Calif.) derisively referred to the eight CEOs of the biggest banks to get TARP funds as "captains of the universe" at a House Financial Services Committee hearing on February 11, 2009, one of the CEOs muttered, "She's such an asshole."
Once over lunch at favored Wall Street bistro San Pietro, longtime Republican financier Ken Langone yelled at Obama supporter Larry Fink, "Are you talking to your fucking friend in Washington yet?" to express his exasperation with Obama's policies. "I told everyone about this guy and no one wanted to listen!"
When Mack and Blankfein tried flying commercial to a meeting at the White House but got stuck in fog at airports in New York and had to take part by conference call, Jamie Dimon had no such problems. He didn't mind the populist outrage over bankers flying corporate jets and was comfortable with taking JPMorgan's plane to Washington. "Fuck it, that's why we have the jet in the first place." Dimon had another reason to feel calm -- he was given a heads-up about the topics in advance, writes Gasparino. But at the tail end of the negotiation over financial reform legislation, Dimon conceded that he was no longer Obama's favorite banker, saying "I heard he has a new one," in reference to Bank of America CEO Brian Moynihan, who was increasingly meeting the president.
Morgan Stanley executive Tom Nides was once told by an exhausted John Mack, "People just fucking hate us," adding that public outrage at Wall Street was growing because "your friends are fucking us," referring to Nides's friends in the White House and Democratic Party.
Calling all HuffPost superfans!
Sign up for membership to become a founding member and help shape HuffPost's next chapter