Chef Allegra McEvedy loves her knives, all 100 of them, each with a story to tell. Though it's hard to say what she likes more: her vast collection of knives or her world travels on which she collects these specimens of international chefdom.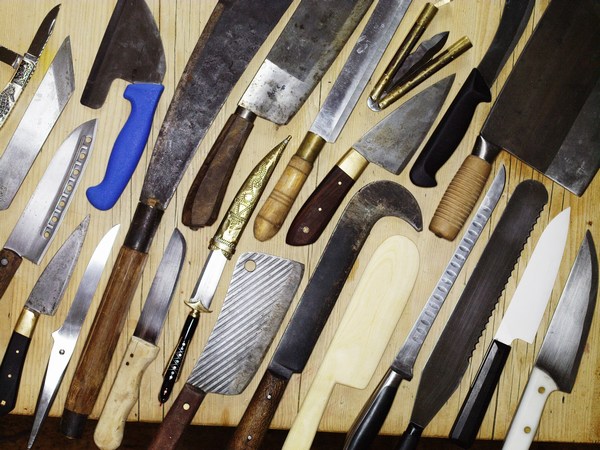 Chef Allegra McEvedy's Many Knives
McEvedy has spent her entire life traveling the globe, and her entire adult life as a chef. Well-known in England for her critically acclaimed restaurants, cookbooks, and television shows, we here State-side are finally going to get a taste of what makes Allegra McEvedy so popular in the UK. With the U.S. release of her new book Bought, Borrowed & Stolen: Recipes & Knives From A Travelling Chef, it's my hope we Yanks are going to be seeing a lot more of her.
On a recent trip to London I had the great pleasure of meeting with Allegra for a very long lunch and interview. Larger-than-life, bursting with passion for her work, her travels, and her knives, McEvedy told me that Bought, Borrowed & Stolen was a book she just had to write.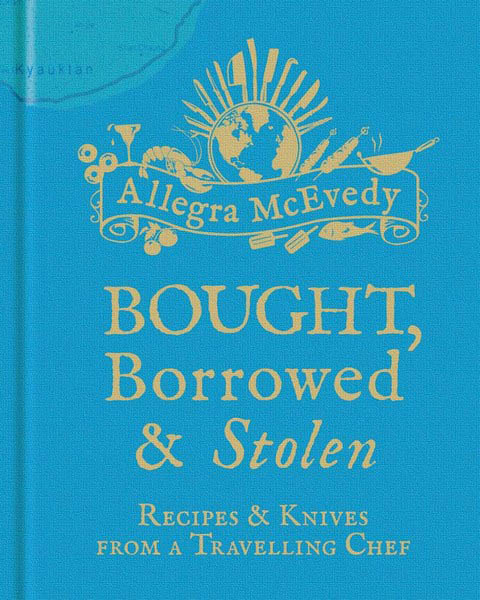 Bought, Borrowed & Stolen: Recipes & Knives From A Travelling Chef
Part cookbook, part scrap-book, part memoir, Allegra said "I've been waiting my whole life to write this book. It was burning inside of me. But when I first told my agent the idea, she said 'You want to write a book about knives?!'"
But the book is about more than knives -- it's about culture, memories, adventure, curiosity, and, of course, food. "What really gets me going," explained McEvedy, "is the intersection of food, history, and culture. So much of a people's history and culture is in their food."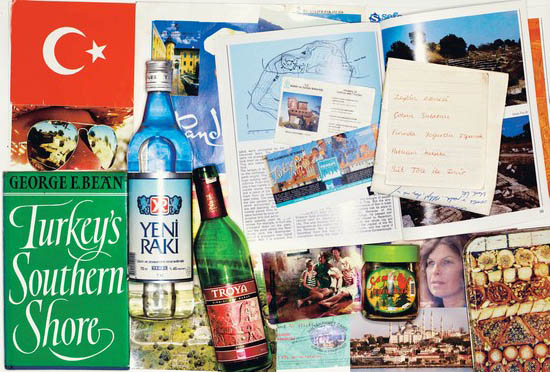 From Bought, Borrowed & Stolen, scrap-book page from Turkey
The daughter of historian, psychiatrist, and writer Dr. Colin McEvedy, Allegra grew up traveling. "But," she told me, "we would do these trips that were all planned out by my father for some historical atlas he was writing. So we'd visit a lot of ancient ruins, and to me they were like big playgrounds. He was particularly concerned with populations, so we were always trekking around ancient city walls."
While her passion for travel, culture and history clearly came from her father, Allegra got her love of food from her "mum." When Allegra was just seven, her mother opened a wine bar in Sheppard's Bush called Albertine's. She was an avid home cook, and she instilled in Allegra her deep love of food. Yet, while her mother filled her with a desire to cook, she didn't really want her daughter to actually be a cook.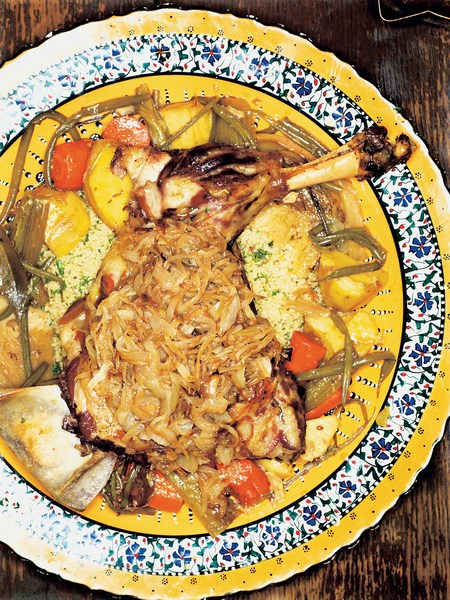 From Bought, Borrowed & Stolen: Moroccan Slow-Cooked Lamb, Chili Stock & Melted Onions
When Allegra was seventeen, her mother passed away. And while it was a tremendously difficult time for her, she told me, "I don't think I would have ever become a chef if my mum had still been around. She would have kept me on the straight and narrow and I would have ended up a lawyer."
Instead, at age twenty-one Allegra headed for culinary school at Le Cordon Bleu in London. She also came to the States, where the "cocky twenty-five year old" as she called herself, arrived with a list of places she wanted to work, and she went door to door seeing which of them would hire her.
"I was keen to work with Traci Des Jardins, and ended up at both Rubicon and Jardinière. On my days off I would go and stage at Chez Panisse under Alice Waters. I'd never worked so hard in my life. I would start at 6am butchering until 8am at Rubicon, then I'd do lunch service until 2pm. Then I'd hop on a bus and head over to Jardinière where I'd do dinner service. I was working more than ever before, but I learned so much."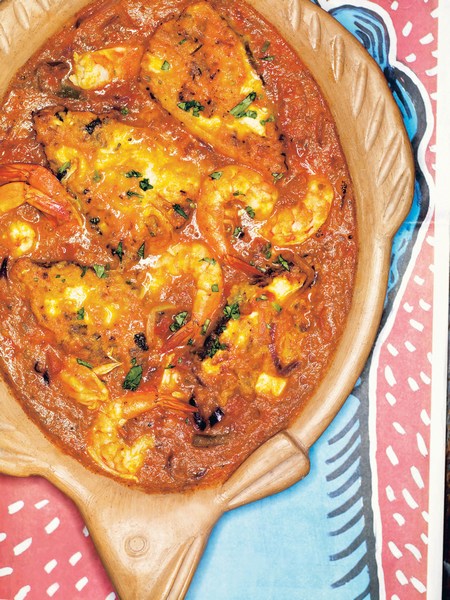 From Bought, Borrowed & Stolen: Moqueca de Piexe e Camarão (Brazilian Seafood Stew)
Allegra's drive didn't stop when she returned to the UK. She felt she had to pull more than her own weight, being both a woman and gay. But, she told me, "If you're going to make it as a chef, when you're a woman, there's no getting around the graft." Her tenacity and drive paid off, and at just twenty-four, she landed her first chef position. "It didn't get easier," said McEvedy, "as you move up, for a woman it can get more difficult. In my first senior position, I got locked in the walk-in."
Today, McEvedy rides her success with a grain of salt and a huge helping of humor. Though the best-selling cookbook author and food TV star even has a title, MBE -- Member of the Order of The British Empire -- awarded to her in 2008 for services to the hospitality industry, she hasn't let success go to her head.
What she has done with her success is give back. Highly active in charity, McEvedy supports The Fairtrade Foundation, the London Gay Symphony Orchestra, The Food Chain, Compassion in World Farming, and Good Catch Sustainable Fish Forum. "I've always been active in charity work, even before I was a big name. Only today I have the ability to reach more and more people. I think it's a moral responsibility."
Active at The Fairtrade Foundation for seven years, she was recently made one of just three "Patrons" who act as Ambassadors. For Fairtrade, McEvedy traveled to Malawi to visit the people who have formed a peanut collective, which she called "an incredibly powerful experience." There she saw a bridge they built to access the main trading town, a "hospital outhouse" they built because the only hospital is hundreds of miles away, and a well so they could have clean drinking water. All of these projects were partly funded by the money made available to them through The Fairtrade Foundation.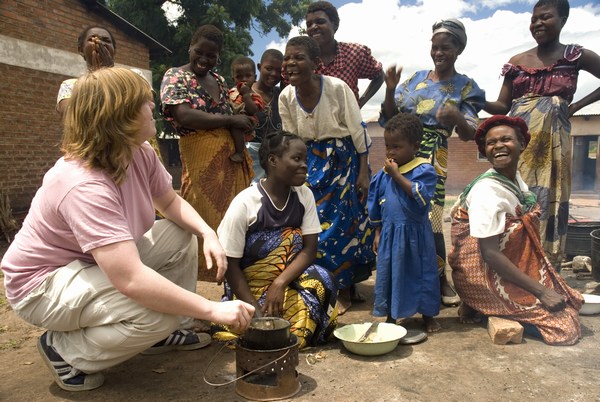 Allegra McEvedy in Malawi for The Fairtrade Foundation
McEvedy scoffs at people who don't buy fair trade goods because they cost a bit more. "We live such privileged lives and it takes such a little effort for people here to change the lives of people there in ways they can't even conceive."
Allegra is currently helping Food Chain, an organization that brings meals to HIV-AIDS victims, to secure a kitchen so that they can deliver meals seven days a week rather than just two. And she auctions herself off for dinners at home for Stonewall, a lesbian, gay and transgender rights organization.
"I don't want to just be a name on letterhead," McEvedy told me. "And once I'm aware of these kinds of issues, I can't just sit on them."
Allegra's warm and generous spirit smiles up at you from the pages of Bought, Borrowed & Stolen. Full of hearth-warming recipes and heart-warming stories, it's a book you want to get to know, to read from cover to cover, and yes, to make recipes from its colorful pages.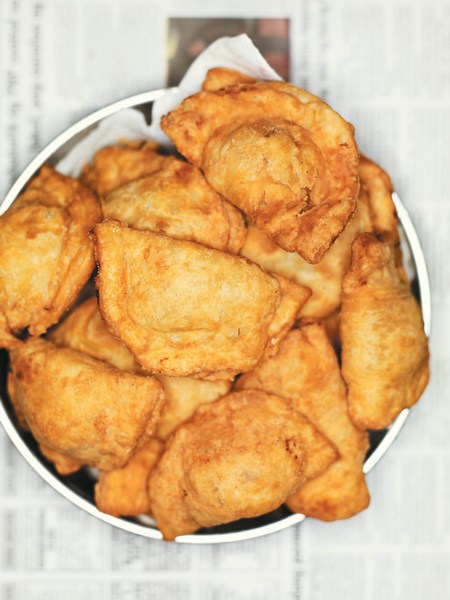 From Bought, Borrowed & Stolen: Empanaditas from Philippines (which Allegra calls "Little Porky Flaky Pastries")
Bought, Borrowed & Stolen includes recipes from all over the world. Traveling to Brazil, Cuba, China, Lebanon, Japan, Mexico, South Africa, Italy, France, New York, San Francisco ... and more, Allegra brought back not only knives to collect, but recipes and stories to share.
As McEvedy said to me, "I love cooking, but I love writing too." In Bought, Borrowed & Stolen, her love of (and talent for) both comes through. It's a book you can curl up with as much as cook from.
All photos courtesy Allegra McEvedy.
Popular in the Community