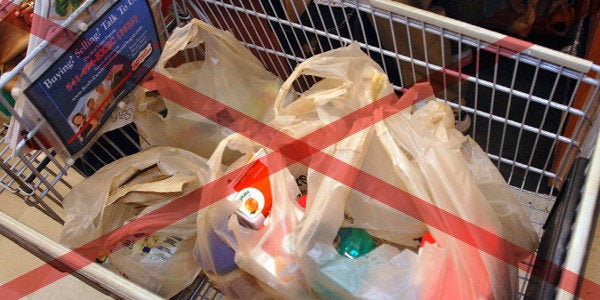 At its Tuesday meeting, the Boulder City Council will consider a ban on or mandatory fee for using plastic shopping bags at supermarkets and convenience stores.
The Daily Camera reports that a group of students from Fairview High School and Summit Middle School have lobbied the City Council to consider a ban or impose a fee for plastic bag use.
The proposed options for plastic bag usage in the city are part of an update to the city's Zero Waste Master Plan, 7News reports. The update gives several options to the city: An outright plastic bag ban, a 10 to 20 cent fee on any disposable paper or plastic bag, or full ban of plastic bags and a fee for paper bag use.
The City of Boulder updates its Master Plans every five years and the last update was in 2006, according to the City of Boulder website. The original Master Plan for Waste Reduction was accepted by the City Council in 2006 and the waste reduction goals and how the community intends to reach those goals needs to be reviewed and updated over time.
The efforts to alter the way people use plastic bags in Boulder has been in the works for months. Back in May, HuffPost reported that grassroots activist group New Era Colorado had approached the City Council with a number of possible options for plastic bag use in the city, from fee-based usage charge to an outright ban. Steve Fenberg, the founder and Executive Director of New Era, said this about plastic bags to HuffPost:
Basically, single use plastic bags are the most ubiquitous symbol of our throwaway culture. The bags have a shelf life of almost an hour, they contaminate recycling systems, create more pollution, waste our natural resources - the cost of oil alone should be reason enough not to use these bags. Oil byproducts like petroleum are used to make these plastic bags and oil is expensive, it's getting more expensive and it should simply not be used in creating something as frivolous and wasteful as these bags. And in Boulder alone we use 40-50 million of these bags a year and that's just one small city. The impact of not using these bags is staggeringly large.
The City Council will only consider the measures on Tuesday, they won't make a final decision, Fox31 reports.
According to CBSDenver, Boulder is not the first city to adopt such a strict stance on plastic bag usage. Cities like San Jose, Calif. and other cities in Colorado like Telluride have banned plastic bags entirely and imposed a fee on paper bags. Basalt, Colo. approved a 20 cent fee for plastic bags just this past September.
Related
Popular in the Community