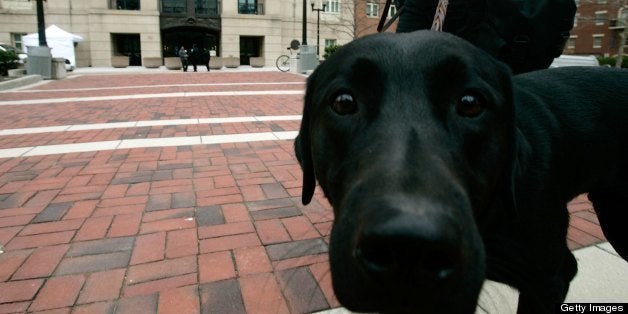 A criminal trial can be a very difficult time for victims and witnesses, but man's best friend may soon be there to help them through it in Boulder courthouses.
The Boulder District Attorney's Office is considering becoming the first judicial district in the state of Colorado to get a courthouse dog that would serve to help comfort victims and witnesses during trial.
"It looks like something that would make a lot of sense, and the staff is pretty excited about it," said Boulder District Attorney Stan Garnett. "We've been researching this and I think it's a pretty exciting deal."
Garnett said he first heard the idea at a National District Attorney's Association meeting. A non-profit in Washington called the Courthouse Dogs Foundation works with courthouses to place highly-trained dogs in courtrooms that help witnesses and victims -- particularly younger ones -- during trials.
"I think it could be helpful especially for young people to deal with the stress of being a witness in a trial," Garnett said. "They could be in the witness area, and after a tough cross-examination the dog is there waiting while they're having a cup of coffee," Garnett said.
Garnett said he already has some days when he lets his staff bring in their dogs -- including his own -- and he said with the courthouse undergoing some remodeling and Boulder's friendly attitude towards dogs it would be a good fit.
So Garnett formed a committee composed of various members of his staff, which will begin looking into applying for a dog of their own, which would be cared for at night by selected staff members.
"We have a great staff that is great with animals and I have no doubt we can make it work," Garnett said.
Cure for high-stress environment?
Deputy District Attorney Katie Allison is one of the people on that committee. She said one of the main things the committee is looking at is where and when the dog would be present, if they were to secure one.
"Would it be in court with the witnesses, in the office with the witnesses or just in the office to calm people throughout it?" Allison said.
Allison said she thinks a courthouse dog could be very helpful, especially for younger witnesses coming into a room full of attorneys.
"It's a pretty high stress environment," she said. "I think if it's done right a dog can be an absolutely huge benefit. It's amazing the impact a dog can have on someone's demeanor and their anxiety levels."
Courthouse Dogs has placed 41 dogs with courthouses and law enforcement agencies in 19 states, including two with the Aurora Police Department.
"That's a great model for Boulder to look at," said Celeste Walsen, a veterinarian with Courthouse Dogs.
The program selects dogs from various service dog schools, and all of the dogs are especially selected to work in courthouse settings.
"We look for talents suitable to this line of work," said Ellen O'Neill-Stephens with Courthouse Dogs. "They're very quiet dogs, they can be in a courtroom for a couple of hours and lie there and not be disruptive."
O'Neill-Stephens, who was a prosecutor in Kings County, Wash. for 26 years, said the idea for courthouse dogs came in 2004, when she began bringing her son's service dog, Jeeter, in to work with her once a week to help with teenagers going through treatment in drug court.
Then, a prosecutor trying a case in which a father was accused of molesting his then 7-year-old twin daughters asked O'Neill-Stephens if Jeeter could help keep the twins calm during their testimony.
"I remember waiting outside the courtroom with Jeeter for their names to be called so that they would go in and testify," O'Neill-Stephens said. "And these girls are just lying on the floor besides Jeeter petting him, and you could tell they felt comforted by him."
Jeeter went into the courtroom as each of the girls testified on their own in the case. Even in 2012, when the twins were interviewed for a newspaper article about the case, the one thing they recalled was their time with Jeeter.
"It was amazing to hear how, although this was a very stressful event for them, how much they focused on Jeeter, and how he helped them be able to testify in court," O'Neill-Stephens said.
Once a novelty, now seen as difference maker
Since then, as dogs have become more and more common in courtrooms, O'Neill-Stephens said she only expects the demand for them to grow.
"I think these dogs and this program are here to stay," she said.
Boulder victim advocate Kim Stalnacker -- who is also on the courthouse dog committee -- said she was impressed when she looked at the success of the program.
"When I first heard about it I thought it was a great idea," Stalnacker said. "I personally find dogs very comforting and that they ease my stress level. And if (victims and witnesses) are going through half the stress I think they are and we can mitigate any of that stress... it seems like a simple thing we would be able to provide.
"The bottom line is our office holds people accountable for their crimes, and victims and witnesses are important to that process, so it seems like a very simple service we could offer people that can help us and keep the community safe."
Contact Camera Staff Writer Mitchell Byars at 303-473-1329 or byarsm@dailycamera.com. ___
(c)2013 the Daily Camera (Boulder, Colo.)
Distributed by MCT Information Services
Related
Before You Go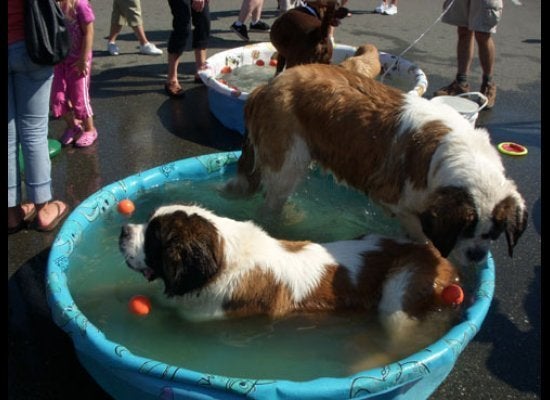 Keep It Cool, Dog
Popular in the Community