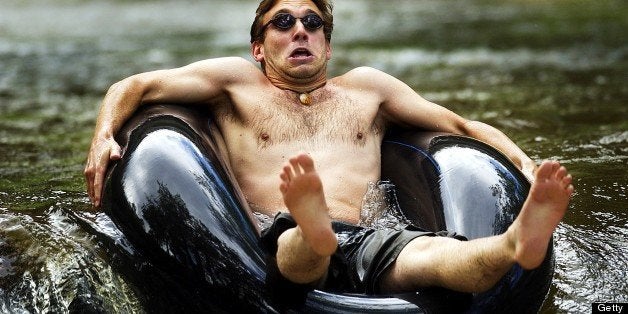 It started off in 2008 as two guys tubing down Boulder Creek in suits.
Six years later, nearly 20 people were willing to get a little wet on their way to work this morning for Tube to Work Day -- as even the city of Boulder got in on the fun.
Dressed in their suits -- albeit with wetsuits underneath -- 19 people ditched the highways and streets and waded into the creek waters at Eben G. Fine Park at 8:15 a.m. to head to work.
The 19 tubers easily represented the largest group ever for the event, eclipsing the high of eight people last year.
"I'm surprised it took this long to grow," co-founder Jeff Kagan said .
One of the newcomers was Kate Zullo, who was actually celebrating her birthday and heard about the event from her roommate.
"As soon as she said 'Tube to Work,' I said, 'I'm there,'" Zullo said. "It sounded awesome."
Another first-timer was actually Kagan's fiancee Paige Doughty. She was a little nervous in previous years, but said the higher water levels this year and the breakfast station finally convinced her to give it a go.
"The creek is at a good level and it's a little warmer," she said.
Doughty actually works from home, but she said she took part to show her support for using alternative modes of transportation.
For several other people, Tube to Work day wasn't as simple as getting off the tube and striding into work.
Roy Leckonby had to first bike to work to drop off his computer and clothes at 55th Street and Flatirons Parkway before biking back home to Table Mesa Drive and U.S. 36 before then heading to to the creek.
"It's the challenge of it," Leckonby said. "Anything to get out of our cars for a day."
John Powers also had to drop something off before he could pick up his tube: his 6-month-old daughter.
"She's a little young for Tube to Work Day," Powers said.
But after he dropped her off, Powers tossed a tube in her bike trailer and made sure to arrive on time for his second year of tubing to work.
"We bike to work a third of the days anyway," he said. "So we've got to make it interesting."
Even the city of Boulder got involved this year.
Kagan -- who occasionally works with the city in his job as a children's musician -- said the city contacted him about including Tube to Work day as part of Bike and Walk to Work Month, and even set up a breakfast station similar to the ones the city provides at Bike to Work Day, which takes place Wednesday.
"Our biggest thing is getting people to use any alternative mode of transportation," said Niall Stewart of Boulder Public Works as he manned the breakfast station near 13th Street and Broadway. Stewart said while it's a little hard for him to tube to work -- he works upstream in Boulder Canyon -- he said the city got behind the tubers.
"We're just happy to see people not sitting in their car in traffic," he said.
And the warm coffee and donuts at the finish were very much appreciated by the chilly workers as they exited the creek.
"This is amazing," Greg Sklar said as he poured himself some coffee. "It brings the whole circle together, the whole tube circle."
The tubers -- who said they officially call their event the International Tube to Work Day -- also pointed out this was the first year that moniker rang true, as one tuber, Alexandra Lalei, was actually visiting from South Africa.
"I fell out a lot at first," Lalei said. "We don't do this much in South Africa."
But as she lounged in her tube on the bank of the creek sipping some coffee, Lalei said she overcame her initial struggles.
"I got it down to a science," she said. "I have to say, I'm quite the expert now." ___
(c)2013 the Daily Camera (Boulder, Colo.)
Distributed by MCT Information Services
Related
Popular in the Community