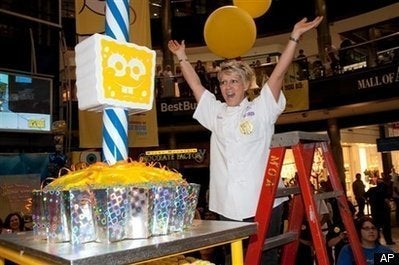 A few years ago the Boulder Valley School District was in the throes of Closure and Consolidation. Every school board meeting was packed and the attendees were rowdy and partisan; PTA meetings were well-attended and full of passion. This year the issues are no less important (teachers' contracts, reduced funding) but they have not engendered the same type of controversy, media coverage and public involvement.
A lack of controversy makes even the most committed voting citizen a bit apathetic about a school board election. Maybe we can get riled up about the issue that is big news in New York -- bake sales (which should really not be the issue of focus in a broader attempt to improve NY school nutrition). Boulder is a health food haven and this year BVSD (thanks to incredibly generous financial support by community members) hired Ann Cooper, The Renegade Lunch Lady to remake Boulder school meals the way she did in Berkeley (more blogging about this in the future).
Unlike New York's Mayor Bloomberg who admonishes others while indulging, Ms. Cooper appears to be more pragmatic and more disciplined. She is not planning on snatching anyone's snack. Maybe the BVSD candidates in Boulder can stir up the pot. We haven't had much educational tumult (or Fox News coverage) since Boulder High hosted the Conference on World Affairs seminar on Sex, Teens and Drugs; students tried and then abandoned the effort to rename venerable Boulder High as Barack Obama High School; and, Ward Churchill was awarded $1.

In search of controversy I contacted each of the six candidates for the BVSD Board about the bake sale issue that was widely covered by the New York Times. Unfortunately for sparking debate, there was pretty solid agreement among the candidates about bake sales and birthday celebrations. Without the press and community-involvement that more often follows disagreements than consensus, we need to remind ourselves and our neighbors about the importance of school board elections and to get out and vote on Tuesday, November 3, even if it snows.
Here is a round-up of each candidate's view on the sweets issue plus, on a more substantive note, on their key issue.
District B
John Kettling
kettlingj@aol.com
View of allowing in-class celebrations and after-school bakes sales:
Birthday treats - is an example of district overcontrol. What does this have to do with writing or math?? I think board members should find something more important to work on than somebody bringing cookies to a 3rd grade party. They're probably jealous because they didn't get any!
After-school fundraisers - so they don't sell sweets after school? Know what happens?? The black market for oreo cookies sold out of 8th grade lockers gets bigger than ever. Why do you think the 8th graders just LOVE the nutrition policy? It's all economics!
The one BVSD issue I am most passionate about:
I ran on 3 major issues. The one that gets my attention the most these days is the teachers' contract. It should have been settled one way or another long ago. Locking the budget down without solving the teacher issue was insane!
Lesley Smith
LesleySmith.org
View of allowing in-class celebrations and after-school bakes sales:
I am on the fence on this practice. Students have brought treats to school for their birthdays for as long as I can remember, therefore this will be a difficult tradition to break. On the other hand, the district is trying to set policy guidelines where schools are a haven for healthy eating. Perhaps, a happy medium can be struck where there is one celebration per month and a choice of foods can be brought into the classroom.
Again, this [bake sales] is another tradition that is difficult to break. I remember looking forward to those Rice Crispy snacks on bake sale days. As we replace our vending machines with healthier foods, I think we can move our fundraisers to healthier alternatives also.
The one BVSD issue I am most passionate about:
One of the reasons I ran for the board in 2005 was my concern about the achievement gap. I had served on the District's Destratification Committee, and I realized that the District had a long way to go to make our schools more equitable and help every student attain success. I still am passionate about this issue, and if elected I will continue to push the superintendent to close the achievement gap.

District E
Tom Miers
Facebook.com/TomMiersSchoolBoard
View of allowing in-class celebrations and after-school bakes sales:
I personally think that these are fun events for the children and I don't have a problem with them. However, the decision should be left up to the local school and the classroom teacher. We have to be sensitive to all of the classroom students and parents and it may be appropriate to find alternative foods for those parents/students that have issues or objections. I ultimately believe that the parents, not the school, should be responsible for the health of their children. Again [regarding bake sales], I think that these are a lot of fun and don't object at all. But I do believe these decisions should be left up to the individual school.
The one BVSD issue I am most passionate about:
We have many challenging issues facing our district. From my present perspective, I see the top issue as school finance. The possible reductions in funding for education this year and next along with local reductions are very concerning to me about how we meet our shrinking budget requirements without impacting our children. I believe that we need to evaluate and prioritize our expenditures to focus on providing our children with the needed skills for success. I am an Engineer and Senior Manager for large commercial and government space programs. In this capacity, I have had the opportunity to manage projects involving large numbers of people with budgets in the hundreds of millions. Much of my business experience is directly applicable in managing the school district. We already have many highly trained and experienced educators in our school system. What we need on the school board now are experienced businessmen and leaders with sound financial and project management skills who will successfully guide us through the difficult financial times ahead.
Jim Pollicita
jb4bvsd.blogspot.com
View of allowing in-class celebrations and after-school bakes sales:
Allowing and not allowing are two sides of the same coin, aren't they? One concern I have is the difference between increasing knowledge and options vs decreasing options. Food is our source of nutrition, of course, but food is also a keystone of culture; family culture and ethnic culture. If we forbid types of foods how might we be limiting our children's potential to understand, appreciate, and express culture? Yes, cultural expression might even include items made with can sugar!
In addition to my cultural qualms about such prohibitions, I am also reluctant to creating barriers to ways parents with limited time might be able to support their children and the schools. I'm not sure allowing parents to offer store-bought or home-made sweets in support of their kids is any worse than asking children to sell subscriptions to vapid, superficial magazines to support school activities.
The one BVSD issue I am most passionate about:
These are difficult times for a lot of people and for public education. The next few years are likely to bring further reductions in state per pupil support. I am passionate about our need for healthy, excellent public education because I believe every individual has tremendous potential, education should encourage and develop each person's potential, and an informed capable electorate is essential to healthy democracy. I am worried about financial support for public education and even more concerned about public confidence. I have time, background, and abilities related to the work of the board, so, with the prodding of friends, came to the decision that it was time for me to step up in a different way and become a candidate.
District F
Jennie Belval
Belvalforbouldervalley.com
View of allowing in-class celebrations and after-school bakes sales:
I think we ought to allow some "treat" or celebratory food. I am happy for the decisions about this to be made on a school by school basis. I believe all such decisions should be made in such a way that no student feels excluded because of allergies, etc.
The one BVSD issue I am most passionate about:
Over the past sixteen years I have dedicated my time and energy to public education in a variety of ways because I believe it is crucial to our future as a society. When we take care of our children we take care of our future. One issue I am really passionate about is the need to address the learning needs of all students. The district needs to address the achievement gap, while at the same time making sure that our higher end students also experience academic growth and challenge. The district can do this by looking carefully at available data to determine its strengths and weaknesses. It should expand programs that are working and be willing to adopt ideas from outside our district when those ideas have shown success. The district also needs to find ways to encourage parent involvement and community collaboration. Research shows that parent involvement is key to student achievement. The district is fortunate to have many parents who volunteer; there are many more however who could be involved. Collaboration with the community can also help improve outcomes for our students. The Sombero Marsh collaboration with the Thorne Ecological Institute is a great example of what we can do when the district works with community groups. There are also groups in the community working hard on early childhood interventions that could make a big difference in student achievement on down the road. The District should remain willing to support these kinds of efforts.
Louise Benson
Louisebenson.com
View of allowing in-class celebrations and after-school bakes sales:
I favor reasonable guidelines on these treats. For example, no fancy "chocolate fountains" or other excesses as are allowed in some schools. This is an equity issue as well as a health issue. There should also be teacher class-by-class consideration of children who may have allergies or health conditions. I do not favor total elimination of in class-treats. [For bakes sales]...."after school" being the key phrase.
The one BVSD issue I am most passionate about:
Our number one job is closing the achievement gap, with proven programs (I researched this), not rhetoric.

Calling all HuffPost superfans!
Sign up for membership to become a founding member and help shape HuffPost's next chapter