Bountiful Berkshires: Cultural Catch-Up
Text & Photographs © Jill Lynne 2017
Hudson, Mass Moca & Nick Cave, Tanglewood with James Taylor & Bonnie Raitt, Dining & Entertainment at The Red Lion Inn...
As a young one I regularly accompanied my parents as they enjoyed a summer holiday in the bountiful Berkshires. As supporters of the arts, they loved this cultural mecca nestled within the green mountains…
So it was with much nostalgia and fond memories I revisited the area…
My trip began with an Amtrak ride to Hudson New York, where a friend awaited me.
Next, a lovely lunch at a charming French Café - LE GAMIN - and then wandering the quaint streets while browsing through a tiny selection of the 800 Antique Dealerships.
Interestingly Hudson's first notoriety came from its Red Light District!
During our Revolution, when the British were encamped there, they brought their ladies-of-the-night, creating a notorious section of town that existed through the 1950s.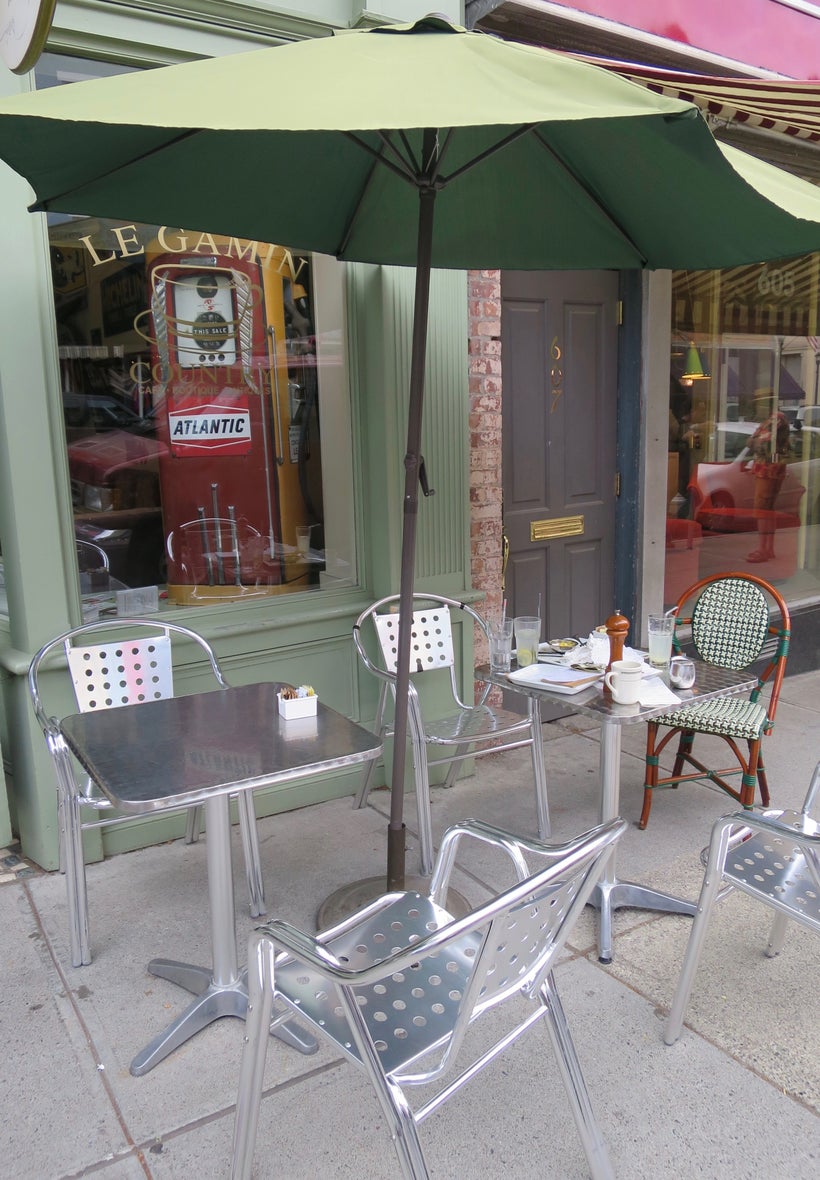 Le Gamin, Hudson New York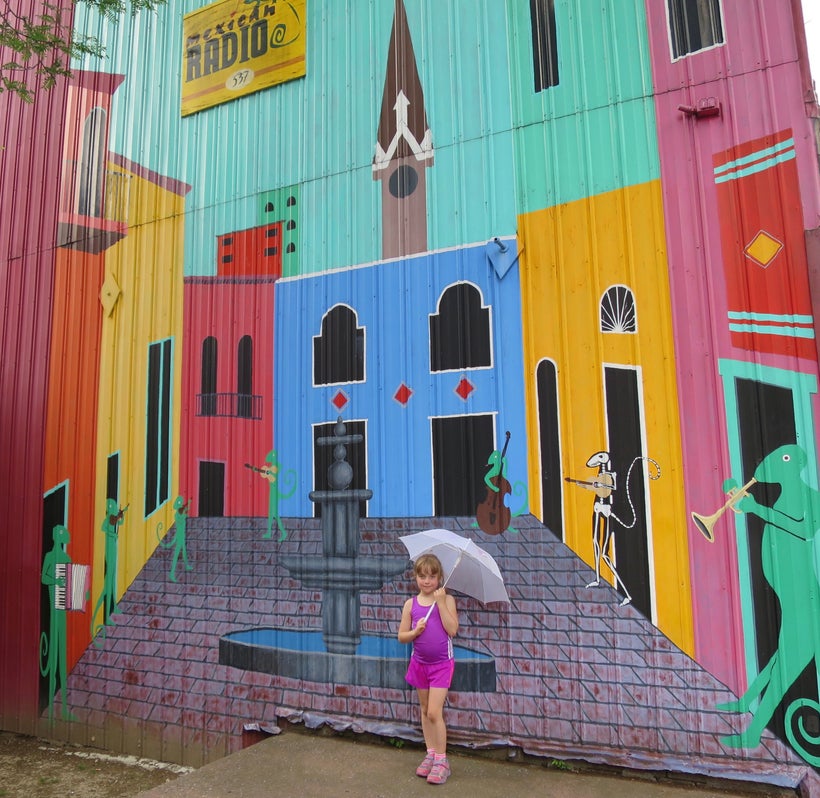 Posing beneath a local Hudson Mural
The Berkshires have a distinctive history that traces itself back to 1761.
They were named "Berkshire" by the Royal Governor (1760-1769) Sir Frances Bernard to honor his home county back in England.
One highlight of the trip was a special visit to MASS MOCA in North Adams, Massachusetts. This wonderfully unique Museum of Contemporary Art is housed in red brick 1800s factory buildings that have been refurbished to house site-specific installations in vast spaces – some the size of a football field. The architecture is a work of art unto itself…
The 16 acres of grounds in North Adams, Massachusetts, encompass a grand complex of mill buildings that occupy nearly one-third of the city's downtown business district. Listed in the National Historic Register, the site's 26 buildings form an elaborate system of interlocking courtyards and passageways rich with historical association.
The Collection is large and the fascinating exhibitions are excellently displayed.
A visit to Mass MOCA alone is worth a trip to the Berkshires.
Fortunate was I, for one of my favorite Artists, Nick Cave, was showing. In "Until: Cavernous; The Inner Life of Courage", Cave has created an exquisite, brilliantly colorful, multifaceted installation.
Developed from chandelier crystals one meanders through an extensive magical maze.
The sheer volume of material that has been gathered is astounding — 16,000 wind spinners; millions of plastic pony beads; thousands of ceramic birds, fruits, and animals; 13 gilded pigs; more than 10 miles of crystals; 24 chandeliers; 1 crocodile; and 17 cast-iron lawn jockeys.
Cave, who is best known for his SOUNDSUITS, notes that the work
references racism while he wonders if there is racism in Heaven …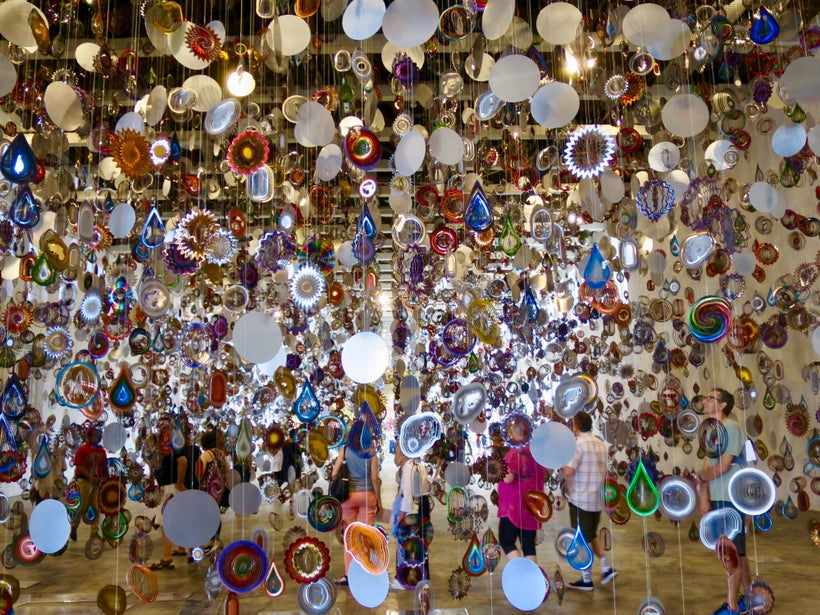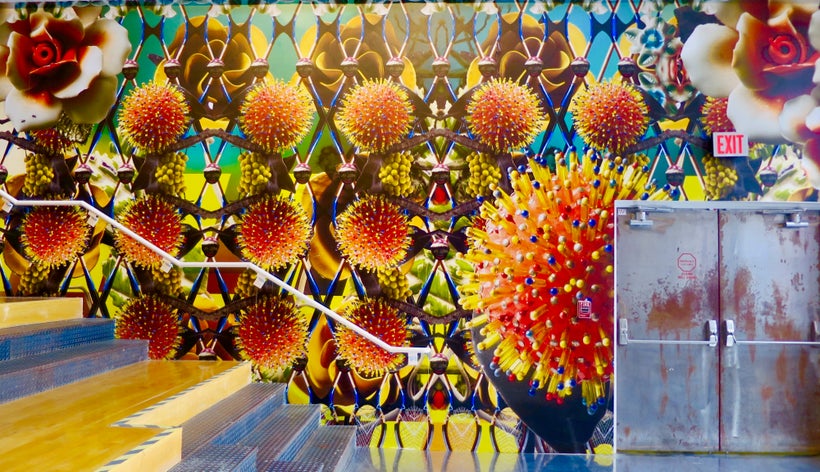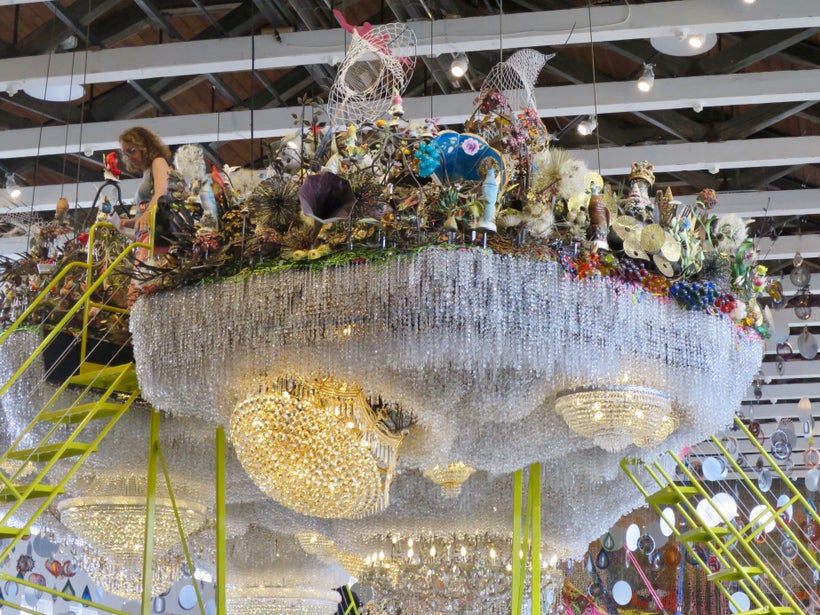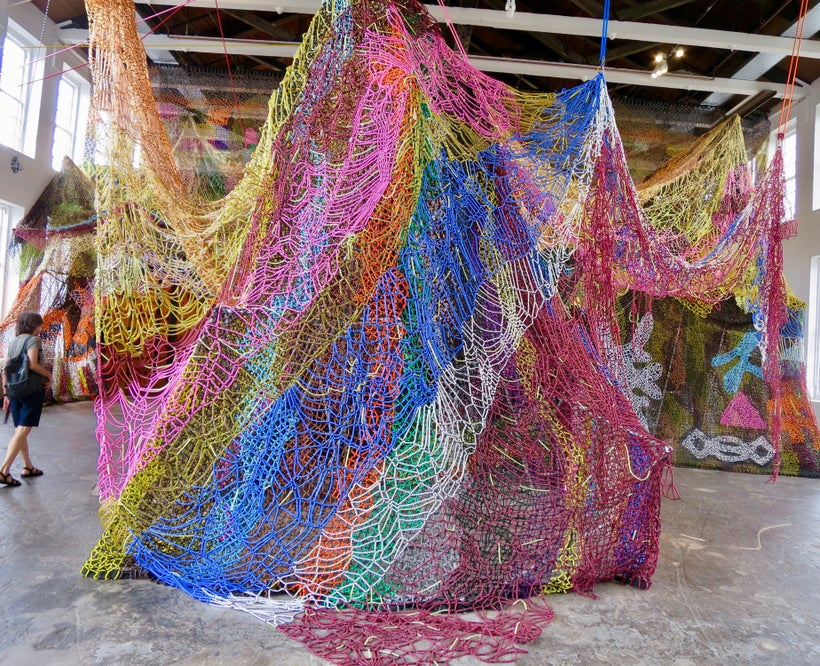 Nick Cave's brilliant colorful Installations at Mass MOCA.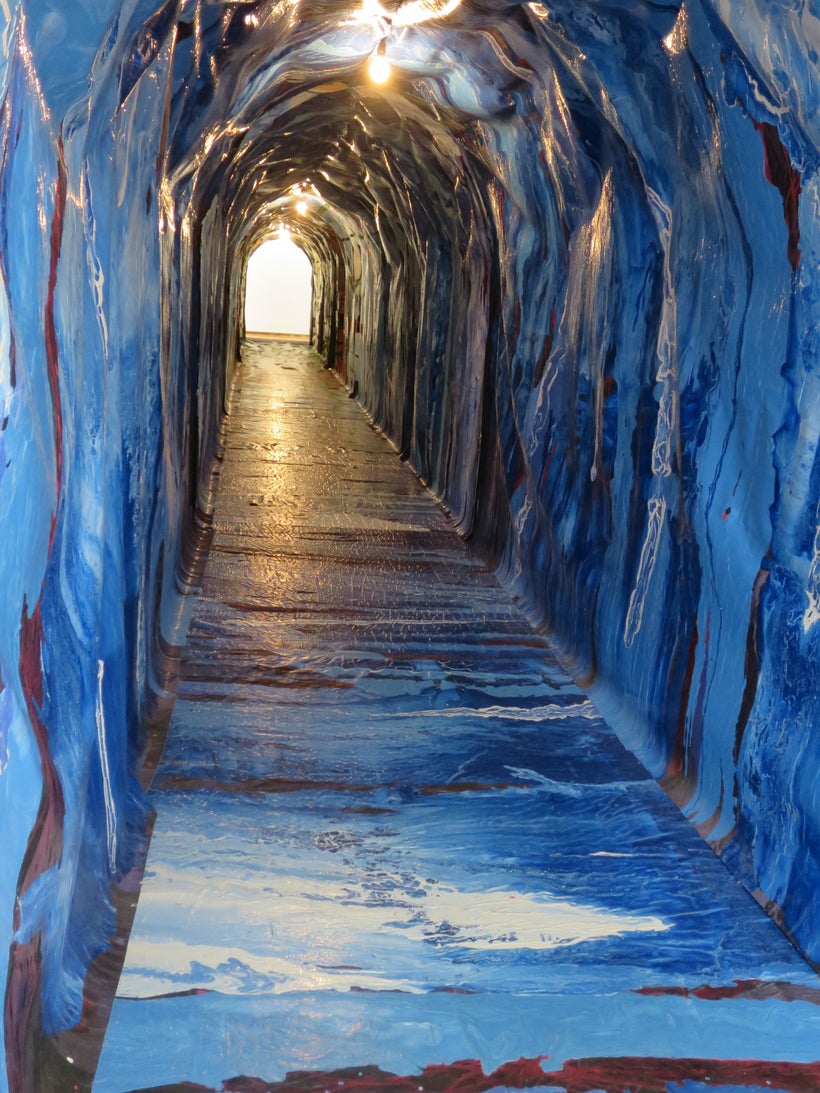 One of several Sound Tunnels
Located in MOCA's newest building - Building 6 - which also features the beautiful color- field atmospheric installations of James Turrell's "Into The Light"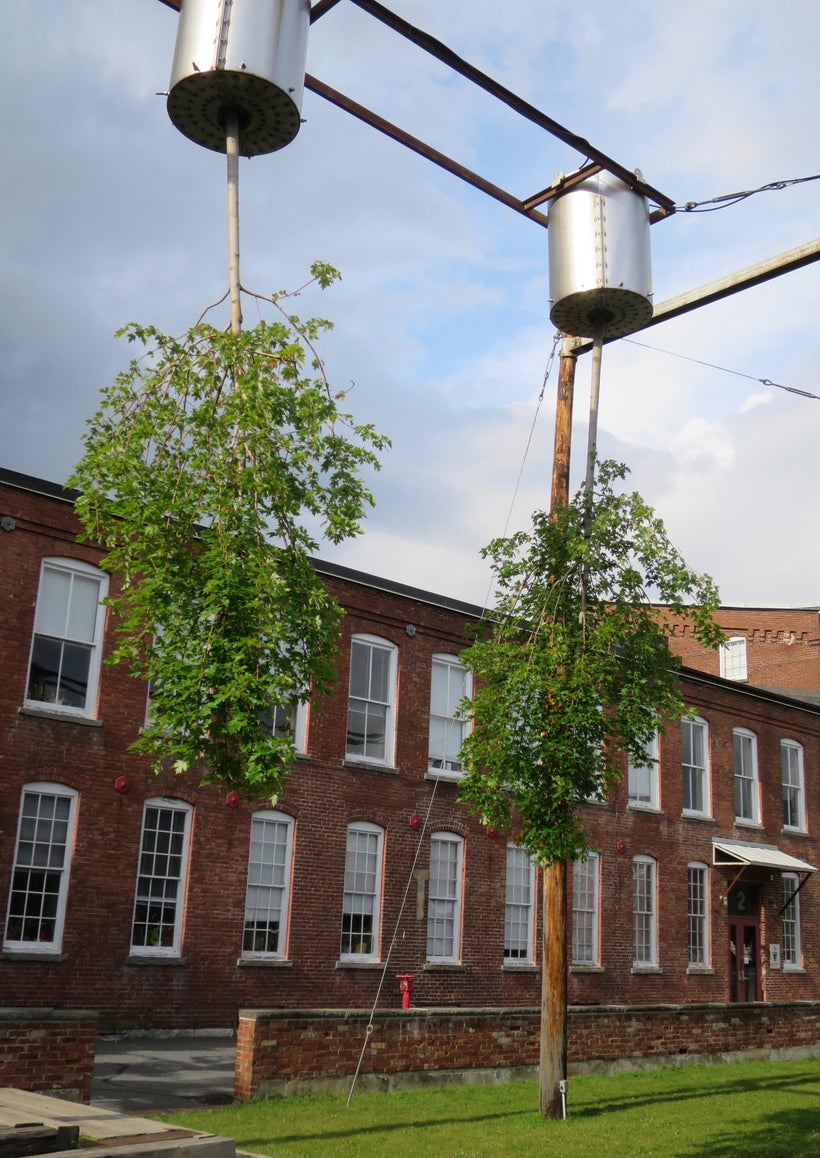 With its signature touch of Whimsy, Upside-Down Trees greet us
Celebrating July 4th in the Berkshires began with what is known as "the largest small town PARADE in the USA". Held in Pittsfield, the participants include locals and those from afar. As is traditional – featured were a rollout of antique fire trucks, marching bands festooned in vintage-looking revolutionary costume, and since it is Massachusetts – varied groups spotlighting such good causes as Free Speech and LGBTQ Rights.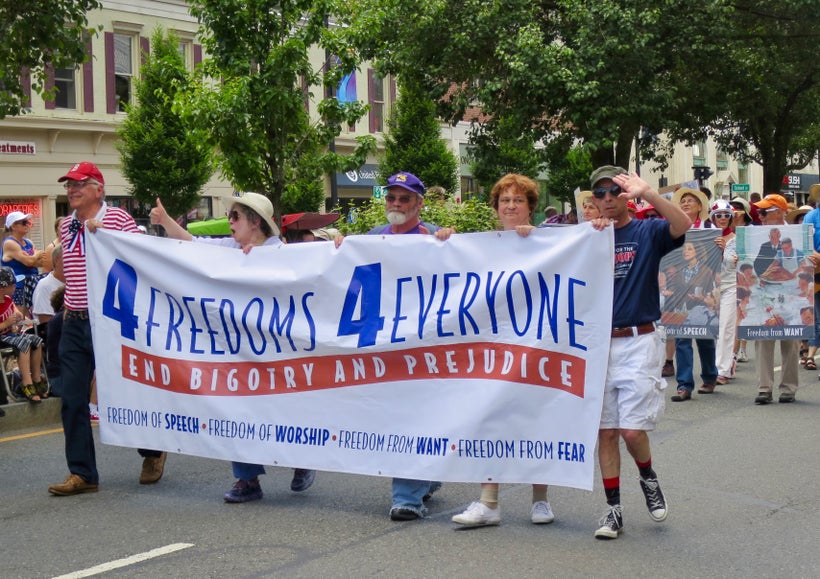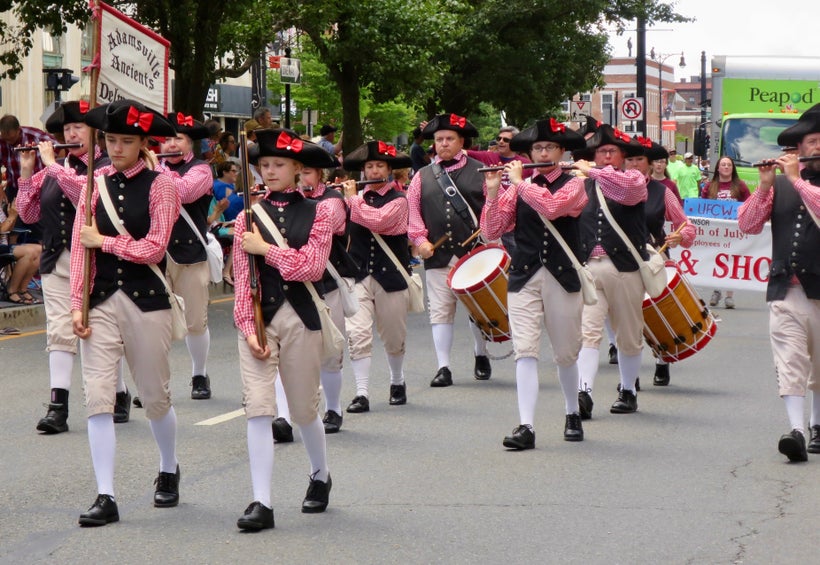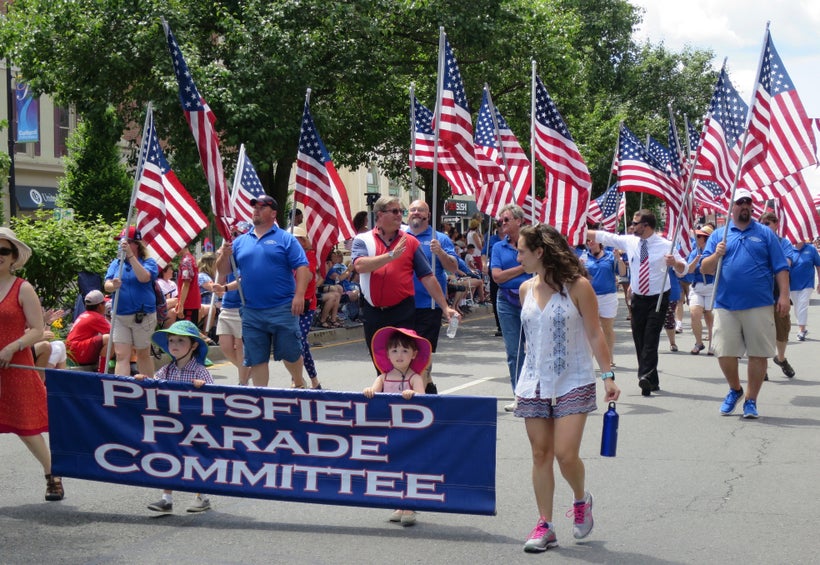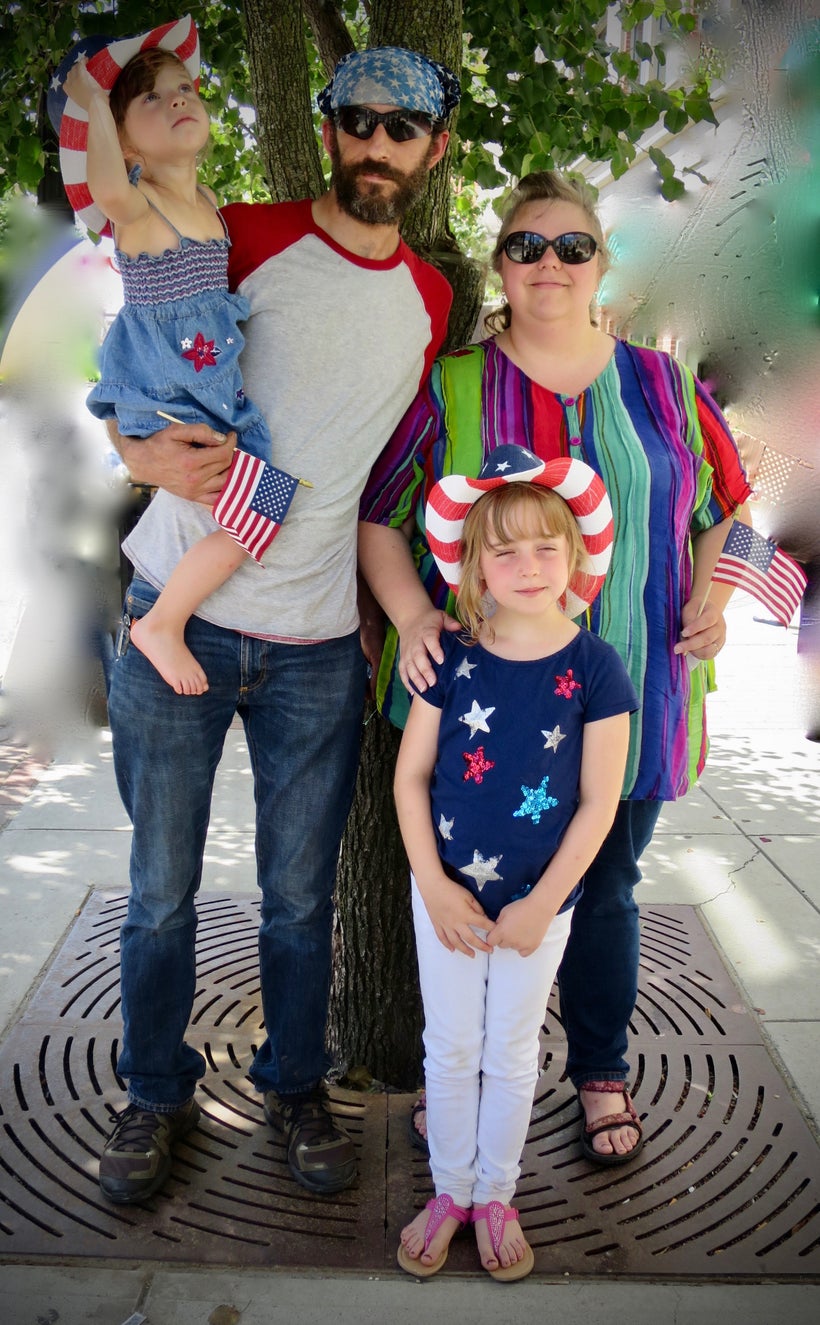 An American Family Celebrates July 4th at the Pittsfield Parade
The thrill of the 4th of July was an evening at TANGLEWOOD.
While visions of childhood played within me – when I ran freely about the wonderful Music Center's lawns - we celebrated, for the second year, with the inspiring James Taylor in concert.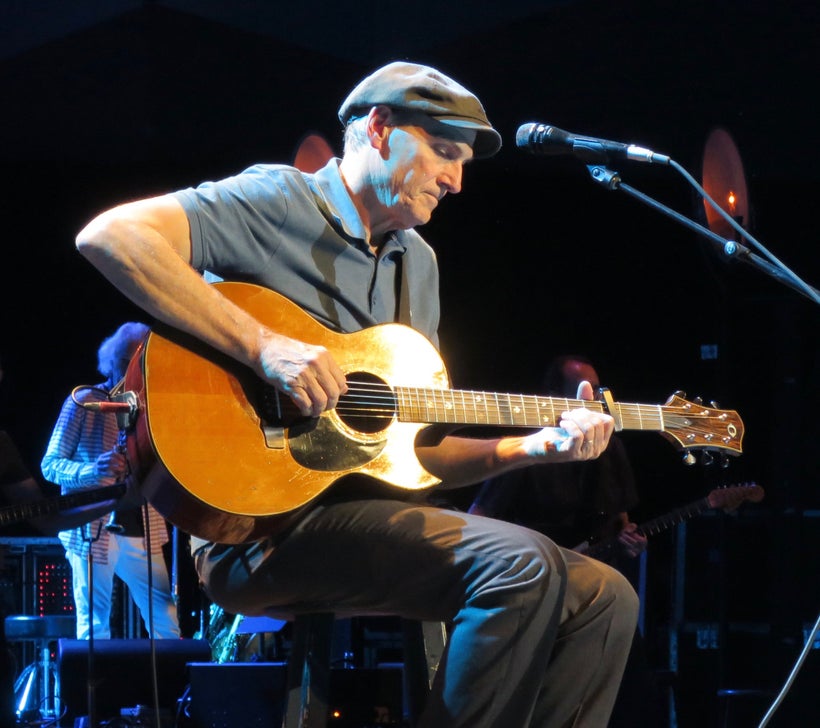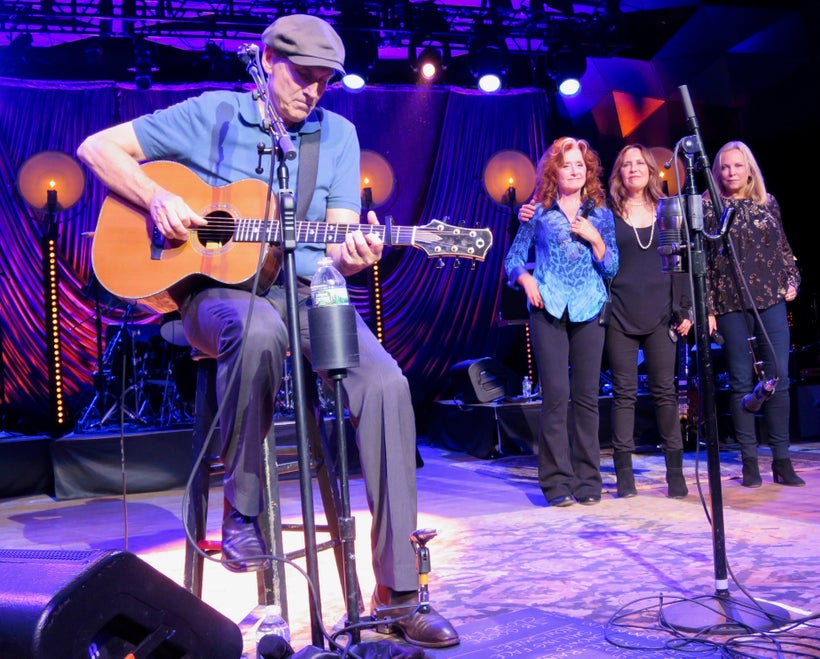 James Taylor at Tanglewood
This year we were in the shed – up-close-and-personal – and the musical experience was awesome. Both the acoustics and the visibility were fine-tuned.
Through the years Taylor has maintained his distinctive, sensitive yet strong voice quality that embraces his audience.
His Surprise Guest Artist, the fiery red-haired Bonnie Raitt, - as strong, and compelling as ever. She brought the house down!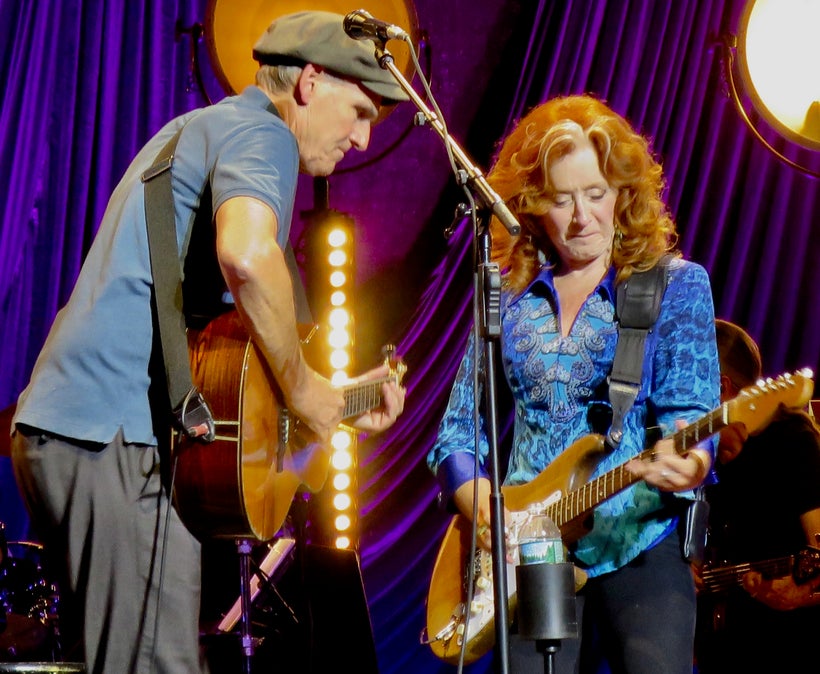 Taylor Jamming with Songstress Bonnie Raitt
The evening concluded with Tanglewood's annual gorgeous display of fireworks.
Silence descended, as the large crowd seemingly became one in awe…
Located in the towns of Lenox and Stockbridge, Tanglewood has been the home of the Boston Symphony Orchestra since 1937. Known for expansive welcoming lawn, where guests of all ages picnic and cocktail-it while listening to beautiful music.
Tanglewood's Music Shed was designed by the celebrated Architect Eliel Saarinen and offers a permanent open-air structure where guests may comfortably sit to view the concerts.
In addition to hosting world-renowned programs of classical, jazz, and popular music, Tanglewood provides musical training. In 1940 conductor Serge Koussevitzky initiated a summer school for approximately 300 young musicians, now known as the Tanglewood Music Center
"Tanglewood "takes its name from the "Tanglewood Tales" by Nathaniel Hawthorne who at one time lived in a cottage on the former estate.
Located on Main Street in Stockbridge, midst the greenery of happy ole trees surrounding historic clapboard homes with shutters and multi chimneys,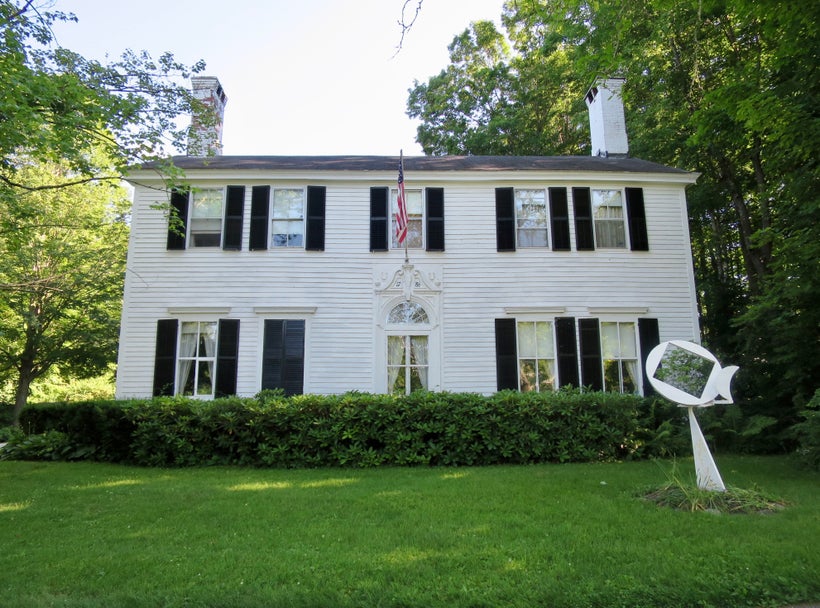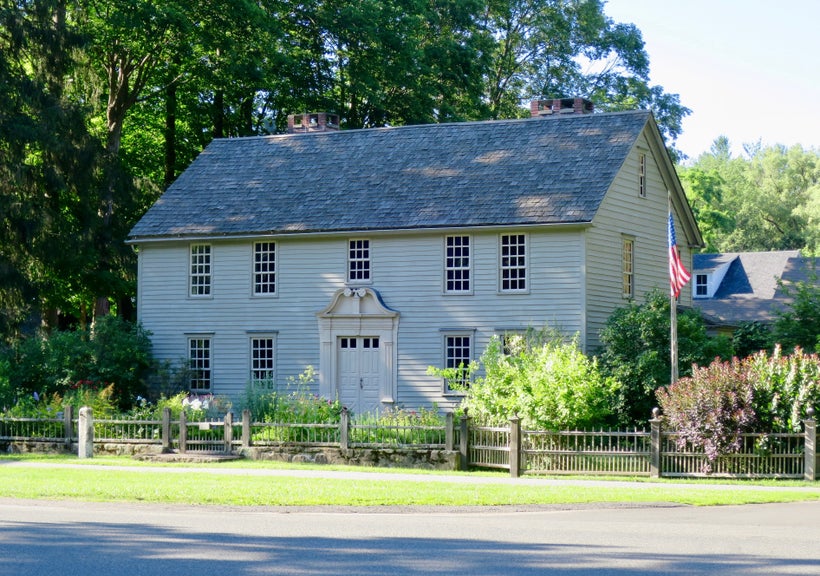 Historic Homes Line the Main Street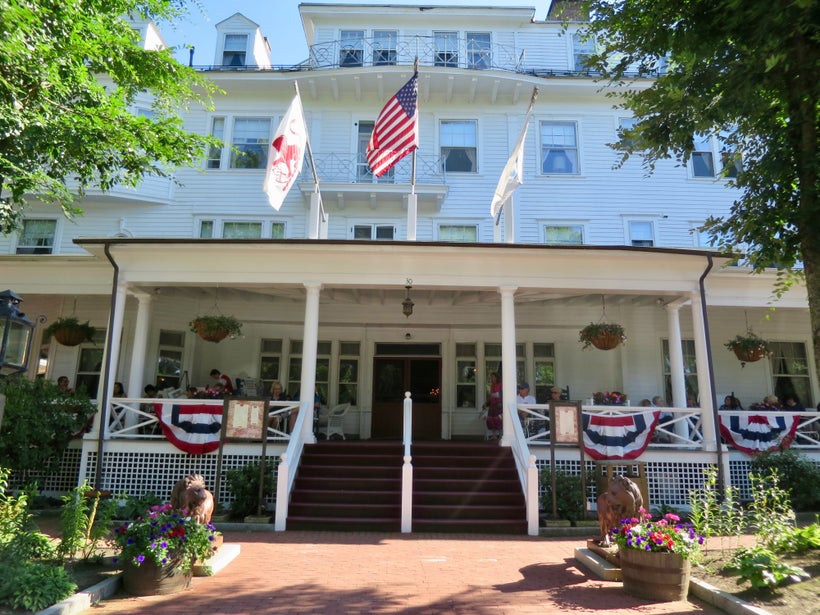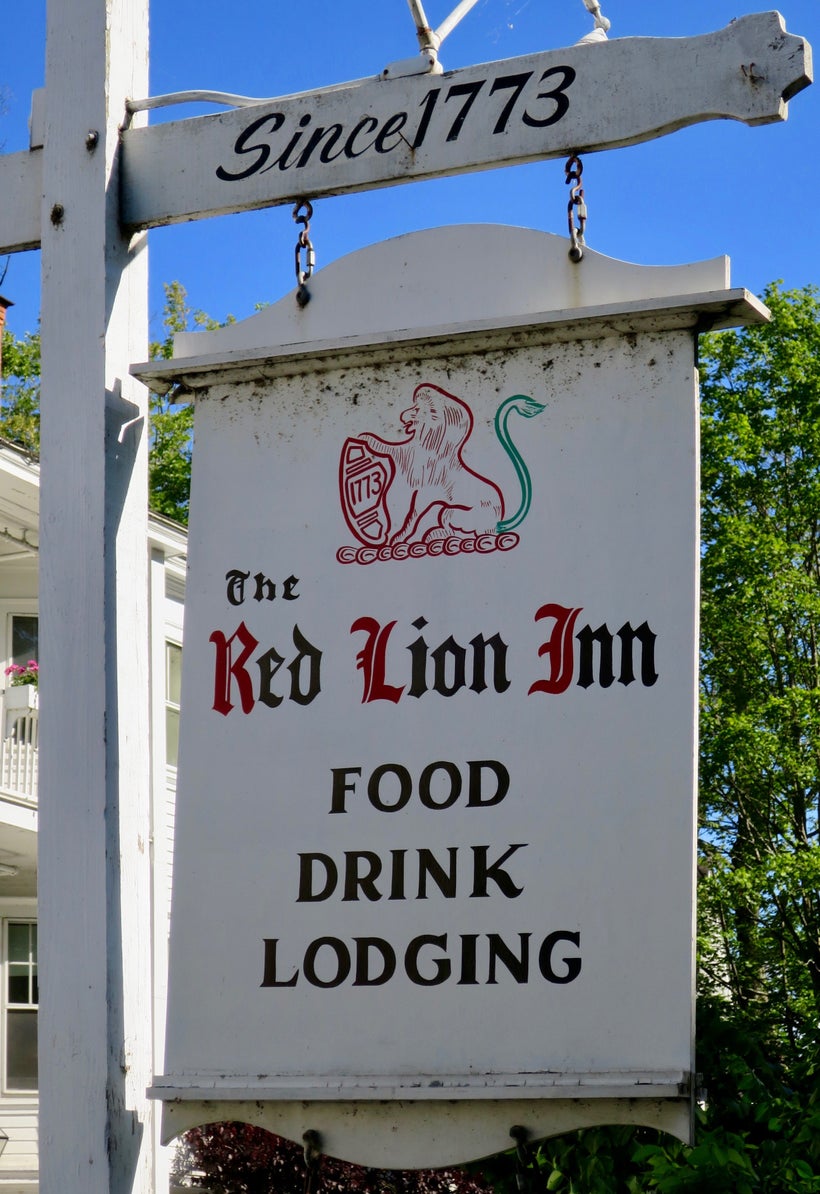 The Red Lion Inn – Facade & Signs
Established in 1773 when Silas Pepoon established a small tavern, The Red Lion Inn served as a comforting stop for travelers on the long dusty road from Albany to Boston. In July 1774 angry citizens gathered to publish resolutions protesting England's repressive Acts of Intolerance.
In 1862, the IUnn was purchased by Mr. and Mrs. Charles H. Plumb. Luckily Mrs. Plumb was a Collector of Antiques and so – voila – the rare antiquities that decorate the many rooms.
Through the centuries, the Inn has continually served its clientele delicious, hearty fare.
Today the Red Lion's Dining Room supports over 50 local farmers who provide natural, organic and grass-fed food.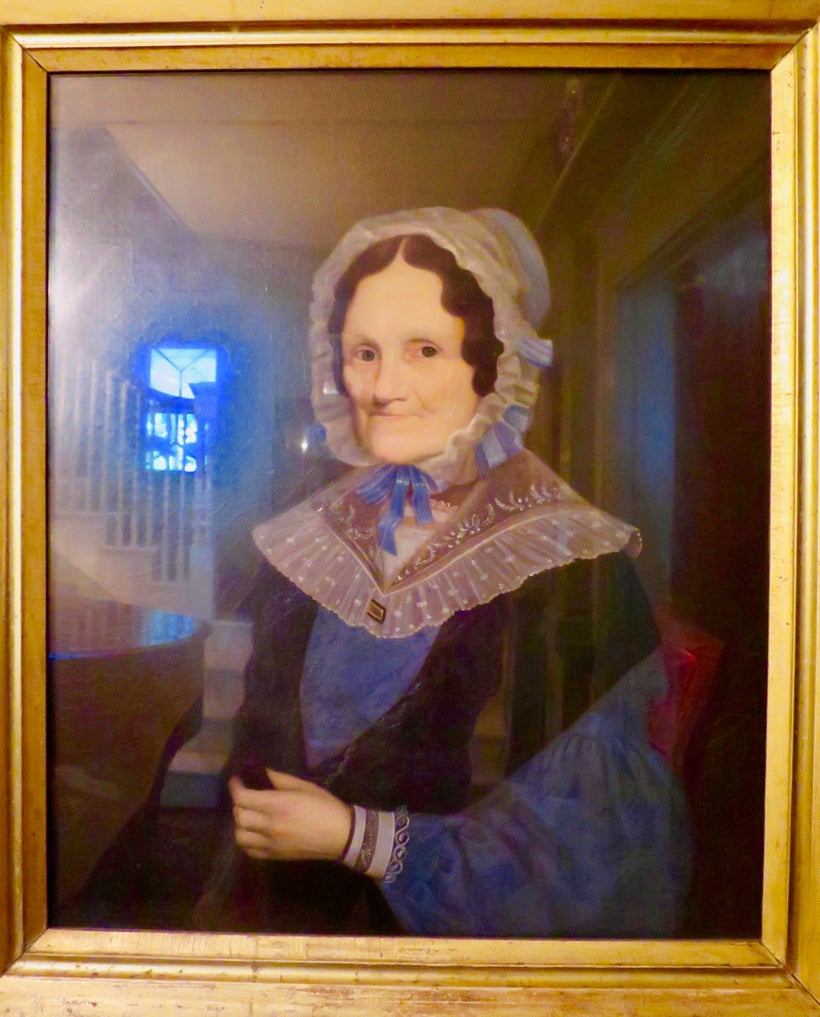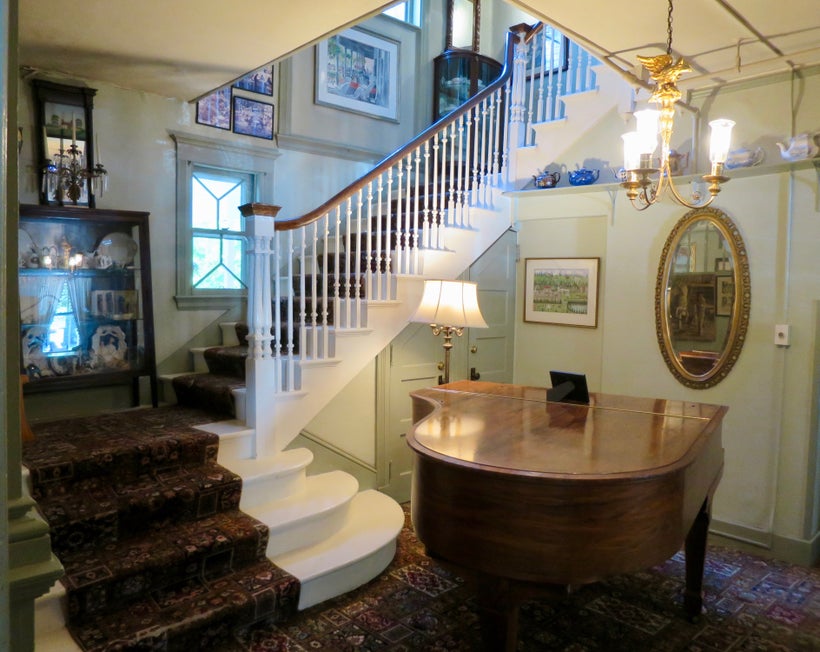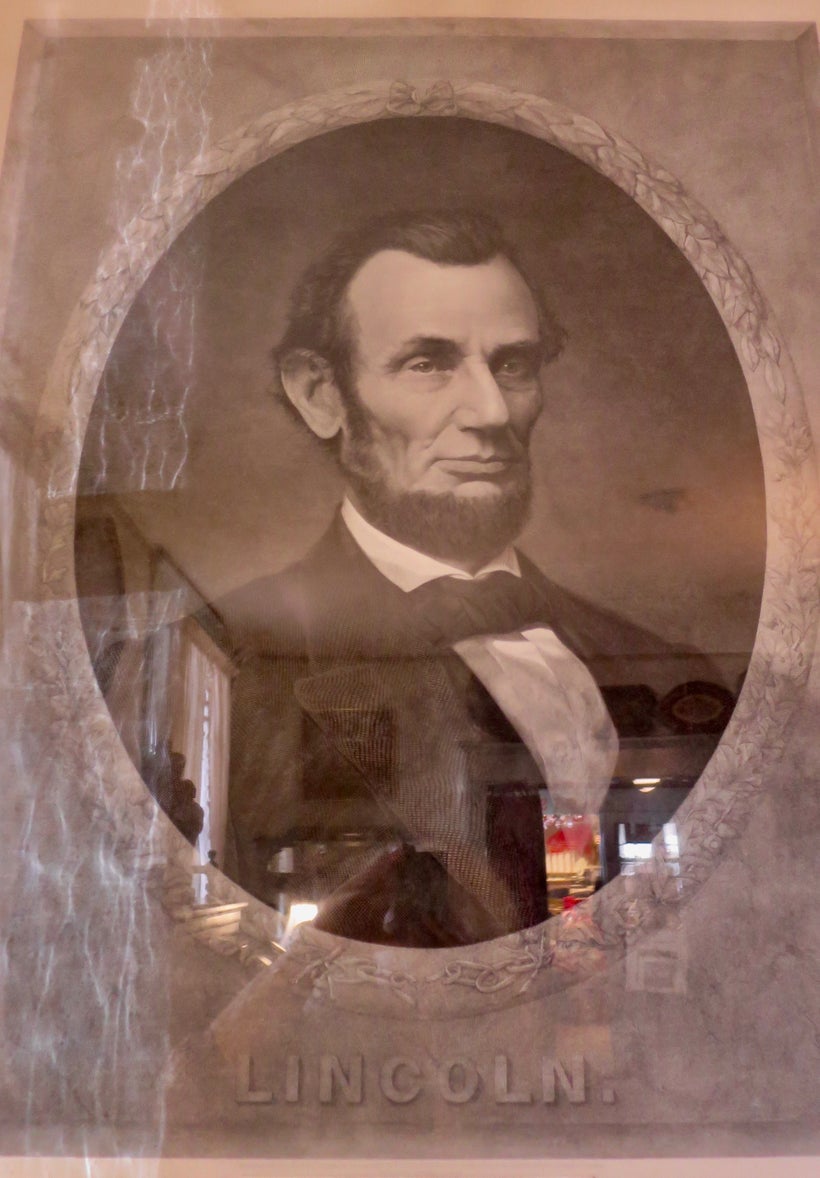 Including a Portrait of Lincoln that was a Gift to the local High School in 1895,
The charming Inn offers up a magical collection of antiques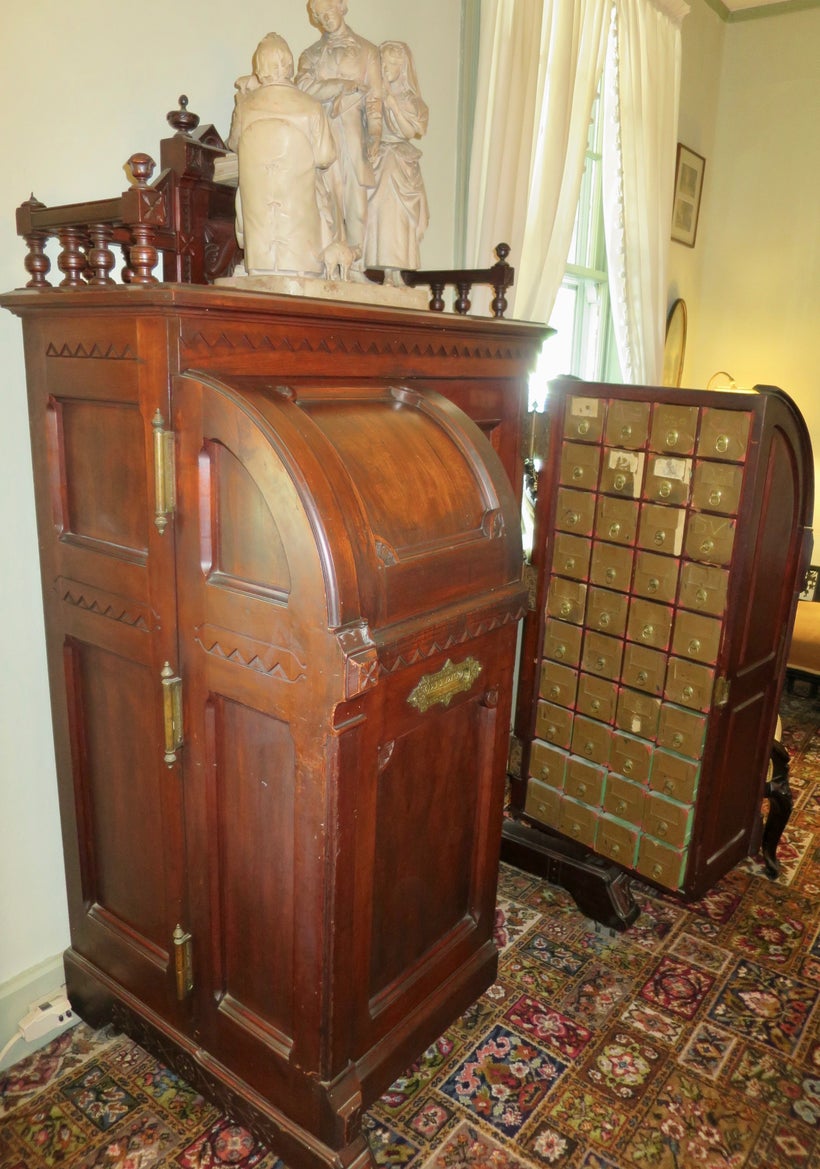 A Historical self-contained Post Office
We supped on wonderful dishes, comparing notes with the delighted diners at adjacent tables…
Our delectable recommendations include:
New England Style Clam Chowder with Applewood Smoked Bacon
(Could be the best I've ever tasted…)
Grilled Organic Salmon with Nicoise & Cauliflower Chive Potato Salad
(A thick salmon steak grilled to perfection with a crisp skin and rare inner…)
Baked New England Haddock with Summer Vegetable Couscous, Capers and Lemon
(I'm now a convert to Haddock!)
Roast Native Turkey with Cornbread Stuffing, French Beans & Cranberry Sauce
Of course, my most favorite was this extraordinarily delicious dessert:
Warm Brown Sugar Cake with Coffee Ice cream and Fat Toad Caramel Sauce…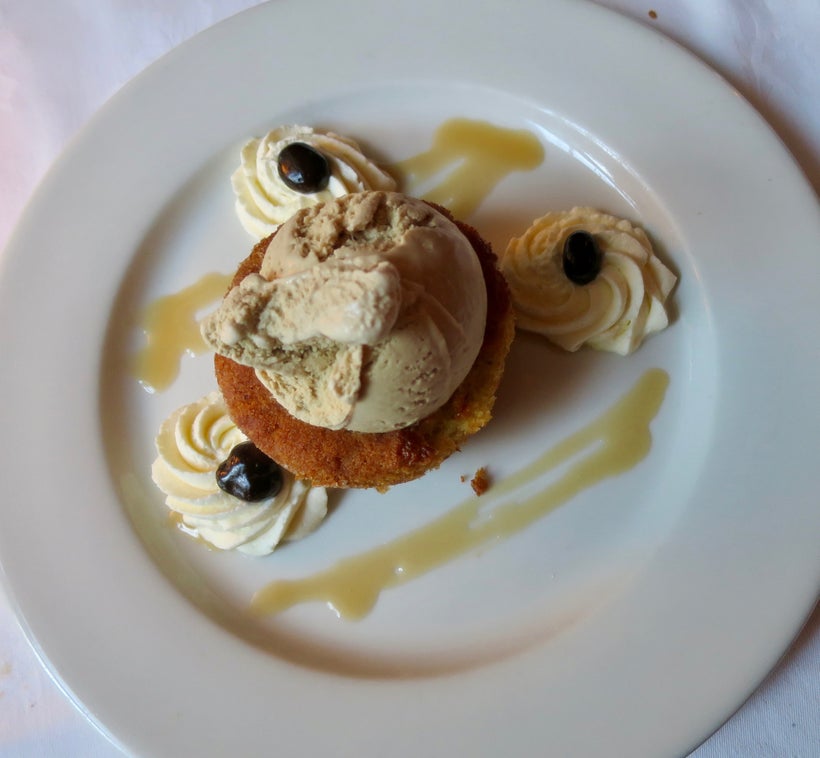 Our Most Favorite Dessert!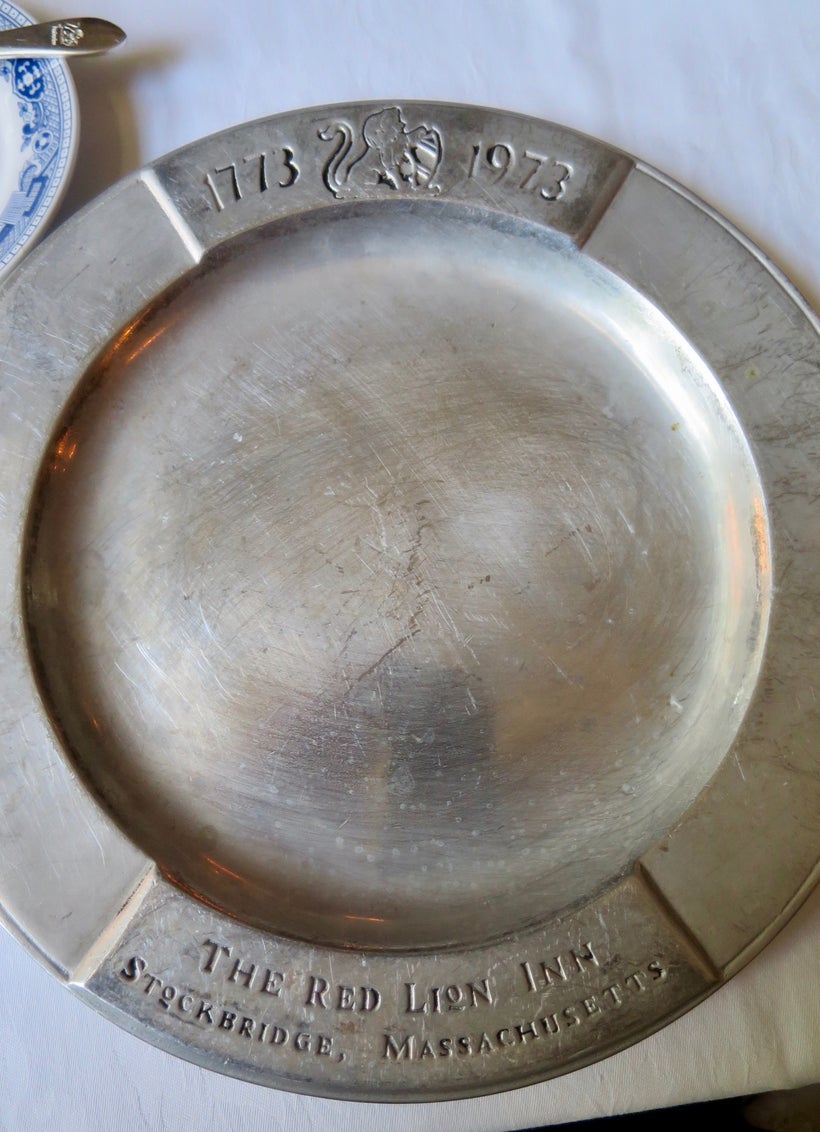 The Red Lion Inn Pewter Plate
With its festive ambiance, The Red Lion Inn is a perfect place to celebrate special events and holidays.
After dinner we headed downstairs to the oh-so-convenient Lions Den Entertainment.
Post-dinner music featured the folk-ish Music of Eric Erickson – of Woodstock fame. His soothing tones reminiscent of John Denver, Ericson plays a neat guitar, sings evocative oldies (with self-composed new tunes) and very patiently takes requests.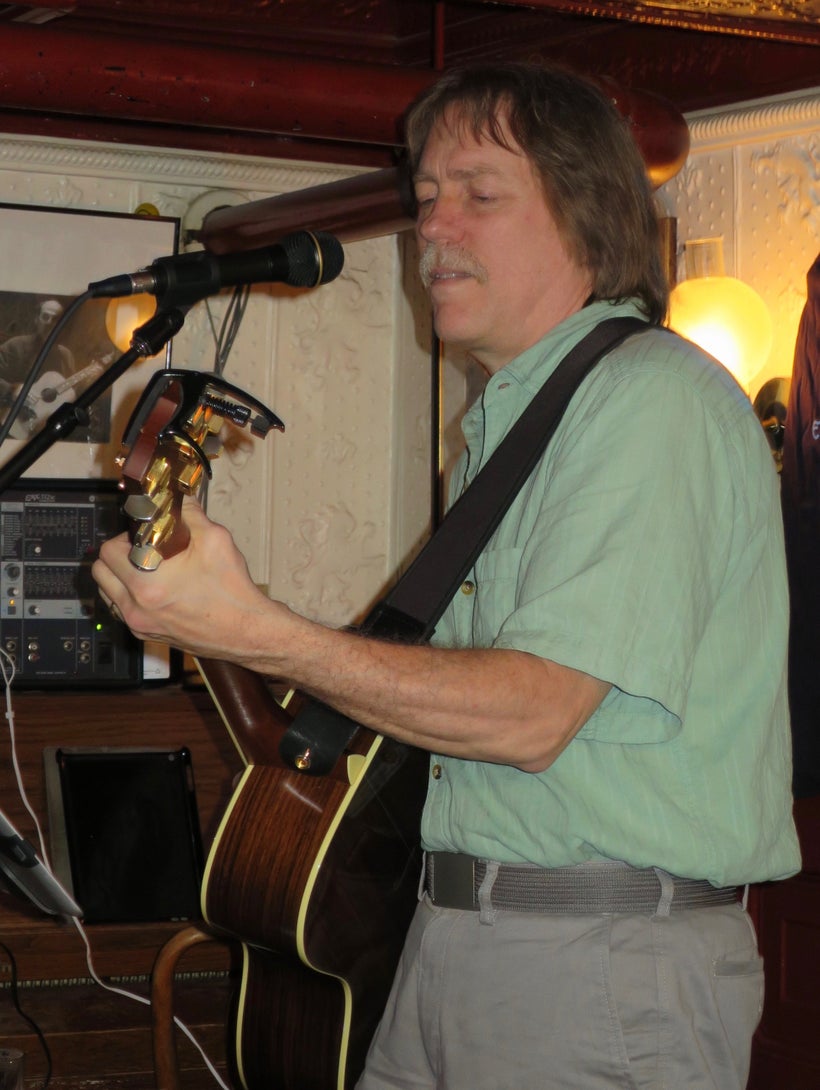 The soft strums of Eric Erickson
A light dinner menu is offered up but we were already satiated with deliciousness.
And then a stroll to the adjacent County store, which is chock-full or rare finds and special ole-fashioned oddities and toys…
And the Management is so amiable and informative…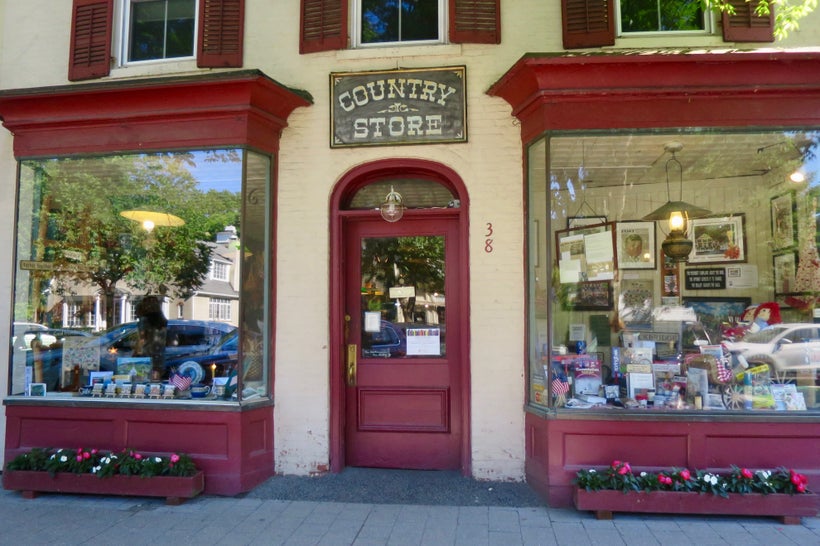 We had a wonderful experience in the Berkshires, so soothed by the beauty of the natural landscape, so inspired by our culture experiences… that we are already looking forward to our return….
All Photographs (c) Jill Lynne 2017, are available For Purchase:
REAL LIFE. REAL NEWS. REAL VOICES.
Help us tell more of the stories that matter from voices that too often remain unheard.
This post was published on the now-closed HuffPost Contributor platform. Contributors control their own work and posted freely to our site. If you need to flag this entry as abusive,
send us an email
.