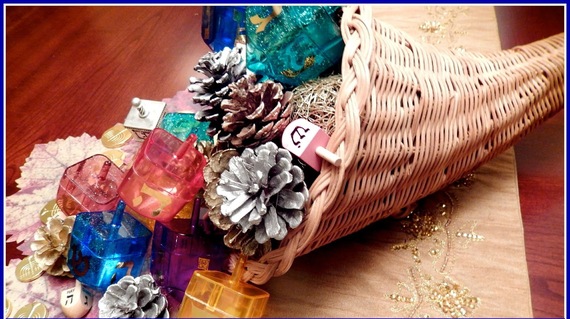 This year's Thanksgiving or Thanksgivingkkah, in which Hanukkah coincides with Thanksgiving, is out of the ordinary, a kind of Hanukkah miracle. It won't happen again for 70,000-plus years. Maybe.
What makes it so hard to figure out is the complicated way that the calendar we use -- the Gregorian solar calendar -- and the Jewish lunar calendar interact. Check out Jewschool.com for a truly mind-bending explanation. No matter what answer you subscribe to, unless you're Super Methulselah or very young, you won't be around to experience any more Thanksgivingkkahs.
The mash-up of Hanukkah and Thanksgiving makes a lot more sense than Christmakkah -- Christmas and Hanukkah -- the one we're accustomed to. Both Thanksgiving and Hanukkah are about freedom from persecution. Thanksgiving celebrates the Pilgrims' first harvest in America where they fled to escape religious intolerance in England. Hanukkah commemorates the Jews' triumph over their Greek-Syrian oppressors, who tried to make them bow down to idols. Christmas and Chanukah share no more than dates. Of course, unlike the secular Thanksgiving, Hanukkah is not for every American.
Combining Thanksgiving with Hanukkah makes me gleeful, but for others the combo is explosive -- explosively funny, that is. On a "Colbert Report" segment, "Thanksgiving Under Attack," Stephen Colbert declared "How dare you, Hanukkah?... School children won't be able to keep the holidays straight."
A tradition of controversy
If Thanksgivingkkah ignites your ire, leave it out of your turkey day celebration. There is always straight-up Thanksgiving. Who could object to that beloved November holiday or find anything problematic about it? Actually, not so surprisingly in this "land of the free," there is always someone to disagree.
Once upon a time, people of more than one religion complained about Thanksgiving. Catholics thought it was for Protestants, and Jews thought it was for Christians. Thanksgiving even began with disagreement about whether it should be a national holiday. Opponents blocked acceptance of George Washington's first national Thanksgiving proclamation. And the holiday now embraced by most Americans only became accepted after decades of lobbying by "Ladies Home Journal" editor Sarah Josepha Hale. In 1863, Abraham Lincoln finally dedicated the last Thursday in November as a national holiday.
Thanksgiving dissension continued into the 20th century. Responding to shopkeepers who wanted more shopping days between Thanksgiving and Christmas, Franklin Roosevelt issued a proclamation moving Thanksgiving to the second-to-last Thursday in November. But many states issued their own proclamations temporarily making the date for celebrating Thanksgiving ambiguous.
Now, that's a free country. A little too free.
Americans didn't like this challenge to tradition, so two years later Roosevelt signed a resolution establishing Thanksgiving as the fourth Thursday in November. (In years when November has five Thursdays, you have to remember that Thanksgiving is not the last Thursday of the month.)
On the lighter side, considering our tradition of discord, I shouldn't have been surprised when I casually asked an acquaintance about her Thanksgiving plans, and she answered with: "What a sad day Thanksgiving is."
For the turkeys, she went on to clarify. Certainly, if you're a turkey (and I've known a few), Thanksgiving offers little to be thankful for -- except maybe tofurky.
When it comes to Hanukkah, struggle birthed the holiday, but through the years it has remained relatively free of conflict. The biggest issue for Hanukkah is being overpowered by Christmas. I went to an elementary school where most of the students were Jewish. Yet in days predating political correctness, when it came time for the holidays, we sang Christmas carols and made Santa Claus cards. We were lucky if we got to sing one Hanukkah song -- "I Have a Little Dreidel."
The real Hanukkah battle is whether to celebrate the Eastern European way with latkes (potato pancakes) or the Middle Eastern way with sofgoniyot (deep-fried donuts). Fried food honors the miracle of the small flask of oil that kept the temple light burning for eight days -- making deep-fried turkey the perfect Thanksgivingkkah food.
Food ends conflicts quickly. Thanksgiving like Hanukkah can be summed up by the maxim that applies to most Jewish holidays -- "We were persecuted. We triumphed. Let's eat."
And no matter what you eat, Thanksgiving and Hanukkah are great family holidays. Not only do they help us gather our families under one roof, they also prompt us to remember our responsibility to feed the needy.
And if you don't like Thanksgiving? Well, that's your right as an American, which is worth rejoicing about too. Thanksgiving has always been my favorite holiday until Thanksgivingkkah. Now, even my vegetarian friend can be happy. Potato -- or make that pumpkin -- latkes or donuts are a tasty companion for tofurkey.
My only other problem is spelling. Does "Thanksgivingkkah" have one "K" or two? Or is it "Thanksgivukkah"? Then again, spelling Hanukkah (Chanuka, Chanukah, Chanukkah, Hanukah, Hannukah, Hanukah, Hanuka, Hanukka, Hanaka, Haneka, Hanika, Khanukkah) was never easy either.
Whatever you celebrate, and however you spell it, make it a happy holiday this year.
Calling all HuffPost superfans!
Sign up for membership to become a founding member and help shape HuffPost's next chapter