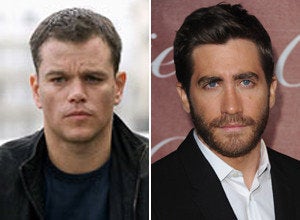 Can you make a "Bourne" film without Bourne himself? Apparently, yes. You just need another hot action star to fill the assassin shoes.
Variety reports that Tony Gilroy, writer of the "Bourne" trilogy that starred Matt Damon as an assassin with amnesia, is in the process of writing/directing a fourth film -- "The Bourne Legacy" -- without his original leading man. Which means, of course, a new star must be cast.
Unlike the James Bond series, the new "Bourne" films won't be putting a new actor in the character of Jason Bourne; instead, there will be a whole new character in a whole new storyline. "This is not a reboot or a recast or a prequel," Gilroy explained in October. "No one's replacing Matt Damon. There will be a whole new hero, a whole new chapter…this is a stand-alone project... The easiest way to think of it is an expansion or a reveal. Jason Bourne will not be in this film, but he's very much alive."
And according to Variety, the standalone project's shortlist has some heavy hitters: Jake Gyllenhaal, Garrett Hedlund, Taylor Kitsch, Kellen Lutz and Tobey Maguire.
All of those names have varying degrees of war film/action experience. Gyllenhaal has faced off against Iraqis in "Jarhead," Hedlund against computers in "Tron," Maguire against the Green Golblin in "Spiderman," and Lutz against vampires in "Twilight".
Will it work? We'll see. Never count Jason Bourne out. Or, maybe, the guy replacing him, either.
Calling all HuffPost superfans!
Sign up for membership to become a founding member and help shape HuffPost's next chapter