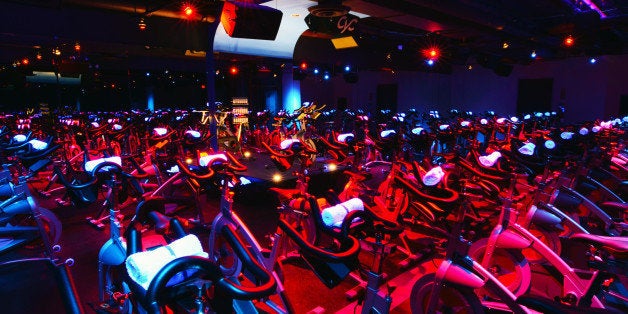 If you took a lay of the fitness landscape in New York City, you'd notice that mid-tier gyms, the $70-a-month independently-owned health clubs -- the gym industry's middle class, if you will -- has been hollowed out.
Look around: It's either Equinox or budget chains like Planet Fitness, and in between are the boutique fitness studios -- SoulCycle, FlyWheel, Pure Barre -- which are typically more expensive per visit than even the highest-end health club but offer classes on a pay-per-visit basis, so you won't find yourself shelling out $150 for a month when you've attended only one or two classes.
For many who have embraced the booming boutique fitness scene, the only thing preventing them dropping their gym membership all together is the amenities: There's something to be said for working out before work and having access to a Kiehls-packed locker room with showers, and something to be dreaded about cramming into the tiny locker rooms at most boutique studios and fighting for one of the three showers before settling for dry shampoo from a can.
Sensing that a growing number of people are forgoing their gym membership in favor of specialized experiences like boot camps or cycling studios, some gyms have begun partnering with smaller boutique studios, offering them temporary or permanent space and giving their customers access to the gym's amenities. In exchange, gyms receive foot traffic from the well-to-do clientele that boutique studios tend to attract and, in some cases, a cut of the studio's revenue.
For even the ultra-luxe, national brands, that revenue isn't trivial. DavidBartonGym moved CYC Fitness, a 2-year-old cycling studio with two locations outside New York, into the basement of its Astor Place location in January. "They are already covering 12 percent of our total rent and we are only eight months into the deal," said DavidBartonGym CEO Howard Brodsky. "We project that in 2015, CYC will cover between 16 percent and 22 percent of our total rent."
DavidBartonGym and CYC announced plans this week to open four more CYC studios inside different DavidBartonGym locations. CYC also said it will open its next studio later this year inside the Times Square Row NYC Hotel.
But as fast as new boutiques have sprouted up in Manhattan, independently-owned gyms have bit the dust, and Complete Body is among the last of its kind.
In 2010, Alex Reznik bought the gym's 19th street location, formerly known as the 19th Street Gym, a stomping ground for hardcore bodybuilders that was forced to shut down in 2009.
Today, Complete Body's Flatiron location sits at the epicenter of an explosion in boutique fitness studios. The number of leases signed for gym and studio space in Manhattan more than doubled last year to 22 from the nine that closed the previous year, according to deals tracked by Cushman & Wakefield.
Greg Tannor, a director at the real-estate services firm, says he's seen even greater demand this year for boutique fitness space, with a "tremendous amount of activity from spinning, rowing and Pilates studios."
Such boutiques have boxed in Complete Body on 19th street: SoulCycle moved in two doors down last year, and the Fhitting Room, a boutique studio that offers high-intensity training classes, set up shop across the street in July.
A few streets down, on Seventh Ave., Town Sports International, the parent company of New York Sports Club, opened BFX, or Boutique Fitness Experience, a 10,000-square-foot studio in June offering multiple kinds of classes, from spinning to yoga, taught by popular instructors poached from boutique brands in the area.
To stay relevant, Reznik recruited a number of up-and-coming fitness studios -- including Body Conceptions, 305 Fitness and In Fighting Shape -- to host classes inside the gym and pay by the hour for the rented space.
Similar arrangements exist across the city as growing numbers of homeless fitness studios squeeze into rented rooms within existing health clubs and dance centers, building up followings before taking permanent space. 305 Fitness, for instance, is opening its own 3,600-square-foot studio this month on West 8th Street.
As for Complete Body, its menu of classes has opened up new channels of revenue, Reznik said, from folks who come in off the street and pay the relatively high per-visit prices that nearby studios charge.
At DavidBartonGym, people who aren't members of the gym pay $25 per CYC class, while members get a reduced rate of $20 per class. Stephen Nitkin, CYC's CEO, says the studio is able to keep prices below the $30-40 price of most cycling classes in Manhattan because the location at DavidBartonGym costs CYC a third of what it would have cost to build and operate its own space.
And while the price of many fitness classes in Manhattan may seem outrageous, much like the cost of real estate in the city, many consumers seem willing to pay a premium for the cutting-edge workouts and the attention of instructors who have built up personal brands through widely-followed Instagram accounts and best-selling DVD sets.
In fact, on a national scale, boutique fitness facilities earned more than twice the amount commercial health clubs earned per customer in 2013, according to a report released this month by the International Health, Racquet and Sportsclub Association and ClubIntel, a health club consulting firm.
The report's authors slice the industry as a whole into three segments. There is the commercial fitness-only facilities and nonprofit gyms like the YMCA, which comprise 80 percent of facilities in the U.S. These two segments have "adopted a strategy that embraces a low price point," the study found, with nearly 50 percent of members paying under $25 a month and less than 10 percent of members paying over $75 a month.
On the other other end of the spectrum, representing approximately 20 percent of the market, "are the boutique fitness facilities that are pursuing a high price value proposition," with between 20 percent and 40 percent of customers paying over $100 a month.
"Members appear willing to pay more for the personal interaction and sense of community that comprises many of the studio models," the study's authors wrote. "Facilities that are all about the equipment and access, basically renting out space to work out appear to be doomed to compete on price, essentially on the lowest price possible."
In other words, today's commercial health clubs are seemingly faced with two paths forward: Become boutique-y or become budget.
Nate Hindman is the co-founder of One Day Gym Pass, a mobile app that lets you book single-session visits to health clubs and boutique fitness studios.
Related