We are very excited that Boutique Week is expanding this spring to Miami and Chicago and becoming much more of a national celebration of boutique shopping. There is a range of wonderfully amazing boutiques in the new cities, but we wanted to start with the premier fresh water pearl boutique, Bourdage Pearls, located in Chicago. We had the pleasure of talking with the owner, Sherri Bourdage, to bring you an exclusive scoop into the boutique.
Boutique Week: Bourdage Pearls is such a unique store. How did you get started?
Sherri Bourdage: I was traveling for work in Hong Kong during the first time fresh water pearls were reintroduced on the market. I began selling them shortly after as a business casual staple to go with work suits and sure enough all the businesswomen loved them, I consider them the woman's tie.
BW: How did the idea come about to make a living out of your interest in pearls?
SB: I thought it was a commodity that only was going up in value. Pearls are the barometers of water pollution, so the whole industry is very dependent on the purity of the water source. I wanted to spread the word that these gems are good for the environment. Pearls are the only gems made by an animal, so if the animal can't survive in our waters, then they can't produce pearls. It's another reason to make sure our water source is pure.
BW: Pearls never seem to go out of style.
SB: Right, and some of the most powerful women in the world wear pearls, from Cleopatra, to Angelina Jolie, and Princess Diana, to Grace Kelly. Many politicians wear them too.
BW: Who is your favorite person to wear pearls in history?
SB: Cleopatra is probably my favorite pearl girl.
BW: Pearls have a long history. How do you see the modern woman?
SB: The modern woman wants to look sharp and classy for their career or for themselves. I think every woman wants to be a sensual, smart woman. Men are also looking for a classy, smart woman. Pearls embody all of these qualities; they add class to your cleavage.
BW: Who are your inspirations for your designs?
SB: My customers are my inspiration. From their coloring, to their style and lifestyle. We can design pieces that they want and we tailor our own designs to each of our customers in terms of color and length of the piece.
BW: Do you know how the Oyster produces pearls?
SB: Pearls are formed when an irritant is introduced to the animal. The animal then secretes a calcium substance called nacre to protect itself. This is more proof that you can really make something beautiful out of the many irritations in your life.
BW: What is the price point for the pearls in your store?
SB: My jewelry starts at just $50.
BW: Oh wow, that is affordable! What different pearls do you use in your designs?
SB: I like to use colors that enhance your natural coloring. For example, blue pearls for women with blue eyes, green pearls for women with green eyes and pink pearls are great for fair skin. We are also one of the very few boutiques who have fresh water pearls that look like real Tahitian pearls.
BW: Do you only sell Bourdage Pearls in your boutique?
SB: We feature pearl jewelry from other local pearl jewelers, so we have a good variety of style. We also have trunk shows every other month.
BW: You also have a whole bridal collection at Bourdage Pearls. Do you get a lot of bridal customers in your store?
SB: Yes we do. Usually a woman's first introduction to pearls is when they think of them on brides, because pearls represent purity and love. Because of this connotation, many women want to wear them on their wedding day.
BW: Do you retain the brides as regular customers after their weddings?
SB: Absolutely. You can wear the jewelry from your wedding again, but the dress, not so much. Because we're so affordable, instead of the typical "add-a-pearl" necklace, we just "add-a-necklace." The women who wear them on their wedding day then often get a whole new strand for Mother's Day, June birthdays, or to wear with their suits, etc. They make great gifts because they are classic pieces that are a good investment in your life and your career. I think you should always wear them to an interview.
BW: Do you have a favorite piece of jewelry from your collection?
SB: My favorite piece is a Baroque necklace made with chains and Tahitian and fresh water pearls.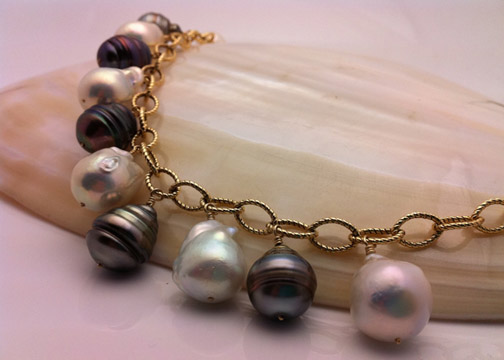 Sherri's favorite chain and Tahitian pearl necklace
Bourdage Pearls is located at:
Bourdage Pearls
3530 N. Southport
Chicago, IL 60657
PHOTO GALLERY
Bourdage Pearls Jewelry and Designs
REAL LIFE. REAL NEWS. REAL VOICES.
Help us tell more of the stories that matter from voices that too often remain unheard.