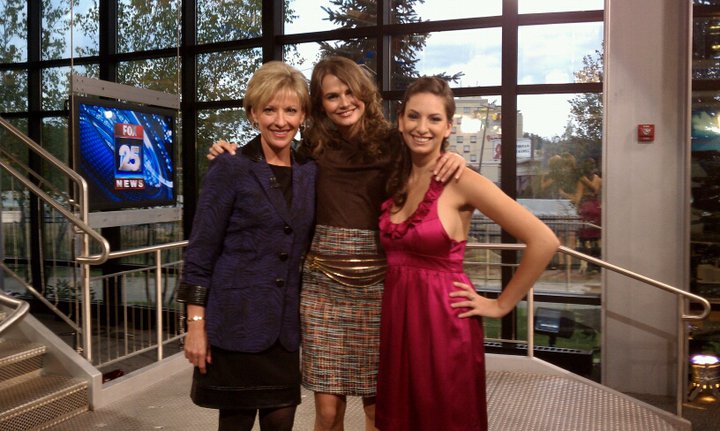 There's nothing like waking up before the sun to get all dolled up for a first time tv appearance as founders of Boutique Week. Our ladies, Olga and Polina stepped out in front of the hot lights of Fox News to talk about Boutique Week and to showcase three looks from some of the participating boutiques. Looks like the ladies have done this before...naturals in front of the camera.
Perhaps waking up so early isn't such a bad thing, as women in the entrepreneurial world, they have a lot to live up to, they're just doing it one boutique at a time.
If you're loving what the ladies are wearing, they're looks from BW's participating boutiques:
Polina is wearing a dress from Britt Ryan, a boutique in Boston, and Olga is wearing pieces from Suneri in Somerville. Olga's top is by Christopher Collins, an emerging designer and contestant on Project Runway this season. This colorful tweed skirt is by Byron Lars. Lars has been in the spotlight recently as his dresses have been seen on Michelle Obama. And this belt, made out of zippers, brilliant!
Boutique Week starts on October 24th and ends on October 31st... I cannot wait! If you haven't registered yet (it's free), what are you waiting for? www.boutiqueweek.net
Congrats ladies!
~Alisa Kapinos