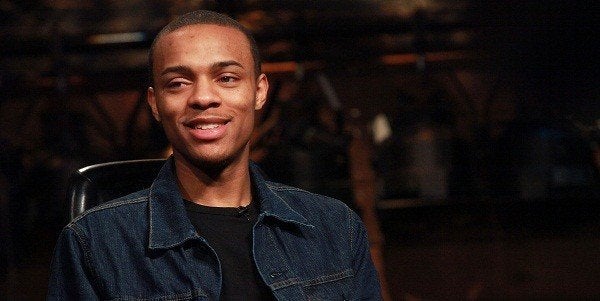 Growing up in the entertainment industry can be detrimental for some young stars. For 24-year-old Bow Wow (born Shad Gregory Moss), who landed his first glimpse of stardom at 6 years old by appearing at the beginning of Snoop Dogg's classic 1993 video "Gin and Juice," traveling down the road of fame and success has been a prosperous experience.
In a recent interview with The Huffington Post, Bow Wow discussed the DVD release of "Madea's Big Happy Family," his thoughts on label mate Lil Wayne dissing Jay-Z, the birth of his daughter Shai, as well as his forthcoming network series with Ice Cube.

What's your reaction to "Madea's Big Happy Family" being out on DVD?
Ah man, I'm excited. For the people who didn't get a chance to go to the theaters, you know you always got that certain crowd that likes to wait on their movies because they feel more comfortable watching it at home or they're just lazy and don't feel like coming out the house, cause I can be a lazy person so I can understand. But overall I'm just happy that they able to see the finished product. So if you didn't get a chance to go to the theaters and see it then now is the time for you to own it and there's no excuses.
How was filming "Madea's Big Happy Family" different in comparison to some of your previous roles?
It was different because this was the first movie that I've done where we had no rehearsal. We pretty much had to jump right into it, and that's kind of tough. Especially when it's a family type of movie where you have to become and act like a real family, because I think it comes with spending a lot of time with each other. I know when we flew down to Atlanta we didn't spend no time with each other, but we just did it so well. I think Tyler just knows what he's doing and it really just played out well like we'd known each other for years. But that was the one thing that I had to get adjusted to while shooting, was the fact that there was no rehearsal. We had to rehearse on our own time, and for me I think that it was dope because it was a challenge. And if you're an actor's actor you can pretty much survive in any type of field. But that's how I look at it.
Switching gears to your music career, how has your career evolved since inking a deal with Cash Money Records?
When I signed over here I knew what I was getting myself into. I was like, 'Alright, I'm around Drizzy [Drake], I'm around Wayne.' People say Wayne's whole thing is being the 'Best Rapper Alive,' so anytime you hear that as a rapper it makes you just step it up. And I would say signing with Cash Money, I give that all the credit to me sounding different. Material, lyrical content being different, because that's how it is. If I got signed to the Lakers tomorrow I'm going to try to be the best basketball player in the world to try to fit Kobe. But like I said, I just wanted the best for myself and I knew that signing over there was going to bring the beast from out of me, that's what I needed. It's going to be interesting come November 1.
Speaking of which, November 1 marks the debut of your Cash Money album, "Underrated." Who can fans expect to be featured on the set?
I got Wayne on the first single, bout to roll that out here in the next two weeks. I think it's going to be the biggest record of my career, I already know that for a fact. I never had a record like this in my career. It's so top secret, all I can tell you for right now is that it's produced by Noel "Detail" Fisher, who produced "How To Love" for Wayne. I got Wayne on the album twice. I got Snoop on the album, Fab [Fabolous] on the album, Talib Kweli, Game. To go left field I worked with Good Charlotte. I did a record with Boyz II Men. Just did a record with Justin Bieber not too long ago, just to take it all the way over board. So for me, it's all about me making records and getting back to doing what I do. And that's making sure I put out three hit records every album, no matter what I do. So be prepared.
How would you describe your Cash Money experience in terms of receiving guidance from Baby [Brian Williams], Slim [Ronald Williams], or Wayne compared to your Columbia and So So Def recording days with Jermaine Dupri?
It's different because you're dealing with cats who are hands-on to it. These are guys who created their label from the ground up with their own money. With that being said, it's ill because I'm a legend in my own right so for me to get guidance from somebody around my age is almost impossible. I can tell you right now that I'm not going to listen to you. But when it comes to Stunna [Baby], he's the big homie. Before I signed with Cash Money, they've been winning, so why not listen to him now? It's definitely different because it's not corporate. Columbia Records is a corporate, middle America, white America, big record label. Whereas, this is a real rap label, so we're going to tell you how it is. If we don't like it, we don't like it. If it's wack, it's wack. And that's just how it is. I love it.
Speaking of your taste in some of the latest material to come from your camp, what's your take on Wayne dissing Hov [Jay-Z] on his new track, "It's Good"?
I like it from a hip-hop fan's stand point. Of course everybody's going to put ten on twenty. Just like when Jay said the first Baby line [on "H.a.m"], maybe he wasn't talking about Birdman. But just the fact when he said it everyone hyped it up. So of course it's what everybody wants to see, because you see it in every other sport. The Patriots, they play the Eagles, two superstar teams. We always got to see Michael Vick. At some point the best do meet up. And besides, battle rapping has been embedded in our sport of hip-hop since the ground up. But as for where I stand in it, I'm YMCMB [Young Money, Cash Money Billionares], I'm waving my flag proudly. So I'm on this side. But for hip-hop it's cool.
How have you changed, emotionally and spiritually, since becoming a father within the last few months?
I think anybody who becomes a father and tells you that it's the same, they would be lying. But for me, it has better me as a person and made me see things clearer. Actually, it kind of made me work harder, because when you see a little you, you want to make sure that they have everything. Now I approach everything as if I'm a new artist and I have absolutely nothing, because it just makes me work that much harder for her. It really humble me a lot. Even with this album, it's not about bragging and boasting about money or popping tags. This album is a real album and I credit that with me having a daughter.
Any other upcoming roles or projects that you're working on?
I got a movie called "Recalled," it's an army movie that I did. I actually got a chance to watch a little bit of it a couple weeks ago when I was out in California. It's a drama. But that'll be out in 2012. And then also, me and Cube [Ice Cube] we're done, the deal is final. Our sitcom is definitely going down this year. Everybody has signed on. Cube's deal is done, my deal is done, the writer's deal is done. So now we're in phase one of actually writing our first script now. No name as of yet, everybody's waiting on me. I'm still figuring out names, but I want to make sure it's the right one. But you'll definitely hear about it once I announce it.