U.S. Army Sgt. Bowe Bergdahl, the only known American prisoner of war in Afghanistan, is finally coming back to the United States.
Bergdahl was handed over to U.S. special forces by the Taliban in exchange for the release of five Afghan detainees who were being held by the United States at Guantanamo Bay. The negotiations were mediated by the government of Qatar.
For those who don't know his story or the controversy surrounding his return to the U.S., here's a little explainer.
The Taliban captured 23-year-old Bergdahl, who hails from Hailey, Idaho, on June 30, 2009. The U.S. had glimpses of Bergdahl throughout his time in captivity through a series of propaganda videos released by the Taliban, which showed Bergdahl's declining health.
Bergdahl, now 28, was taken to a military hospital in Germany for initial care after being handed over to U.S. forces this weekend. This undated image provided by the U.S. Army shows Sgt. Bowe Bergdahl. (AP Photo/U.S. Army)
How did the Taliban get him?
According to soldiers in his unit, Bergdahl walked away from his post while on guard duty with only a compass, a knife, water, a digital camera and a diary. He had previously stated his desire to walk from Afghanistan to Pakistan or India.
In the early-morning hours of June 30th, according to soldiers in the unit, Bowe approached his team leader not long after he got off guard duty and asked his superior a simple question: If I were to leave the base, would it cause problems if I took my sensitive equipment?

Yes, his team leader responded – if you took your rifle and night-vision goggles, that would cause problems.

Bowe returned to his barracks, a roughly built bunker of plywood and sandbags. He gathered up water, a knife, his digital camera and his diary. Then he slipped off the outpost.
At 9:00 on the morning Bergdahl left, the acting platoon leader, Sgt. 1st Class Larry Hein, called in over the radio to report a missing soldier, launching a massive search effort.
Why are people concerned about the trade?
The five detainees released to the Taliban in exchange for the release of Bergdahl -- Khair Ulla Said Wali Khairkhwa, Mullah Mohammad Fazl, Mullah Norullah Nori, Abdul Haq Wasiq and Mohammad Nabi Omari -- are all mid- to high-ranking Taliban militants who had been at Guatanamo Bay since it opened in 2002. (You can read descriptions of each at CNN.) They were flown to Qatar on Sunday and must stay there for a year.
Afghanistan's government protested the deal, as did several U.S. Republican lawmakers, including Sens. Ted Cruz (R-Texas) and John McCain (R-Ariz.).
"These are the hardest of the hard core," McCain said on CBS' "Face the Nation" Sunday. "These are the highest high-risk people, and others that we have released have gone back into the fight."
"It is disturbing that these individuals would have the ability to reenter the fight," he added.
Defense Secretary Chuck Hagel called Bergdahl's return "a powerful reminder of the enduring, sacred commitment our nation makes to all those who serve in uniform."
"The United States government never forgot Sgt. Bergdahl, nor did we stop working to bring him back," Hagel said in a statement.
The White House has touted Bergdahl's recovery as "a reminder of America's unwavering commitment to leave no man or woman in uniform behind on the battlefield."
"We also maintain an ironclad commitment to bring our prisoners of war home," President Barack Obama said on Saturday, shortly after news of Bergdahl's recovery was released. "That's who we are as Americans."
Bergdahl's parents, Jani and Bob, appeared at the Saturday press conference with Obama, thanking those who helped with the recovery of their son.
Bob Bergdahl had learned some Pashto, the language spoken by the Taliban, and made a video that was posted in May 2011 asking for his son's freedom. According to the AP, he also grew a beard as a personal monument to his son's plight. Bergdahl is shown in this video frame grab taken from a Taliban propaganda video released Saturday, July 18, 2009. (AP Photo/Militant Video)
Why isn't everyone excited about his release?
Some of Bergdahl's fellow soldiers are speaking out against the trade negotiated to bring him home, calling him a "deserter" for walking away from his base.
"I was pissed off then and I am even more so now with everything going on," former Sgt. Matt Vierkant, a member of Bergdahl's platoon when he went missing, told CNN. "Bowe Bergdahl deserted during a time of war and his fellow Americans lost their lives searching for him."
Nathan Bradley Bethea, who also served in Bergdahl's unit, wrote a piece for the Daily Beast describing how Bergdahl is just "a guy who walked off in the dead of night," and blamed Bergdahl for the loss of other soldiers who died while searching for him.
Former Rep. Allen West (R-Fla.), who served in the military but was relieved of his command after shooting his gun next to the head of an Iraqi detainee to try to scare him into giving information, argued on his website that Bergdahl was not "captured" by the Taliban and is no hero.
"His disappearance can only be classified as desertion and the media must not be so giddy about a good news story that they don't tell the truth — which is apparent to many," West wrote. "The allegation of desertion is serious. It is grave because it occurred during a war, during combat operations."
Before You Go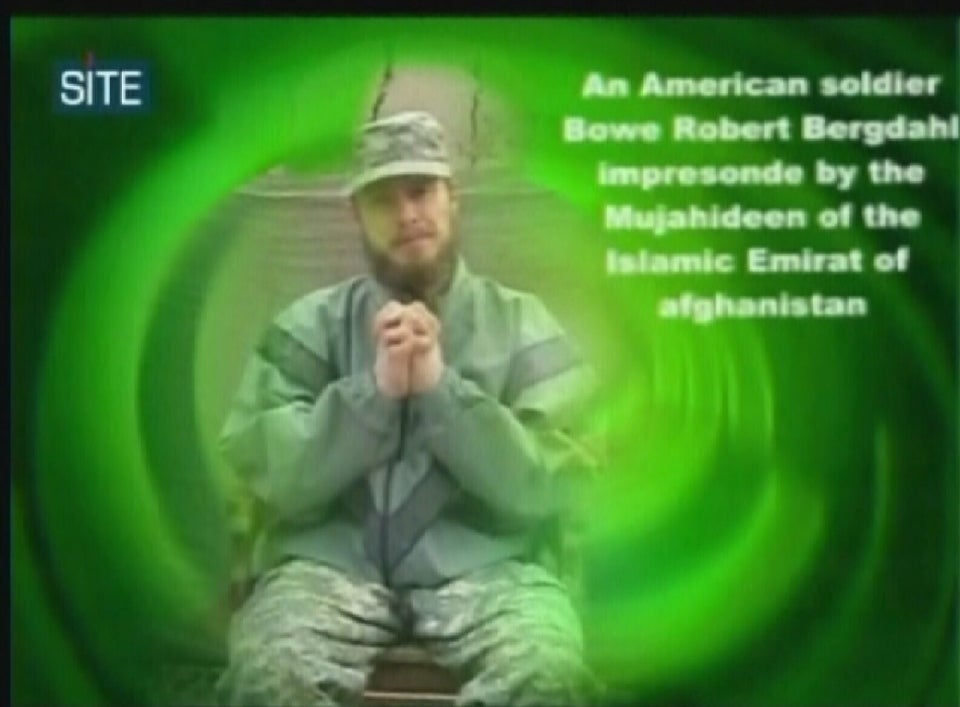 Bowe Bergdahl
Popular in the Community