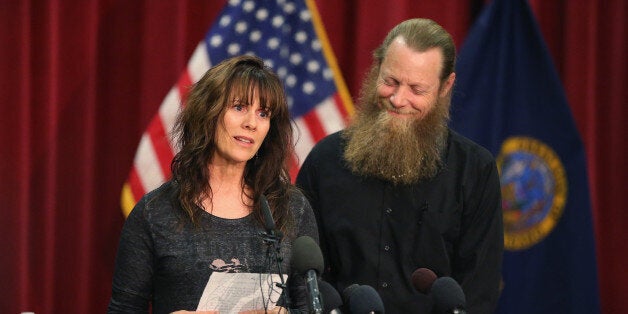 SALMON, Idaho, June 7 (Reuters) - The father of Bowe Bergdahl, the Idaho soldier released from captivity in a controversial prisoner swap with the Taliban, has received emailed death threats that authorities are investigating, an Idaho police chief said on Saturday.
The first of the death threats sent to Bob Bergdahl at his home near Hailey, Idaho, was received on Wednesday, the same day the city canceled a planned rally celebrating the release of his son, Hailey Police Chief Jeff Gunter said.
"There were four specific emails with death threats given to the FBI and they are looking into it," Gunter told Reuters in an interview.
Authorities are providing security to Bob Bergdahl and his wife, Jani, but Gunter declined to elaborate on those measures.
Bergdahl's release after being held for nearly five years in Afghanistan provoked an angry backlash in Congress among lawmakers over the Obama administration's failure to notify them in advance. Some of Bergdahl's former comrades have charged that he was captured in 2009 after deserting his post.
U.S. military leaders have said the circumstances of Bergdahl's capture are unclear, with Defense Secretary Chuck Hagel urging critics to wait for all the facts to be known before rushing to judgment on Bergdahl.
The threats came as Hailey, a tourist community of some 8,000 people in the mountains of central Idaho, was buffeted by hundreds of vitriolic phone calls and emails.
The celebratory spirit that infused Hailey a week ago with news of Bergdahl's release turned to apprehension as an onslaught of angry messages were directed at city officials, businesses and friends of the Bergdahls over a hometown rally to mark his freedom planned for June 28.
As many as 15,000 supporters and protesters were expected to descend on Hailey for an event that would have overwhelmed the resources and infrastructure of the remote mountain town and potentially risked public safety and property, city officials have said.
Residents of the close-knit community have been surprised and dismayed by an angry backlash that seemed to fault them for seeking to aid the Bergdahls in a time of need, Gunter said.
"We've always come together in tragedy or crisis, whether it be fire or one of our own being a prisoner of war. Whatever the problem is, the community will be there to help the people experiencing it," he said. (Editing by Dan Whitcomb and Paul Tait)
Related
Popular in the Community