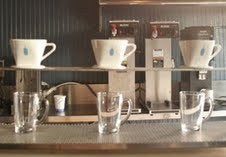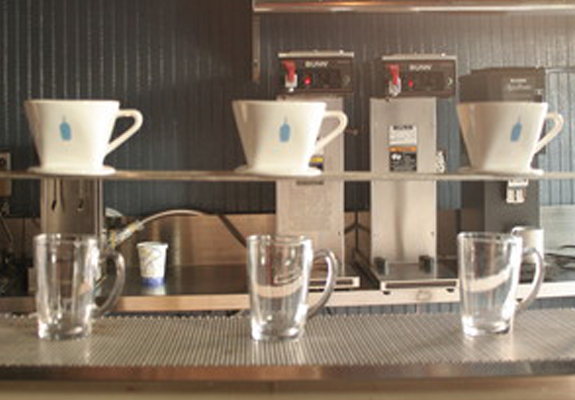 Despite the bitter rivalry, Boston imports can succeed in NYC, from the Yankees winning the World Series with the help of Roger Clemens, to the Jets reaching the AFC Championship with the help of Tom Brady. For another Beantown import primed to make it big, hit Bowery Beef.
From the infamous Mike behind the short-lived flash party Mike's Apartment and a nightlife vet buddy he met through a mutual pot dealer, the BB team weathered a landlord-thwarted attempt to open a strip club & bar before discovering their true calling: filling a void in the NY food scene using the regional specialty roast beef sandwiches that're wicked popular in the greater Boston area. Setting up in the front of the Bowery Poetry Club, BB's slinging the grub both out of a walk-up window and over the counter, with small tables surrounded by apparently "polysexual" Southern-meets-NY decor elements including enormous orange octopus chandeliers, a hanging fixture comprised of Bowery-sourced kitchen equipment, and an oversized mirror surrounded by pictures of snakes, appropriate, as the fare will go straight to your asp. Behind the beef's a 15yr vet of the Boston scene, who roasts the top-quality cow off-site for an hour, thereafter letting it cook in its own juices for another 1.5, until it hits 130 degrees; the meat's brought to temp on-site, sliced insanely thin, topped with American cheese/ fresh horseradish/ onions/ hard-to-find-in-NYC James River BBQ sauce, and piled on toasted buns -- get too excited and put everyone elses' meat in your mouth, though, and it'll be you in the hot seat.
To help pick you up afterward, they're one of the only Manhattan outfits brewing up cult fave Blue Bottle Coffee, a process that takes 30hrs of training to master, which is apparently 30 more hours than Tom Brady has for anything these days.
They'll be starting off with the coffee only, but sando's will follow shortly.
Calling all HuffPost superfans!
Sign up for membership to become a founding member and help shape HuffPost's next chapter