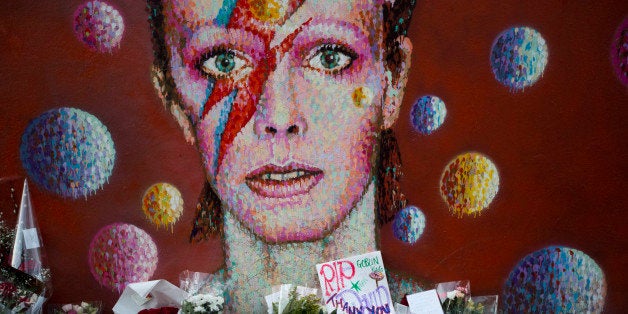 Some fairly monolithic statements have been made about David Bowie's passing: 'It's like this generation's version of losing John Lennon,' and 'An avatar has died.'
Ultimately, the Brixton-born musical artist said it best in the spiritually and culturally evocative, 'Quicksand':
"I'm not a prophet or a stone age man, just a mortal with potential of a superman."
Beyond the fanfare, tributes and news specials, he was just a successful, talented man, with a family, who lived a full, rich life. So why then did his passing affect people so personally and viscerally? Footage of fans sobbing and laying flowers in front of memorials is perhaps de rigueur when an international music star dies.
But I don't cry over strangers' deaths -- as sad the circumstances around some may be. A Los Angeles native (over)exposed to the entertainment world, up close and personal, I don't gush over celebrities either. Yet, I cried, alone in my room -- just like when I was a teenager -- when I heard David Bowie had died.
The obvious encyclopedic explanation for the public's outpouring of emotion for this man is that the master appropriator -- whose borrowed cultural and musical acquisitions were quite simply better with his touch -- had an influence that spanned generations and crossed boundaries and 'scenes.'
Some Bowie music-heads were religious sycophants at the altar of his early more avant garde work; others revered him as Bowie the pop star-turned-fashion icon who slickly, stylishly made his way into mainstream culture, and married the model Iman. The original LA punks, who I spent my teen years around, adored him; but so did the Studio 54 disco freaks, and later the house DJs. Cut to the changing slideshow-like GIF of Bowie's different 'looks' (from Thin White Duke to Ziggy) made by one avid aesthetically inclined fan.
I suspect that it's something far more intimate than his catalogue of cool looks which got deeply under the skin of the public -- but I can only intuit this from my personal experience. Bowie's death means two Yin-Yang opposite things for me: 1. the death of the dream and the dreamer and 2. a wake-up call for how I want to live my life.
If I want to open up a can of 'high school' -- replete with all of its agonizing self-consciousness, introspectiveness, and over-the-top dreams, I can step through the time portals that are Hunky Dory and Aladdin Sane. I can fully re-immerse myself in a period when I was in a relationship with a much older touring punk musician in LA -- my bitterly painful first love who broke my heart just about every week.
I'm taken back to a time when I was crossing off the days until he returned from a two-month tour of Europe or North America, or wherever. But I wasn't alone in his absence -- Bowie was with me. Instead of joining me on my journey, he whisked me away into his world, with apropos tunes like 'Time.'
'Time - he flexes like a whore
Falls wanking to the floor
His trick is you and me, boy'
Those were the days before constant wi-fi. Listening to an album was a spiritual experience to be relished in the moment -- not another distraction, or background music on one's laptop courtesy of YouTube. This was when -- thanks to the lack of technological intrusions -- experience was pure and concentrated.
That type of unwavering presence and focus, I believe, acts as a perfect time portal. I can still hear every instrument in my head, every lyric uttered, particularly the whispering count-in to 'Queen Bitch.' 'Oh You Pretty Things' played out as a pageant of my girl friends and I -- in our school uniforms -- heading to band practices to hear (in retrospect) lecherous men play punk music, as we tempted them with our immodest innocence.
Even years later, well into adulthood, Bowie's music somehow managed to evoke a kinesthetic sense of place -- yet a place out of time. I closed my eyes and saw him singing in front of me in outrageous glam attire -- a non-conformist maestro, a psychedelic guide. During one particularly hard day, it seemed as if he was singing right into my soul:
Oh no love, you're not alone
You're watching yourself but you're too unfair
You got your head all tangled up but if i could only
Make you care
Oh no love, you're not alone
No matter what or who you've been
No matter when or where you've seen
All the knives seem to lacerate your brain
I've had my share, I'll help you with the pain
You're not alone
If my imagination was feeling particularly rusty I could always count on Bowie to polish it up. A pan-sexual muse, he kept the proverbial dream alive. His music invited you down a rabbit hole and you could forget for a moment that you were this age, living in this time, had to pay bills or lived in a world of meaningless constant consumption. Bowie's music brought you face to face with your own creativity.
And so I wonder -- in this epoch of more information and 'communication' than we could all possibly need -- if Bowie's passing didn't, at least for some, feel like the death of the dream... the demise of pure art and creativity untainted by commerce. It's not to say that his music wasn't sold as a commercial product -- that's the way of the industry -- but for that ten bucks or whatever, that you paid to buy a Bowie album, you got something immeasurably more valuable.
Perhaps the dream isn't dead. It just feels like it in the early stages of a Bowie-less world. The dreamer is of course gone -- the man who excavated every archetype there was to explore, and in sharing those universal truths with the world, fulfilled his destiny.
Tomorrow, the wake-up call begins. If there's one thing I can take from Bowie's life it's that he expressed himself fully and skirted the boundaries of his spirit through art -- a side-effect of which was being famous. It gives me peace of mind to know that he did this and that we all can too, as 'mortals with potential of supermen.'
Popular in the Community