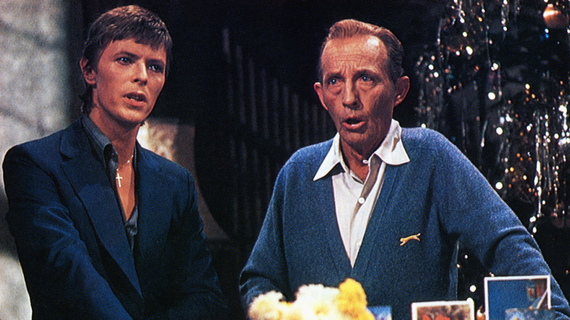 Whenever I hear The Little Drummer Boy duet of Bing Crosby and David Bowie, I smile. Nearly forty years after the taping, their version of the holiday classic exudes freshness with the Bowie counterpoint of Peace on Earth to the Crosby point of the traditional lyrics.
But I never knew the story behind it until Bowie's death earlier this month. It was recorded in a holiday skit on a Bing Crosby 1977 English TV special. The 31-year old Bowie had agreed to participate because his mother was a fan of the 74-year-old Crosby. But Bowie disliked the song and balked at singing it. A last-minute collaboration with the singers and writers produced the Peace on Earth version. They thought the song would simply be part of the skit, nothing more.
A month after the taping, Bing Crosby died suddenly of a heart attack. Five years later, this last holiday duet from the White Christmas crooner was released as a single, charted to number three in the UK, and has become a much played staple on radio in the UK and US since then.
Fast forward to the past few months. David Bowie collaborated with members of Gen X and Gen Y as he produced the Blackstar album and Lazarus, an Off-Broadway play, in his final months. Thirty-year old Cristin Milioti, nearly the same age as Bowie in 1977, spoke with Seth Meyers in an awed tone of Bowie's entrance into one of the Lazarus rehearsals. You can almost imagine her saying that her mother was a Bowie fan.
Meanwhile, on the same day as Bowie's death, Sylvester Stallone won a Golden Globe for playing Rocky Balboa in Creed, a role he had originated in the Oscar-winning film Rocky, released the year before the Bowie Crosby Christmas special. In Rocky, a 30-year-old Stallone had played opposite 69-year-old Burgess Meredith, later eulogized as an "actor's actor" by the Los Angeles Times. In Creed, Stallone, now the age of Meredith, acts with the young Michael B. Jordan, and arguably turns in his most nuanced performance, again shining in the intergenerational scenes, this time as the voice of wisdom.
That same week, Daniel Radcliffe penned a eulogy to Alan Rickman, his co-star in the Harry Potter series, by sharing anecdotes of his generosity on the set and his support of his younger colleagues in their other pursuits. "Working with him at such a formative age was incredibly important," he wrote, "and I will carry the lessons he taught me for the rest of my life and career."
There are numerous examples of multi-generational collaborations in other high profile arenass, all of which should inspire those of us in the general workforce. Hillary Clinton with her wing woman, Huma Abedin, who started with her as a 19-year-old intern at the end of Bill Clinton's first term. Mark Zuckerberg, the face of the Millennial Generation, hiring Gen X Sheryl Sandberg to run Facebook's operations. Lady Gaga and Tony Bennett releasing an album together, each helping the other expand his audience. Peyton Manning, the 39-year-old Denver Broncos' Quarterback, which in football years makes him older than Bing Crosby in 1977, throwing passes to Demaryius Thomas, who was 10-years-old at the time of Manning's first NFL game in 1998. Look at what these collaborations have produced: a presidential campaign, a social media juggernaut, a Grammy Award and a Super Bowl appearance by the oldest Quarterback ever.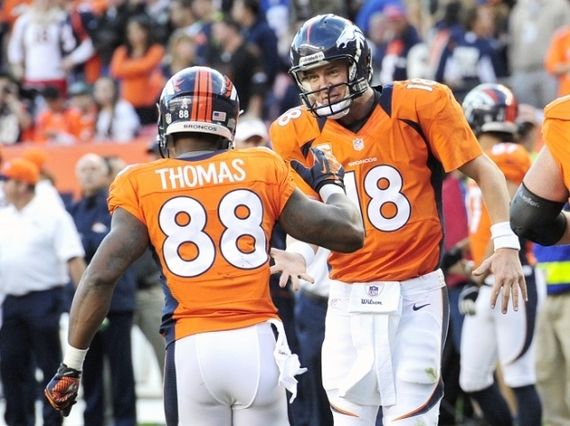 We live in a generation-rich era in the world of work. Today the workforce splits into four age cohorts according to Pew Research: the Silents, (born before 1946, 2 percent); Baby Boomers, (1946 -1964, 29 percent), Gen Xers, (1965 to 1980, 34 percent) and the Millennials, (1981 to about 2000, 34 percent). With Gen Z (born after 2000) about to join and many Boomers staying in, a five generational workforce will soon be a reality. The potential for collaboration and knowledge sharing could and should be immense.
Ah, but generational stereotypes abound and divide the cohorts. Boomers are ambitious workaholics and less technology savvy. (Never mind that Bill Gates is a member.) Gen Xers are skeptical risk-takers. Millennials seek meaning in work and are steeped in technology. In part because of these stereotypes, ageism is pervasive in the US workplace today. According to the Bureau of Labor Statistics, 64 percent of workers say they have seen or experienced age discrimination in the workplace.
The irony of age discrimination either way lies in the inevitability of time. While a gender discriminating male will most likely never be female or a white racist become black, a young ageist will (unless he is unlucky) become older. And all older workers were once young. Bowie transformed himself from young rebel to the elder statesman; Stallone went from the rookie fighter to the wise manager. As surreal as it seems now, Daniel Radcliffe may someday play the Dumbledore or Snape-type of role.
The best companies have instituted mentoring and reverse mentoring programs (younger workers mentoring older) to overcome these generational challenges and share knowledge across the generations. Jack Welch, the former CEO of GE, was an early adopter to reverse mentoring in 1999, when he mandated that 500 of his top executives work with junior associates to learn the Internet. Since then, Cisco, HP, The Hartford and other top companies have instituted programs. These programs aim to provide a mutually beneficial experience as well as conquer negative perceptions.
Beyond reverse mentoring programs, the key to multigenerational collaboration may lie in considering mutual and complementary strengths and interests to facilitate collaboration. As I researched this column, I found many scholarly articles and popular blogs on how to respect the differences in generations, how to understand varying communication styles (e.g., phone, email, text), how to coexist. But I found little on how to leverage the power and richness of age diversity for the greater good in the work world. And that made me sad. As a tail end Boomer (or Boomer II) who is part of a multi-generational management team of a Bay Area startup, BraveNew, I can personally attest to the power of an age-rich team. (We actually focus on building knowledge sharing and collaboration communities.) My Millennial Boss's mission-drive approach to work has transformed and enriched my own life. And yes, our Gen X members tend to be the most skeptical. It all works.
The Intern, a movie released last year, tells a tale of a hip Brooklyn start-up that has an internship program for 65+ seniors. It's a fable, of course, but an inspirational one for those of us who believe in the power of the multi-generational workforce. Robert DeNiro plays the older intern. In his application video, he states, "I read once musicians don't retire, they stop when there is no music in them" and adds "well I still have music in me."
Bing Crosby, David Bowie and Alan Rickman still had music in them until their last days on earth. Many Boomers and even Silent Generation members still have music in them. But does the rest of the workforce hear that music and the potential symphonies that could be composed?
Calling all HuffPost superfans!
Sign up for membership to become a founding member and help shape HuffPost's next chapter