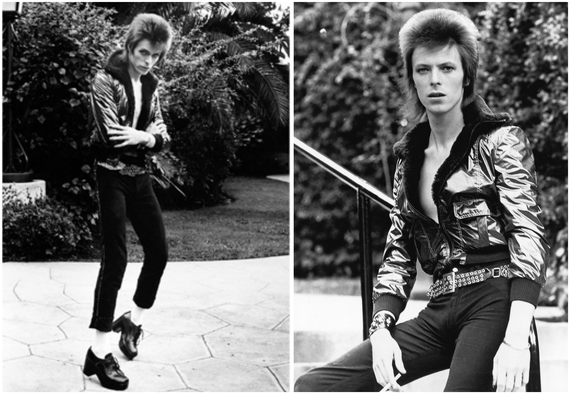 David Bowie at The Beverly Hills Hotel in 1972 photographed by Mick Rock. Images courtesy Frank Pictures Gallery (left) and Taschen Gallery (right)
"It's got everything I want!" That's how David Bowie felt about The Beverly Hills Hotel. He once confided in his friend, photographer Mick Rock, that he'd love to take up a residency there. In 1972, amid the Ziggy Stardust craze, the two spent eight nights at the property, taking pictures around the bungalow gardens. The result was a series of mesmerizing portraits of the late performer that have stood the test of time. What better way to honor David Bowie's creative legacy than to join Mick Rock at the very location where these iconic images were taken! An exhibition, a book signing and an anniversary brunch are scheduled for Sunday, January 22 at the LA landmark.
The event will celebrate the release of the Taschen art book "The Rise of David Bowie 1972-1973". Guests will have a chance to preview original prints from the legendary shoot and experience the Polo Lounge with Ziggy Stardust martinis and the ultimate Bowie playlist spanning his amazing career. They may also participate in an intimate one hour conversation with Mick Rock, known as "the man who shot the 70's". A limited number of signed copies will be available onsite as the volume is already sold out in stores!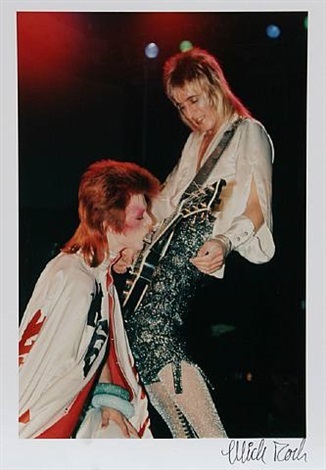 David Bowie and Mick Ronson in concert, 1973 photographed by Mick Rock. Image courtesy Frank Pictures Gallery.
More than forty years later, the impromptu images provide a glimpse into the ever-evolving persona of one of the greatest music artists of the 20th century. The photographer reminisces:"This jacket had just been flown in from New York for the 'Jean Genie' video. We immediately snuck off together to take some pictures with it. The whole place was so photogenic." Moody glances paired with a prayer pose captured by Rock are not far from the current LA indie aesthetic where fashion is tied up in skinny jeans, messy hair and loose tees. Bowie was unapologetically original in all aspects of his life. A singer, a fashion icon, a visionary poet.
In fact, it was the photographer's love of the written word that he believed connected him to the great rockers he's photographed. He studied literature at Cambridge becoming well-versed in Baudelaire, Rimbaud and Coleridge. As fate would have it, he once got a chance to photograph a local band, loved the experience, and realized he could make a living doing just that. Rock went on to document the (back) stage antics of musicians like Bowie, Queen, Lou Reed, and Syd Barrett among others. "During our eight-day stay with Bowie, we felt we were in movie star land!" recalls Rock. Since its opening in 1912, The Beverly Hills Hotel has become a true symbol of the city. The exclusive event on January 22 is a fitting and lovely culmination of a decades long love affair between LA and David Bowie, the iconic hotel and the spirit of rock & roll. To quote the artist's hauntingly poignant lyrics: "We could steal time, just for one day. We could be heroes, forever and ever."
The special brunch will be held at The Beverly Hills Hotel from 11am until 3pm on January 22, 2017. Signed copies of Mick Rock's TASCHEN book "The Rise of David Bowie 1972-1973" will be available for purchase at the event. Brunch is priced at $85 per person and the VIP reservation is limited to 60 people at $150 per person not including tax, gratuity and additional alcoholic beverages. For more information and reservations, please call 310-887- 277. For those unable to catch the event, selected Rock images can also be seen in the touring Victoria and Albert Museum exhibition "David Bowie Is" alongside other Bowie memorabilia.
REAL LIFE. REAL NEWS. REAL VOICES.
Help us tell more of the stories that matter from voices that too often remain unheard.