David Bowie wasn't always a super star.
That's right. Despite all the attention being paid to the David Bowie Is exhibition at MCA Chicago, when he flashed across TV screens in my college days he was just a cult figure. And a figure of fun. Ziggy Stardust was bizarre-looking to the talking heads on local news in New York City and they mocked him when he played at local venues.
I thought he was fascinating and magnetic, but I kept that to myself.
His only radio hits were "Space Oddity" and "Rebel Rebel," and my college buddies thought those songs were a joke. I wasn't wild about either one. But in junior year, when my girlfriend from New Zealand played Aladdin Sane for me, I was hooked. The piercing piano, the enigmatic lyrics, and that sci-fi album cover transported me to a unique world of his making. But so did Ziggy Stardust, Hunky-Dory, The Man Who Sold the World and the grossly under-rated Pin-Ups, whose songs still run through my head decades later. Where have all the good times gone.
There just wasn't anybody like him.
Diamond Dogs truly sealed the deal -- it was so crazed, so sexual, so gorgeously out there, and seeing him on that tour at Radio City Music Hall was a peak experience. Loving Bowie, no, adoring him, thinking he was a genius, admiring his work with Lou Reed and Mott the Hoople, quoting his songs at every possible occasion, devouring everything we could about him in every magazine, we felt like initiates.
Bowie was weird, funky, alien, in-your-face, madly stylish, transgressive, bisexual, unhinged and unafraid. Everything this nice Jewish boy wished he could be.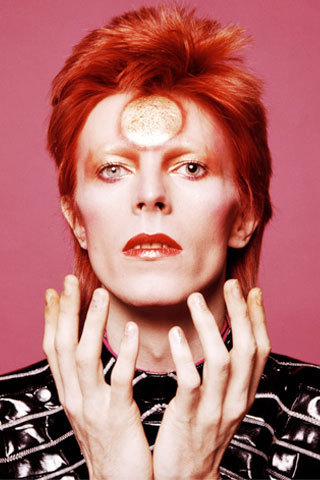 It's not that I didn't enjoy lots of other musicians who were mainstream, like The Allman Brothers, Peter Frampton, Neil Young, Loggins and Messina, but they were just musicians. Bowie was theater. He was an experience. His dangerous sardonic smile and eyes seemed to pin you, to make you feel special, treasured, heard. Maybe it was all a little creepy around the edges, maybe he was a little like the brave Apollo he sings about on Diamond Dogs. Someone to claim us, someone to follow. But where? Well, to the next incarnation, whatever it was.
And I did follow him through Plastic Soul to the Berlin Trilogy and the brilliant Scary Monsters were he deconstructed himself and poor Major Tom.
And then came Let's Dance, that glistening dud. Bowie said in a recent documentary that he wanted to write a big pop success, and he succeeded. It scored him huge stadium crowds, but it was some of the least interesting music he ever wrote, at least to me. And though I tried his albums since, they've all seemed even less interesting. So what happened? Was he spoiled by fame? Did he run out of musical ideas and personas?
I didn't care. Nothing dimmed my love for the albums that changed my life, that changed rock music forever, that maybe even changed the world. I've got my ticket for "David Bowie Is." I'm ready to pay homage to the chameleon, comedian, Corinthian, and caricature.
Popular in the Community