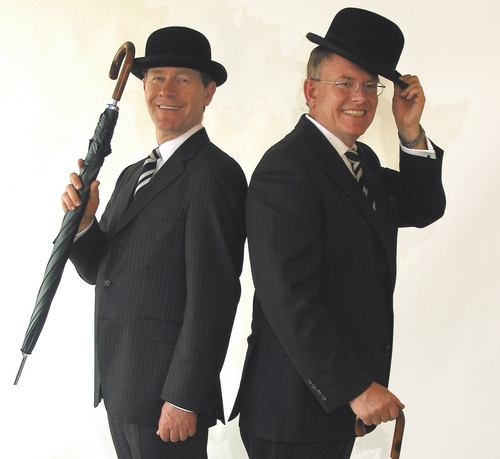 Summer comes to an official end today, and with it the close of gin-and-tonic season, for as the leaves turn from light to dark, so does our liquor. My souvenir from summer 2012 is an embarrassingly large collection of bowler hats betraying something between complete brand devotion and acute dipsomania.
The hats are not woolen and wearable, but small plastic replicas that come atop bottles of Broker's Gin. Based in Surrey and founded in 2000 by brothers Martin and Andy Dawson, Broker's Gin is now the fastest-selling gin in the U.S., with a 2011 sales increase of 44 percent over the previous year. It's easy to see why: Broker's mixes well with tonic, is reasonably priced and who can refuse the best-dressed bottle on the shelf (though Broker's needs to come up with a lopsided insert so the hats rest on the bottles at a jauntier angle).
There was a time when the bowler (also known as a derby) was synonymous with London, worn by gentleman and pickpocket alike. It was devised in 1849 and reigned supreme at the turn of the century. Along with other boulevardier accessories like gloves, watch chains and walking sticks, the bowler gradually fell out of favor in the 20th century, replaced first by the floppy fedora, and then by nothing at all. By the early '60s it had long joined the top hat in the mausoleum of gentlemanly headgear. Patrick Macnee as Jonathan Steed in the '60s TV series "The Avengers" wears one, the perfect complement to his antiquated Bentley town cars.
Martin and Andy Dawson chose the bowler as an instantly recognizable symbol of Englishness, and they don the hats, along with rolled brollies, as part of a sort of PR costume. A rather ignominious fate for this former prince of gentlemanly headwear, but it's almost impossible to wear any hat seriously these days.
Though Broker's Gin has adopted the bowler as the symbol of the London stockbroker, the hat was once popular throughout the civilized world -- and even in the barbaric boondocks. The bowler, not the cowboy hat, was the real chapeau of the Old West. It was "the hat that won the West" according to Lucius Beebe, donned, in a pop culture example, by Marty McFly's great-grandfather, a simple farming man, in the 1880s set of "Back To The Future III."
Although he's held several new-media jobs at major corporations, San Franciscan Michael Mattis not-so-secretly longs for the Barbary Coast days of gold mining and the Union Pacific Railroad. He's not only one of those rare men who owns a bowler, he actually wears it. "I decided I wanted a bowler," Mattis tells me, "after reading Lucius Beebe's comments on the iconic 'coke hat' or 'billycock' worn by just about everyone in the Old West, from locomotive engineers to Montgomery Street bankers. I didn't know where I would wear it; I just wanted one."
Mattis' initial search turned up cheap costume props aimed at the small but perennial Bob Fosse market. So he decided to seek out the real deal and spent $275 online for a hat by Christy's of London. In a sartorial equivalent of "Field of Dreams," in which "If you buy it, the occasions will come," Mattis soon found places around San Francisco to go bowling for hollers. "I wore it to Royal Wedding and Jubilee parties this year," he says, "and to high tea at the Palace Hotel." Mattis also wears the bowler as part of his uniform of sorts for meetings of The Ancient And Honorable Order of E Clampus Vitus, the mock-fraternal organization with Gold Rush roots that counted Mark Twain as a member.
So far ridicule has been miniscule. "The reaction is universally positive and it is almost always remarked upon," says Mattis. "At the Palace Hotel I merely held it in my hand and people gave me compliments and asked where I'd gotten it. I was disappointed to learn, though, that while Christy's is "By Appointment" to the royals, the finest bowlers are actually made by Locke and Co."
It just occurred to me that years ago I actually donned a bowler for an Edwardian costume party. I recall feeling like I looked like Stan Laurel. Perhaps this one-time everyman's had really doesn't suit every man at all. In that case, in the Darwinian world of male accoutrements, the bowler deserved its demise, much more than, say, the panama, which continues to survive, albeit as an endangered species.
But with men like Mattis and Broker's status as the hottest-selling gin -- not to mention regular revivals of "All That Jazz" -- the bowler continues to haunt avenues, theatrical stages and clandestine meetings like a kind of zombie relic, not quite alive, though yet not fully dead.
Related