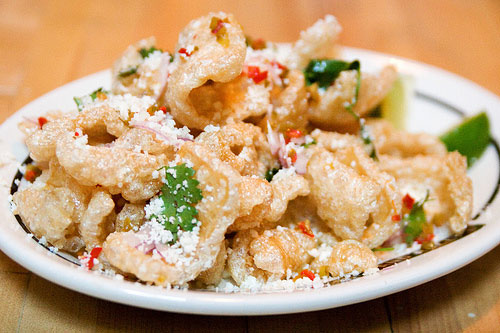 All photographs by Robyn Lee

Though bowling and eating seem in some ways to go hand in hand, no bowling alley I've ever been in has tried to seamlessly blend an ambitious menu and a state-of-the-art bowling experience quite like the newly opened Brooklyn Bowl. It's not a bowling alley with really good food—it's a bowling theme park for hipsters of all ages.
The shiny bowling lanes are graced with two alternating video installations, shown on screens right above every alley.
The kitchen has been turned over to the haute comfort food championship chef team of the Blue Ribbon boys, Bruce and Eric Bromberg.
Every 21st-century bowling alley needs a soundtrack, but Brooklyn Bowl takes the music bowling thing to another level--adding a large stage with a high-quality sound system to accommodate live music of all stripes. And when there's no band, they blast an incredibly pleasing mix of music from the last four decades. So even if you bowl a gutter ball, you can snap your fingers. (If they're not too greasy, that is.)
If you find this all a little overwhelming and distracting, join the crowd. Look at me. This is supposed to be a restaurant review, and I haven't written one word about the food yet. Yikes! At Brooklyn Bowl, my bowling score suffered, but I ate very well--if rather messily. And my guess is that they're still cleaning sloppy joe out of the finger holes of the orange ball I was bowling with.
Not surprisingly, the stuff emerging from the kitchen is all comfort food, Bromberg Brothers-style. Though some of it is knife-and-fork food, a lot of the menu is literally finger-lickin' good--fine, if you're not bowling, but not so fine if you want to bowl your best. All the wet naps in the world can't stop the good eats from seeping into the bowling experience.
Bruce and Eric Bromberg could have been content with giving us a menu straight from Blue Ribbon's greatest hits, but instead they've come up with an almost entirely new roster of comfort food classics.
Housemade space-agey pork rinds ($7), starting out as stamp-sized pork fat matter, are topped with cilantro, fresh jalapenos, queso blanco (cheese), and chopped red onion. These might be the most seriously delicious pork rinds ever, and they're not too messy to eat while bowling.
A "really" sloppy joe ($11) was a sweet and savory delightful mess that, the menu correctly notes, you need a fork and knife to eat. If you try to eat it while you are bowling, your score will suffer. (At least, mine did.)
We ordered the kitchen sink-like Fatty French bread pizza ($16), topped with pepperoni, ham, pulled pork, sausage, mushroom, and eggplant. Though really tasty, it was near impossible to eat without making a mess, even with a knife and fork. Next time I'm going to opt for the one topped with pulled pork.
A housemade potato onion knish ($9), served with sour cream and mustard, was downright dainty, pretty delicious (though it needed more salt), but ridiculously overpriced. I missed the pork-derived cold cuts in the chicken muffaletta ($11), and I wanted more than the spoonful of olive salad it was topped with. A slow-roasted barbecued brisket sandwich ($10) accompanied by pickles and sweet and spicy gravy is great Jewish soul food, which the Bromberg brothers definitely know something about.
The roast pork sandwich ($10) had moist slices of pork loin and tangy melted cheese on top, but I couldn't figure out its reason to exist. The same could be said for the oyster po' boy ($14), which needed more oysters and more crunch to justify its price tag.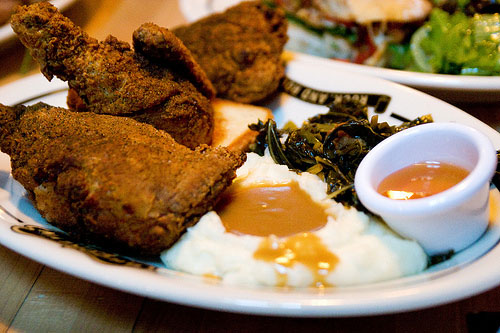 Fried chicken (8 pieces, $22, with white bread and honey) is a Bromberg Brothers specialty. Better versions are available at Blue Ribbon and Blue Ribbon Sushi and Grill; though the fried chicken at Brooklyn Bowl is crisp and greaseless, the crust's Old Bay-dominated seasoning overwhelmed the bird.
Although our gracious server informed us that we could not get our burger deluxe ($9) medium rare as ordered--"All burgers must be cooked through"--it was nonetheless pink all the way through, and plenty beefy and juicy. It was just a damn fine burger, and it was the right size for a bowling accompaniment. It came with terrific salty french fries that I would ask for well-done next time.
The half rack of vaguely smoky pork ribs ($18) had a very crunchy exterior, lots of sweet barbecue sauce, and came with mashed potatoes and corn on the cob. But if you picked up those ribs with your hands, as I did, bowling would be very tough. The same sticky sweet sauce made the smoked BBQ wings (8 pieces, $12) an inappropriate bowling snack. Even my incredibly polite and well-bred wife couldn't figure out a way to eat these wings with a knife and fork.
The mac and cheese ($11) works as a bowling alley food because no one, not even sloppy me, would consider eating it with their hands.
To wash all this comfort food down, order a too-expensive vanilla malt ($8)--so malty, and creamy, and vanilla-y that I'm ready to put it on my list of Top 5 Vanilla Malts, Ever.
It's only with dessert that the Brombergs revert to the tried and true Blue Ribbon classics.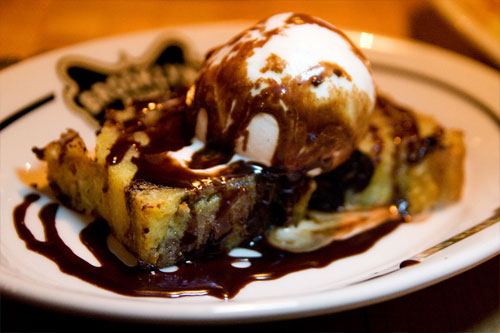 Chocolate chip bread pudding ($9), a Blue Ribbon Bakery dessert staple, is topped with vanilla ice cream and hot fudge. It's not terrible, but the bread pudding was under-baked here.
A hot fudge sundae ($9) is, well, a hot fudge sundae, one made with great ingredients. The banana split ($10)--believe it or not, a banana split made with great ingredients. (See above.)
So what do I make of Brooklyn Bowl? It's an incredibly fun place staffed by people who seem to want you to have a great time, where serious eaters will find
a lot of skillfully cooked and constructed comfort food, though from a menu that should be pared down. Well-equipped lanes; interesting videos; a great soundtrack. Is it sensory overload? It all depends on who you ask.
The real question serious eaters should have is this: Have the Brombergs and their partners bit off more than they can chew? (Or should I say, roll?) As a standalone restaurant Brooklyn Bowl would be totally in the pocket. The food is for the most part very tasty and satisfying. But as a restaurant integrated into a bowling alley, the menu is too ambitious and too messy. The choices you make in a bowling alley should involve how to convert tough spares--rather than what to eat, or what to watch, or what to listen to.
Brooklyn Bowl
61 Wythe Avenue, Brooklyn NY 11211
718-963-3369
Service: Friendly, enthusiastic, and solicitous (they happily transport food from the restaurant to the lanes)
Compare It To: Bowlmor Lanes, Blue Ribbon Bakery, 100 Acres, Shorty's 32
Must-Haves:Pork rinds, burger, brisket sandwich
Cost: $10-20 per person for bowling snacks and beer; $35 for a three course meal
Grade: B/B+ for the food and for the bowling

Related
Popular in the Community