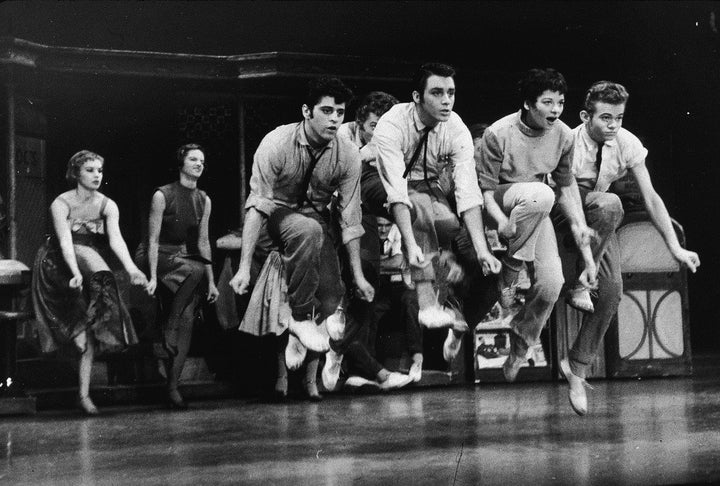 Among the many theater talents donning their bowling shoes at Lucky Strike on Monday night in support of Our Time -- Paul Rudd, Steve Kazee, Daphne Rubin-Vega, Eve Plumb, Noah Emmerich, Mariska Hargitay, to name a few, one stood out: Julianna Padilla. A young woman who bravely introduced herself in a determined effort, illustrating a mastery of strength over stutter, then blew the crowd away singing "Put Your Hand Up," her own composition. Her act illustrated the success of an organization committed to helping young people who stutter step forward in school, theater, and life with skill and confidence.
Steve Kazee, the star of this year's Tony-winning Once said he was moved to participate because he lisped as a kid, not the same thing, he said, but he could relate. The evening's host, Paul Rudd on his night off from Grace at the Cort Theater, played a stutterer in a play, Three Days of Rain, a few seasons ago and came to Taro Alexander, Our Time's founder, to learn how to do it. He's been hooked on helping ever since.
A touch of old Hollywood convened at Broadway's New York Institute of Technology's auditorium on Tuesday night for an anniversary screening of West Side Story (1961), second night of the Gold Coast Long Island International Film Festival. Russ Tamblyn who played Riff in the movie flew in from the West Coast for the occasion. A veteran of many films, including Peyton Place, for which he was nominated for an Oscar, he said, not all actors are lucky enough to be in iconic films like West Side Story, to work with all those geniuses, Leonard Bernstein, Stephen Sondheim, Arthur Laurents, etc., and be able to celebrate the film 50 years later. Glenn Ford, he pointed out, worked in many movies but none had the legs of this one. At the time, he knew it would be a good film, but not like this!
Also on hand: Budd Burton Moss, a Hollywood agent with old school charm represented many stars of yesteryear, was married to Ruth Roman (who had dated Ronald Reagan) and lived with Carolyn Jones after she left Aaron Spelling. A raconteur, he told the story of how he got a call from Frank Sinatra who had met a young actress he represented, Mia Farrow, at a party and wanted to ask her out on a date. Moss had given her a card to hand out to anyone who was hitting her. When I asked whether or not that was a good thing, Moss said that when he would run into Mia and Woody at Elaine's, she would say he was the man who introduced her to Frank. So yes, and then he gave me his card.
Calling all HuffPost superfans!
Sign up for membership to become a founding member and help shape HuffPost's next chapter