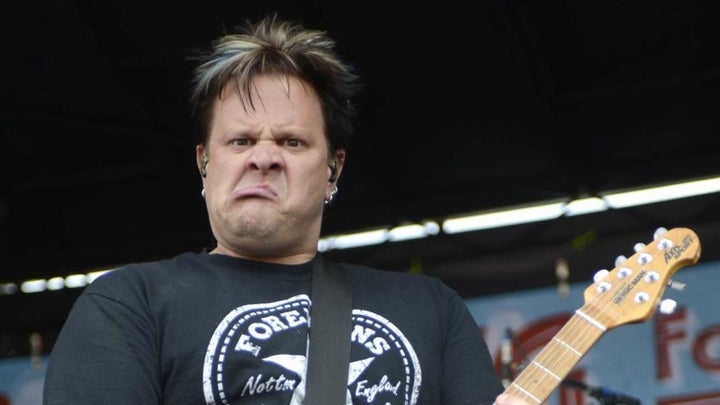 On Saturday, October 7th, the following tweet from @wiffleballtony1 went viral:
This glorious 50-character epiphany was questioning the meaning behind the name of the Grammy-nominated pop-punk/comedy rock group, Bowling For Soup.
A fan of the band, I decided to use my investigative journalism skills to get to the bottom of this hilarious (yet incredibly important) mystery:
Serendipitously, I got a response to my tweet that allowed me to ask the band for myself. I had the honor of chatting with Jaret Reddick, Bowling For Soup's charismatic and lively frontman. We discussed many of his recent endeavors both within and independently of BFS.
Oh, and Jaret gave HuffPost the exclusive answer to this notorious tweet. Read on to find out.
Since 2015, Jaret has been hosting a weekly movie review podcast with friend Rich Coleman and other guests. Each week, the Jaret Goes to the Movies crew examine a movie from their past while discussing other gut-busting topics along the way. Reddick had this to say about his experience on the podcast thus far:
"In the two years we've been doing [the podcast] I think we've only ever missed two weeks. It's become something that I really look forward to every week. It has been a lot of fun--it has connected me with a whole new group of fans and it's so interactive. Not to mention, I've seen a whole bunch of movies I would have never watched had I not been doing this podcast."
Jaret Goes to the Movies released their two-part 100th Episode Extravaganza last month.
Reddick has also been producing music again, in particular with an all-female punk rock group called Not Ur Girlfrenz. At just eleven and thirteen years of age these youngsters really know how to rock, according to the BFS vocalist.
Jaret's work with Not Ur Girlfrenz began as just providing advice and producing some cover songs for the group. Now he has become their manager, is directing their music videos, and producing the band's first original songs.
"These girls are LEGIT." Reddick assured. "I mean, there's a lot of young bands around these days, and I'm always blown away with how talented these kids can be. But these girls, they have my whole heart. They are so talented. We're just all a big family now. Their parents are awesome, their kids hang out with my kids. I love their ideas and it's just been truly a blessing. I have more fun with them than I ever could've imagined."
Having such fierce ladies stepping into rock scene will surely be inspiring to other young girls who share the group's dreams of playing music. I asked Jaret for his take on what kind of influence Not Ur Girlfrenz could have on the younger generation.
"What's awesome is, is if you asked them that question you'd be blown away by their response. They totally get it," Jaret told HuffPost. "They are all about girl power and just showing other kids that anybody can do [music]. Instrument-wise, they're pretty much better than anyone they come in contact with--including adults."
According to Jaret, the girls don't even see it that way. He said they're just soaking it all up.
"To me, it's super refreshing. They just want to play. I love how inspiring they are not just to other kids, but to me. Those girls make me so happy."
So, are they bowling TO EARN or ON BEHALF of soup? Well, Jaret and I had an important bit of news to discuss, first.
Just last month, HuffPost spoke with Van's Warped Tour founder Kevin Lyman after he announced that this coming summer would be the tour's final countrywide run. The traveling rock festival has hosted Bowling For Soup many times over it's 23 years of touring and has been an integral part of the band's history. I asked Jaret about his thoughts on the tour' impending finale.
"I was sad. That tour has been a huge part of our band. It's been around the same amount of time that BFS has. People could be taking their grandchildren now and have three generations at Warped Tour."
However, Reddick doesn't think that this is the end for all things Warped. He believes that Kevin Lyman, the founder of the 23-year-old tour, has something up his sleeve.
"I don't think you'll see the Warped Tour go away," he assured. "[Warped] is [Kevin's] baby, I don't think he can just hand it off and have it be the same. I'm just speculating here, but I think it might be more limited in terms of location. I mean, it'll live on in some capacity forever."
And yes--BFS fans can have one last chance to see them take the Warped Stage. Jaret told HuffPost that Bowling For Soup will be making an appearance on the 24th and final tour this summer.
"We've already gotten the offers, we just don't know which dates we're going to do. I was like, 'We can't not be a part of this.' We will be out there in some capacity. Long enough to get a tan, play some rock shows, and then get home to enjoy a little summer time with our families."
Like the experienced Warped Tour goers that they are, BFS recently returned from the first ever Warped Rewind at Sea. This four-day music festival and cruise rolled into one featured 23 classic pop-punk acts. Jaret and the guys said it felt like a reunion for them and some of the bands that they've played with in the scene over the years.
"It was AWESOME. We had the best time," Jaret gushed. "We were with bands that we've known forever. Simple Plan, American Hi-Fi, Lit, Story of the Year. Having drinks, watching each other play, singing songs with each other, not to mention just being there with the fans. BFS is known for being a very approachable band. We kind of picked our bar at the beginning and people knew it became our 'spot.' I'm a little selfish--I know the fans had a blast, but I think we had the most fun out of anybody."
Although the "dry land" Warped Tour is ending, Jaret added that he would do something like Warped Rewind at Sea again in a heartbeat, and hopes that there are more events like this in the future.
We're getting to the tweet, I promise. Before we get to that, Jaret had some more exciting endeavors to talk about.
Aside from touring with BFS, Jaret set out to do his own solo gig. He performed his "Heartache and Hilarity" show across 13 dates in the U.K. this past September.
The show--a blend of comedy, conversation, and music--was a unique experience for Jaret. He explained that while the hits are his favorite songs to play, he didn't want that to be the whole presentation.
"My plan was to play a couple hits and focus on songs that meant something to me or that had a story behind that [fans] could relate to or feel touched by." Reddick talked about the band, relationships from the past, and other topics. "It was so well received. People were laughing and crying. It was definitely successful. I look forward to bringing the show to the United States and do shows like that in the future."
Jaret also said he received incredible support from his bandmates about this solo endeavor.
"We're each oter's biggest fans. We already tour as much as we're going to tour as Bowling For Soup anyway. They all checked in with me to ask me how it was going and sent me congratulations. There's always support there. I'm a super lucky dude where that's concerned."
As suggested by the show's title, Jaret traversed the spectrum of emotions in his "Heartache and Hilarity" performances. He shared dialogue about his experiences losing a best friend to drug and alcohol abuse as well as his own battles with depression and anxiety.
Now with his solo shows behind him, these battles are something that the "1985" singer is not only just comfortable addressing, but talks about in a candid and optimistic manner.
"I wouldn't say I broke my silence about this...I'm just a funny guy," he explained. "My job is to make people laugh. I originally told my publicist not to ask me about this, and then I changed my mind. I was like, 'Why not? I can have a serious discussion.'"
In a recent article with Kerrang! Jaret opened up about the journey through his diagnosis with clinical depression. He felt like his world was falling to pieces. His marriage was crumbling, anxiety was knocking him down, and day-to-day tasks were becoming immensely more difficult to complete. However, with the help from his doctor, his wife, the music community, and his fans, Jaret has been able to regain control of his life.
I asked Jaret to elaborate on what drives him to keep sharing his story about his conditions.
"I'll tell you what the driving force is--it's what happened 20 minutes before I got on this call with you. I got a message from a guy who is struggling with crazy anxiety, has never opened up to anyone about it before, and just scheduled an appointment with his doctor to talk about how to manage it. I get messages like that constantly now."
Jaret hopes that by talking about his experiences, he will encourage more people to be proactive with seeking guidance and help.
"I hope that when somebody reads this, they might think, 'If that guy who's always happy can be depressed, then maybe there is something going on with me, and I can go talk about it.' It has been such a frustrating battle at times and I really just want to help someone from having to go through that alone."
Known for being outwardly goofy and funny, Reddick revealed that he is also a deeply emotional guy, too. He told HuffPost about a visit with his doctor that offers an interesting and important perspective on mental health.
"My medication is always changing. I take really light doses of my depression and anxiety medicines. I told my doctor that about two to four times a week, I'll just start crying for no reason. It'll last about 30 to 60 seconds, and then it'll be gone. And he said to me, 'Well, we can up your dose and change that, but you just told me that this is the most creative you've been in years, so maybe you need that [cry].' I had never thought about it like that before. Maybe there are aspects to all of this that are beneficial."
Now that he's able to control his depression and anxiety, Jaret is on a roll creatively. When he sits down to write a song, he writes five. He's currently writing a duets album with Kelly Ogden from The Dollyrots that's set to come out next year.
"Everything shut me down for long enough, that now I use it as a fire that drives me," he explained. "I gauge it like, 'I've been super creative today, so apparently I've won!' I've been winning a lot more often than I don't these days."
The music industry has suffered numerous iconic losses to mental illness recently—Sound Garden's Chris Cornell and Chester Bennington of Linkin Park just to name a few. I asked Jaret for his perspective on the importance of artists making an effort to come forward and openly discuss their conditions, just as he has.
"Nobody's opinion of me has changed. The mystique and stigma is being broken it seems," Jaret said. "I think people need to know it's safe to come forward and that you'll feel so much better once you do."
As promised, it's time to reveal Jaret's response to the question: is Bowling For Soup bowling to earn soup, or on behalf of soup? Until this interview with HuffPost, no one from the band has ever provided an answer.
It's public knowledge that band name's origin came from a Steve Martin comedy bit. However, I asked Jaret to dig deeper into its meaning and to tell me what he thought they were really bowling for.
"Our band is our job. So, I guess, soup could be another way of saying 'income' or 'food.' With that being said, I guess it would have to be that we are bowling to earn soup."
Well, you heard it here first folks. Perhaps our little punk-rock hearts can rest a little easier now.
Popular in the Community