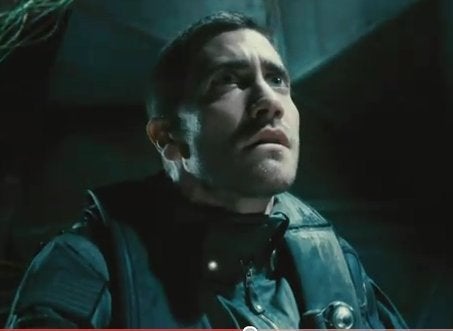 If Fast Five and/or Thor fail to open to $50 million or more, then I'll start to worry. If Pirates of the Caribbean: On Stranger Tides doesn't open anywhere near $100 million and doesn't clear $250 million, I'll start to be concerned. If Harry Potter and the Deathly Hollows, Part II grosses under $260 million, I'll maybe start panicking. But until any of those things occur, let's stop whining about the week-to-week comparisons at the box office. We're not in a "slump." Yes, weekend-to-weekend figures have been consistently down behind last year's respective weekends for much of 2011. But when you look at the numbers on a movie-by-movie basis, you actually notice something wonderful. A flood of mid-budget, adult-skewed movies have opened at or above expectations, and many of them have had the kind of legs you just don't see anymore. That's the Hollywood we claim we want, so why are we complaining?
The key thing to remember here is that studios don't care about the total weekend box office figures. They care only about how well their films did in relation to expectations and cost. And quite frankly, this has been a very cheap first 1/3 of a year. Alice in Wonderland may have grossed $332 million domestic, but it also cost $200 million. There are only two films this year that have cost even $100 million, the $120 million-budgeted The Green Hornet (which was supposed to open late last year) and the $130 million-budgeted Rango. One could argue that Rango will struggle financially due to its cost and marketing expenses (it's cleared $234 million so far worldwide), but it's also the best film of the year, so there's that... The Green Hornet was such a surprise success ($228 million worldwide thus far) that we'll probably get a sequel if Sony can keep the budget at under $90 million.
But Battle: Los Angeles didn't cost $150 million, it cost just $75 million. And Sucker Punch didn't cost $175 million, it cost $85 million. Sure, both of those films may have underperformed somewhat. Sucker Punch ($78 million worldwide) was an arty experiment that no one understood, while Battle: Los Angeles ($192 million worldwide) promised Independence Day but delivered Black Hawk Down. But even the 'under performance of Battle: Los Angeles will mean tripling its budget, because Sony was able to deliver top-notch special effects for bargain basement prices. And even Sucker Punch will equal its budget worldwide, meaning that the film has a shot at "the black" once the DVD and Blu-ray are released. Heck, even the relative underperformance of Red Riding Hood will still yield profits, since the gothic horror film cost just $40 million and has grossed $60 million worldwide thus far. Same thing with the would-be franchise starter I Am Number Four. Sure, there probably won't be a sequel, but since the film cost Disney and Dreamworks just $60 million, it's a rock-solid hit at $128 million worldwide. Your Highness will lose money, but Universal was smart enough to cap expenses at $50 million, so the bleeding will be minimal.
One can argue that there was no animated sensation like How to Train Your Dragon ($494 million worldwide), but How to Train Your Dragon, which cost $165 million, was pretty much the only major animated film in the marketplace during the first half of 2010. This year, just between February and April, we'll have SIX animated films: Gnomeo and Juliet (a stunning $175 million worldwide on a $30 million budget), Rango, Mars Needs Moms (the one unqualified mom of the season, with just $36 million worldwide on a $150 million budget), Hop ($111 million thus far on a $63 million budget), Rio ($170 million worldwide thus far on a $90 million budget), and Hoodwinked Too (opening in two weeks at a cost of just $25 million). That's a total cost of $488 million for six animated films (average cost: $81 million), with a total so-far gross of $726 million worldwide thus far (with Hop, Rio, and Hoodwinked having lots of cash to still pull in). Pointing being, the various animated films that have opened to near $40 million have had to fend off copious competition and pretty much all of them are on track to be profitable despite that, because (in most cases) the studios were able to contain costs to a reasonable level.
And that's just the high-profile cartoons and youth-driven would-be blockbusters. The real story this year has been the surge in adult-driven genre pictures and their uncommonly reasonable budgets and uncommonly strong legs. After years where a major adult-targeted, star-driven thriller or genre picture was cause for celebration, this year has thus far been filled with just that. Imagine, films targeted at grownups with old-fashioned movie stars, relatively intelligent and literate screenplays, narratives that were wholly original or based on actual novels, and almost all of them budgeted at a price that allowed them to be profitable without reaching blockbuster status. Source Code (cost: $37 million/worldwide gross: $56 million thus far), The Lincoln Lawyer (cost: $40 million/worldwide gross: $55 million thus far), No Strings Attached ($25m/$144m), Limitless ($27m/$111m), Unknown ($30m/$114m), The Adjustment Bureau ($50m/$111m), Hall Pass ($35m/$63m), and Hanna ($30m/$23m in under three weeks with international still to come). Not all of these films were great, but all of them were moderately-budgeted, most of them received positive reviews, some of them were even R-rated, most of them had moderate opening weekends and solid legs, and all of them will make solid profits in relation to their reasonable costs.
Sure none of them reached the heights of Alice in Wonderland or Clash of the Titans, but they never were expected to. And wasn't it wonderful to have a season where old-fashioned potboilers took precedence over inflated special-effects epics and/or franchise entries? Isn't it kinda wonderful that the unneeded cash-grab that is Scream 4 will likely get out-grossed (domestically at least) by a $1.5 million haunted house drama starring adult actors (Patrick Wilson and Rose Byrne), Insidious, that has dropped less than 30% two weekends in a row due to audience excitement and word of mouth (after three weekends, it's already at $36 million off of a $13 million opening)? I don't care if the cumulative weekend takes of these films have often failed to match the respective weekends from last year. Even if we agree that fewer people are going to the movies this year, we must acknowledge that the current crop of movies are much cheaper than years previous, and that they are attracting a consistent crop of older moviegoers, just the sort that have allegedly fled the marketplace.
Summer will start next weekend, so the kids will get their big-budget fantasies soon enough and the pundits can all start whining again about how the movies are DOOMED, and everything is a sequel or remake or comic book-adaptation. But we know better, don't we? If the summer of 2011, with a nonstop deluge of massive films that will arguably have to deliver massive opening weekends, doesn't deliver expected blockbuster results, then we can start worrying. But the winter/spring of 2011 was not a failure at the box office. It was a successful return of smaller films aimed at adults, films that didn't make most of their money in the first three days, movies that actually stayed in theaters long enough to allow casual moviegoers to check them out a month or so down the line, movies that existed as a movie first and a corporately-tied product second. Looks to me like 2011 has been a pretty terrific year thus far. One can only hope that summer 2011 is anywhere near as artistically and commercially satisfying...
REAL LIFE. REAL NEWS. REAL VOICES.
Help us tell more of the stories that matter from voices that too often remain unheard.